Often referred to as the "Pearl of the Indian Ocean," Sri Lanka is a beautiful island rich in history and biodiversity. Roughly the size of West Virginia, Sri Lanka was mostly covered with lush green forests till the 20th century. However, an increased population and pressure to develop have reduced the forest cover from 84 percent in 1881 to about 24 percent in 1992. Even with two-thirds of the forests gone, the majestic Asian elephants, the elusive leopards and the sloth bears have managed to survive -- until now -- in remaining forest patches and national parks.

After a 25 year-long civil war, peace dawned in 2009 and brought new hope -- but that hope has quickly turned into a tragic loss for wildlife. Through development initiatives primarily funded by the Chinese government's mega-loans, many infrastructure projects were carried out near or within the remaining forests and national parks. Sri Lanka's largest national park, "Wilpattu," famous for its leopards, was sliced through by a new commercial road. Speeding trucks operating on this new road are killing wildlife, including a rare female sloth bear in January 2014. Sri Lanka's largest urban wetland, "Muthurajawela," was filled with sand to construct an expressway. The lack of wildlife crossings, overpasses and underpasses on this expressway have prevented any animal movements. The UNESCO World Heritage Rainforest "Sinharaja" (which translates to Lion King) faced a new road construction, which was only halted after successful protests by environmentalists, concerned citizens and UNESCO officials.
[Images of an endangered female sloth bear killed by a speeding trunk in Wilpattu National Park can be found here. Some may find the images disturbing.]
It is true that a country needs good roads and highways for the economic development. But short-vision road projects such as these, without the proper planning to mitigate environmental issues, will bring disaster to the long-term sustainability of Sri Lanka's eco-tourism. The "Pearl of the Indian Ocean" is in immediate danger of losing its critically endangered species, the Sri Lanka leopard and sloth bear, which many eco-tourists from around the world come to visit. For each species, less than 500 individuals remain, and populations are declining rapidly due to road-strikes and habitat loss.

The threats to Sri Lanka's wildlife go beyond roads and highways. A new international airport, funded by another Chinese government loan, opened in a prime elephant habitat. The area, also a bird migration route, adjoins some of the best national parks in the country's deep south. Although only a handful of airlines use it, due to lack of passenger demand in this remote region, these few airplanes have already experienced several accidents with birds, including a large flock of peacocks. Following these incidents, the military shot down many of these peacocks -- which, incidentally, is the symbol of the Sri Lankan Airlines.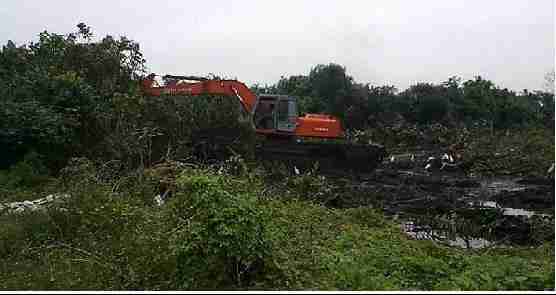 Heavy machinery used to destroy Bellanvilla-Attidiya Wetland Sanctuary New proposals to build luxury cities and golf resorts on Muthurajawela, as well as a new expressway through World Heritage Rainforest "Sinharaja," are set to deal the final blow to the already struggling wildlife. Unless action is taken immediately to change course toward a sustainable development model, the "Pearl of the Indian Ocean" will soon lose its elephants, leopards and sloth bears, as well as countless other species.
Join this petition to Stop the Destruction of Muthurajawela Wetland Sanctuary!
http://www.thepetitionsite.com/210/026/655/stop-the-destruction-of-muthurajawela-wetland-sanctuary/