After roaming the ocean for the last 55 million years virtually unchanged, the end may soon be nigh for one of the planet's most unique species.
What makes spotted handfish so special is evident in their name. Instead of swimming, these rare little fish evolved hand-like pectoral fins, which they use to quite literally 'walk' along the sea floor. Throughout their long tenure on Earth, spotted handfish endured while others died out - but now they face their greatest challenge yet.
Although once widespread, the species is now clinging to existence in just one location: a single estuary near the city of Hobart, in Tasmania. Their numbers have been in decline due to many mostly human-caused factors like pollution, climate change and the introduction of invasive species. In 2002, spotted handfish were listed as "critically endangered" on the International Union for Conservation of Nature (IUCN) Red List, though these same threats persist.
Marine biologists already knew things were dire for the species, but the specter of extinction could be closer than ever before. A recent survey in the species' final stronghold, the Derwent river estuary, counted just 79 spotted handfish left.
Researchers from Australia's Commonwealth Scientific and Industrial Research Organization (CSIRO) believe it may be time to intervene to save this species by creating a safety net population apart from spotted handfish found in the wild.
"It would be very prudent to think about captive breeding of the fish at this stage," CSIRO scientist Tim Lynch told the Sydney Morning Herald. "We're organizing a workshop to cost it out, and see what we can do."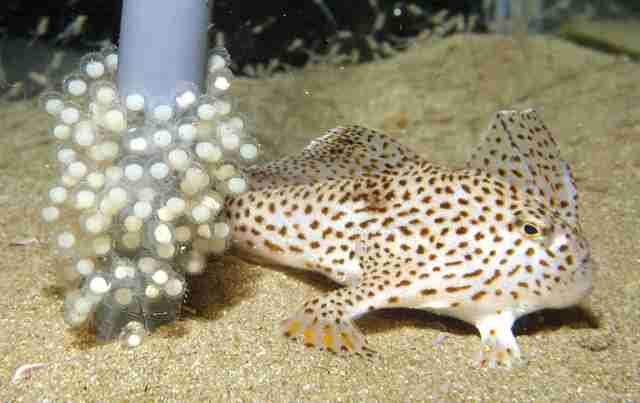 For biologists, it seems, the preservation of this species comes with a particular sense of urgency, especially as the remarkable survivor from prehistory slips closer to becoming a thing of the past.
"Handfish are like rare jewels when you find them on the sea floor and, besides their beauty, they can tell us a thing or two about resilience and survival," writes CSIRO on its blog. "It is in our best interests to make sure they thrive and remain a talisman for Hobart and handfish aficionados around the world."