When Aria the cat escaped her house and went missing, she was found and taken in by the RSPCA three days later. Her mom, Lauren France, picked her up and took her back home, and everything went back to normal - until she realized Aria was pregnant.
After her adventures in the wild, Aria gave birth to five tiny kittens. Four of the kittens were born healthy and normal, but the fifth kitten was born a little different.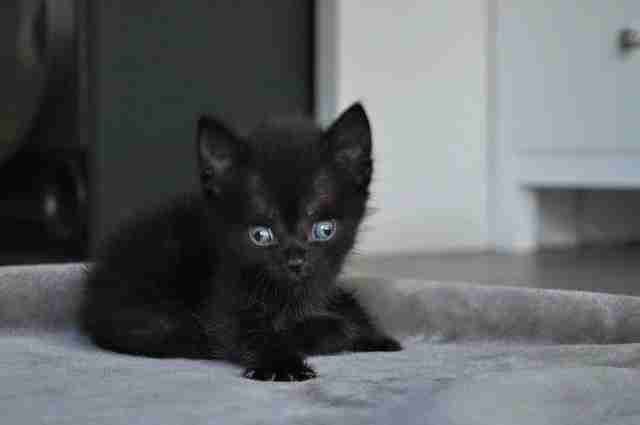 When the kittens were around 2 weeks old, France noticed that Dimples wasn't developing the same way his siblings were. At 4 weeks old, she took them all in for a checkup, and discovered that Dimples has hydrocephalus and a mild case of spina bifida.
Hydrocephalus is when someone is born with water on their brain, and spina bifida is a condition where someone's spinal cord is split and fails to develop properly.
"The vet said he will slowly build strength and muscle and get better, but he will never fully walk throughout his life," France told The Dodo. "He may not have a full life a cat should have, but I'm going to make sure he has the best life a cat could ask for."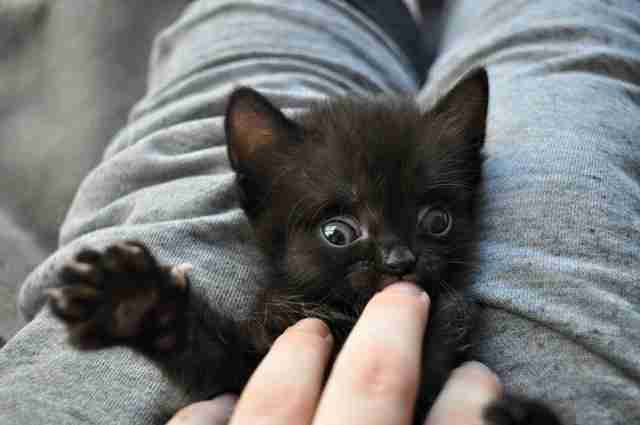 The other four kittens will eventually go to the homes of friends and family once they're old enough. But Dimples will stay with France and Aria for the rest of his life so they can always watch over him. Aside from his mom and siblings, Dimples also loves to play with the family's dog, Oscar. Oscar is very protective of Dimples, and the pair have quickly become friends.
Dimples may be a little different from a typical kitten, but he's just as sweet, and is so eager to learn more about the world around him. He's getting stronger every day, and with a little help from his family, there's nothing he can't do.
"Dimples can now finally eat with the assistance from me to keep him balanced until he learns to do that himself," France said. "He absolutely loves cuddles and chewing on my fingers."
Aria gave birth completely by accident, but now she and her family will always have Dimples, and they couldn't be happier about it.