Canada is a big country - really big. It's second only to Russia in terms of area; yet look at a map and one very distinct feature jumps out at you: all those dots crowded around the US border. Most Canadians live as far south as possible, where it's (slightly) warmer and way closer to the creature comforts we can't seem to live without.
But just a few hours north by car and you see a completely different Canada - fewer people, more trees, and roads that seem to go on forever. It's also a part of the country that many First Nations call home. These communities face a unique set of challenges - such as controlling local animal populations.
Many of these communities are in remote locations, off the beaten path and far away from the modern conveniences we take for granted. This includes veterinary resources, and the tools needed to prevent stray and wandering dogs from overbreeding.
The solution: temporary mass sterilization clinics that help to decrease the canine population over time. This is the mission of Chiots Nordiques (Northern Puppies), a Quebec-based non-profit powered by volunteers and committed to improving animal welfare in areas that need it most. Humane Society International/Canada proudly supports their work, which to date includes close to 1,000 successful sterilizations across 11 communities.
Most recently we travelled to Kitcisakik, an Anicinapek community about 500 kilometers (approx. 311 miles) northwest of Montreal. With a human population of just over 300, it's small to say the least. But when you consider they share their home with approximately 100 dogs, mostly loose and not sterilized, then you get a better picture of the situation and how quickly it can get out of control.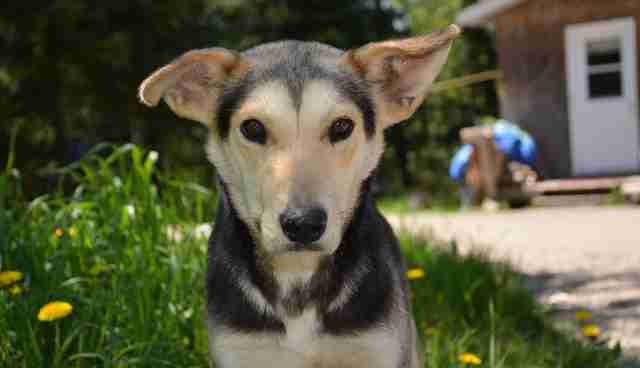 Fortunately, these are the nicest, most sociable dogs you have ever encountered. From the moment we arrived, they demonstrated themselves to be friendly and curious. Most of them are genuinely affectionate and just want to hang out - which is ideal, because it really cuts down on the time it would normally take to capture them!
In one case, we collected eight newborn puppies to be vaccinated, yet couldn't locate the mother. We searched high and low, but no luck. Then a resident informs us she spotted the mom back where we found the pups, so we hop in the truck and zoom over to find her. Now, you'd think that a dog might get spooked by three strangers wielding transport cages, but not her - no, she ran right up to us, tail wagging and tongue out, all too happy to cooperate in exchange for a little love (the treats in our pockets had nothing to do with it).
And while sterilization is the priority, the clinic also provides a range of services, from de-worming to vaccination. Animals that do not belong to anyone or get surrendered are sometimes brought back and placed for adoption, while those that stay behind have a new lease on life and can look forward to a brighter future.
Clinics resume in the fall, and your help is always appreciated. We have a lot of ground to cover, but together we can make life a little better for stray and roaming dogs in need.
Want to volunteer? Here's how: hsi.canada/volunteer
Want to help? Here's how: hsi.canada.ca/rescueanimals