Rescuers Find Donkey Who Spent Years Tied Up In Field — And She Has A Secret
Now that she's finally safe, she won't leave their sides.
No one knows exactly how long a donkey in Spain spent tied up with rope in a field, but rescuers believe it could have been years.
It's called "hobbling" - and this is one of the most extreme cases rescuers have seen.
"This case actually goes far beyond normal hobbling," Sue Weeding, cofounder of Easy Horse Care Rescue Center (EHCRC) in southeastern Spain, told The Dodo. "While a lot of Spanish farmers do tether their horses in fields with rope, they don't normally hobble them and certainly not like this ... It's horrendous and barbaric and I suspect it's not even legal."
This is why police permitted people from EHCRC to intervene and save the donkey from her life - one of neglect and indifference.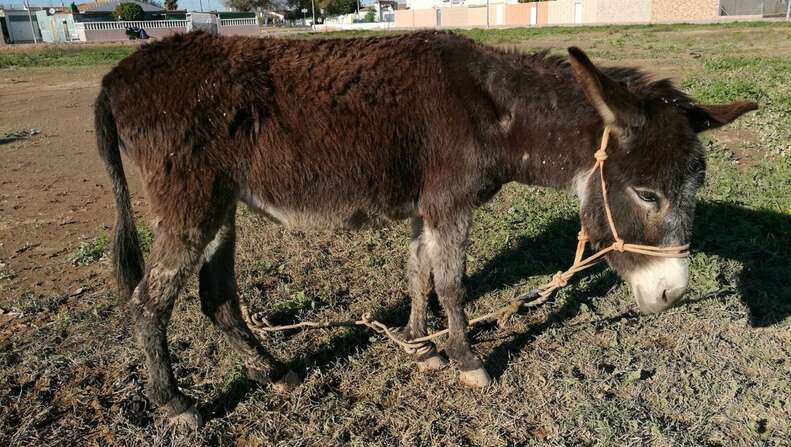 So, on the day after Christmas, rescuers cut her free.
"Unfortunately there is a group of people from low socioeconomic backgrounds living here who simply do not know or care about proper equine care," Weeding explained.
Weeding and her team brought the donkey to the rescue center, where, once police officially sign her over to the rescue, she'll have a home for the rest of her life, unless she gets adopted into a loving home. They are still deciding on a name for her.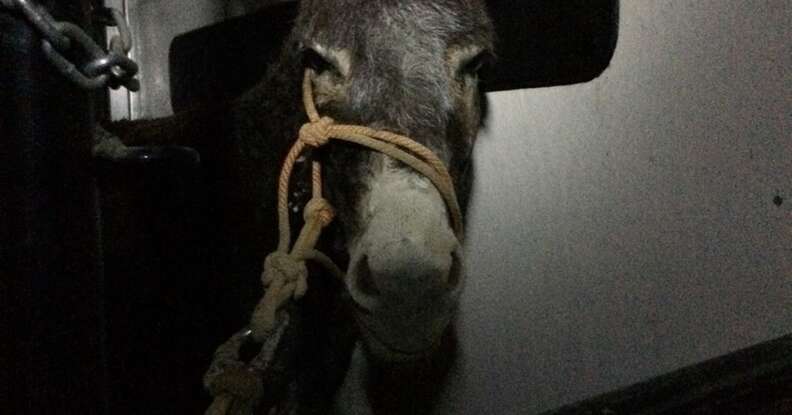 "She's ... absolutely beautiful, but has quite a lot of scarring on her front legs where she's been hobbled, I would imagine, for most of her life," Weeding said.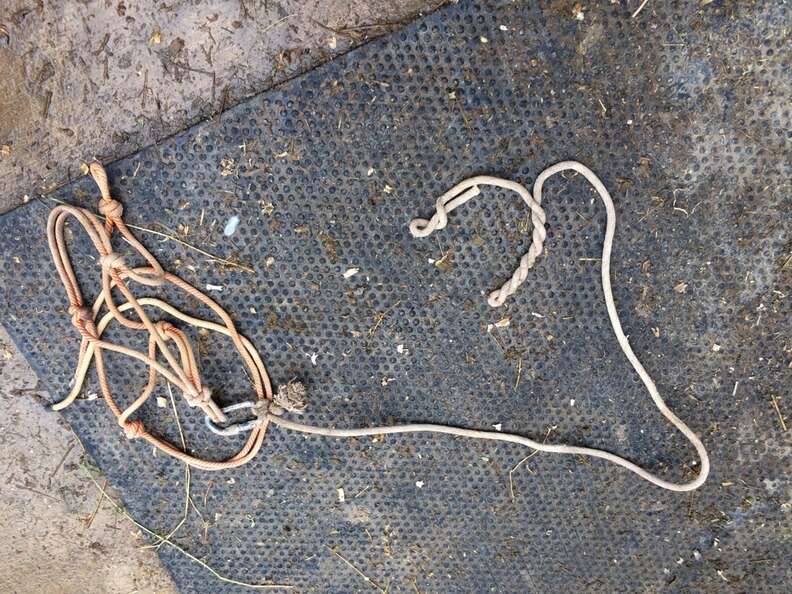 But rescuers noticed that for such a weak donkey, coming from such squalid circumstances, she was quite round around the middle.
Little did they know, this donkey had a secret.
The team called the equine veterinarian, who came to visit the rescue's new resident. And after an examination, the vet confirmed that the beautiful donkey is expecting a baby.
"This is why we are so happy to have rescued this donkey ... She is quite malnourished so it's lucky we got her when we did," Weeding said. "She is the kindest, gentlest, sweetest donkey and we love her to bits already."
Rescuers are taking their new donkey for lots of walks to see her new home.
After her ordeal, she seems to love being able to move around - but she never strays far from her rescuers. It seems she wasn't only miserable, being tied up in that field - she was also terribly lonely. Every time Weeding tries to take a picture of her from a distance, the donkey comes rushing right back to her side.
EHCRC operates entirely on donations to care for the donkey - and the 99 other horses and donkeys EHCRC rescued from similar circumstances.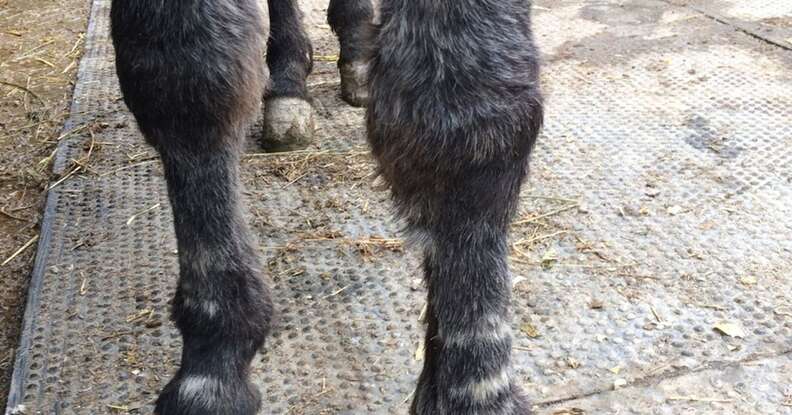 To support this donkey and the 99 other horses and donkeys EHCRC is taking care of, you can sponsor one here.