Something about this just feels wrong... :(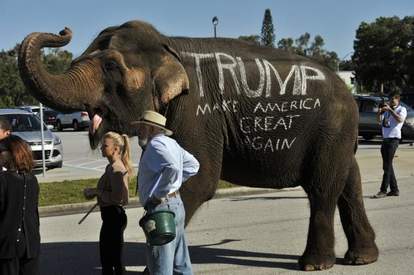 Before people reading this article get political about my headline i am not reffering to Mr. Trump even though he's not in my list of favourite US presidential candidates.
So now that we got that out of the way i was reffering to this new method of support to Mr Trump by one of his supporter.
I know from the looks of the picture people will argue that there is nothing wrong with writing someones name on an elephant and taking it for a walk. But thats not what caught my attention i learnt in a recent PETA article and a few other articles that this is not some rescued circus elephant or rescued wild elephant that was beaing paraded on the streets in Sarasota by an animal rescuer or animal lover who also happens to be a Trump supporter, the female elephant, whose name is Essex (aka "Annette"), was taken to Trumps Sarasota rally by a well known animal abuser Frank Murray, a former handler with the Piccadilly Circus. He was arrested in 2012 on animal cruelty charges. Essex was displayed with the message, "TRUMP - Make America Great Again", written on the side of her body.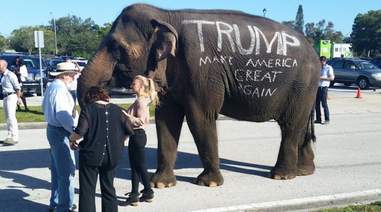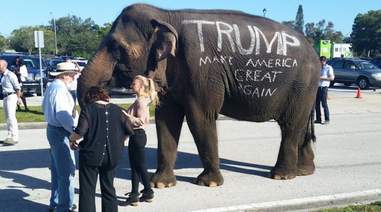 Murray, who lives in the Gainesville area, told the Sarasota Herald-Tribune "I'm doing this for love of America, I'm a Trump fan. The man knows how to make money. He knows what America is all about and he can get America back on track." In a recent PETA article it says for decades, animal exhibitor Frank Murray (dba 'Elephant Walk') exploited elephants Topsy and Essex (aka "Annette") for circus performances and rides. Topsy died in 2014, leaving Annette all alone with the traveling sideshow, carted state to state and forced to give rides at events such as the Maryland Renaissance Festival.
In wild elephants like Essex spend their time with their families and live in herds moving from one place to another with complete freedom but here she is forced to live like a prisoner entertaining people by performing tricks and beaing paraded around in a place where she doesn't belong.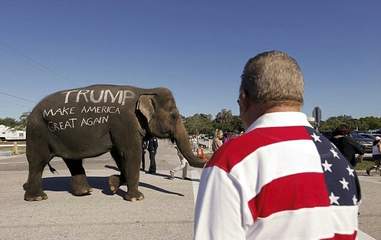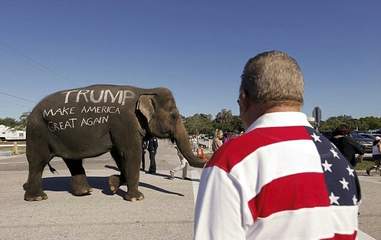 I believe Essex should be given a new lease of life away from all the abuse of Frank Murray. She has already suffered enough and she should live out rest of her days in an elephant sanctuary where she could interact with other elephants and experience what it feels to have a family of its own far away from Frank Murray.
One thing i don't get though is how someone like Frank Murray who is well known for animal abuse is even allowed to be near an animal like an elephant let alone parade it on the streets. I sincerely hope Essex is taken far away as possible from people like Frank Murray.
Heres a link to something PETA is doing for Essex if you are interested
http://www.peta.org/action/action-alerts/annette-lost-her-companion-help-her-join-family/?utm_campaign=0216%20Trump%20Elephant%20Post&utm;_source=PETA%20Facebook&utm;_medium=Promo
The question is not, "Can they reason?" nor, "Can they talk?" but "Can they suffer?
-Jeremy Bentham