I love dogs! Over the years I've rescued dozens of dogs. I've volunteered with countless rescues. I have fostered puppies, old dogs and sick dogs. Plus, my whole career was spent working as a medical clinic administrator. I've taken classes in dog grooming, and have worked part-time as a dog groomer. I'm also an amateur pet photographer. So, I think that "seasoned" might be an adjective that applies to me. I have lived in several states, and each time I moved I looked for a rescue to work with to pursue my passion to help dogs. I have worked with some wonderful rescues. Unfortunately, I have also encountered some rescues that seem to happily shoot themselves in the foot and then cannot understand why they limp.
When I moved to a large city in the southwest, their animal shelter was begging for volunteers. They offered seminars for prospective volunteers and spent money on literature and video presentations, plus they had a paid volunteer recruiter. I went through the necessary red tape, filling out the volunteer application and listing all my experience, and I was assigned to be a dog walker, not really what I would have chosen to do, but they said they were desperate for help, so I bought a volunteer t-shirt, paid a deposit for an ID badge, and showed up for my assigned shifts. There were so many dog walkers that we literally fought over who got a dog to walk. Some days I went home without finding a single dog available to go for a walk. I asked for a different assignment, but the volunteer coordinator seemed uninterested, or maybe too busy, to talk to me, even though their website was still begging for pet photographers, groomers, and clerical assistants. Defeated, I stopped volunteering there.
But I could foster! I filled out an online application to foster, and within 10 minutes of submitting it, I received a phone call from the foster program coordinator. They had just the dog for me. Poor little pittie, less than a year old with demodex mange and she needed somewhere to recover. Yay! Right up my alley! When I arrived at the shelter to pick up my new foster, I found that they had neglected to tell me that she had a upper respiratory infection and could not go near other dogs. The shelter workers were unsympathetic when I told them I had two dogs at home and isolation would be very difficult.
So I took the poor little girl home and she spent the first night in a crate in the garage. The next day, I installed a gate along the side of my house where it was safe, shady, and isolated from the rest of my yard. I put out a soft dog bed, and an armful of toys, treats and water. The pup was overjoyed! The volunteer coordinator was less than enthusiastic, though when she called to see how things were going. She was not happy with the my arrangements, and rudely told me that she "couldn't be outdoors." I offered to bring her back to the shelter because that was the best I could do, but she certainly didn't want that either.
The shelter would not provide medicated shampoo to soothe her irritated, itchy, smelly skin, so I bought some for her. The only medicine they provided was liquid ivermectin, and the dosage wasn't high enough to even make a dent in the demodex. I have had experience with demodex, but my concerns about the dosage were brushed aside. While I had her I worked on commands and manners, as she was a wild thing and had obviously had no training at all. She eventually recovered from the URI, and made friends with my dogs, but her mange did not improve. The shelter decided to take her back, saying they wanted to treat her at the facility, but I have a suspicion that she was euthanized. Because they didn't know to treat her. I did not accept another foster from that shelter.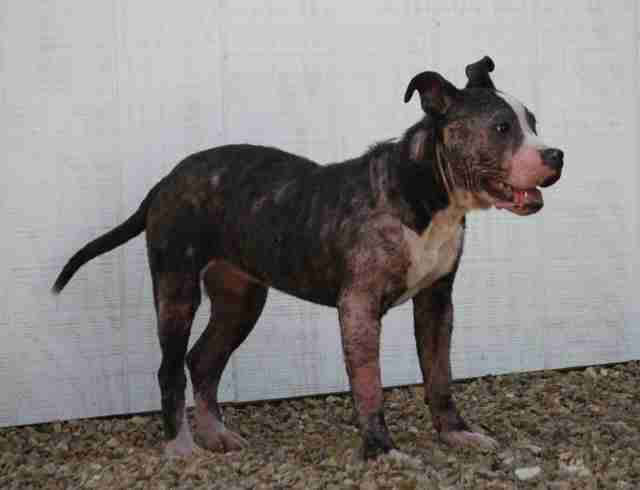 I found another shelter begging for fosters, so I filled out an application. Because of my experience, they gave me a young, extremely emaciated pit bull with uncontrolled diabetes. I was provided with food, medication and syringes, and was instructed to bring her back for a blood sugar check in about 10 days. I took her home. She was weak and depressed, but willing to eat. My dogs and I spent a lot of time just keeping her company but I don't think she ever started to feel any better. After the first week or so, she began drinking huge quantities of water, and I tried to contact the foster coordinator to make arrangements to bring her back to have her blood sugar tested. He would not return my calls or answer emails so after a week of trying, I wrote to the person in charge of the whole shelter and I did get a response. He sounded irritated, and told me to just bring her back. I saw on their website the next day that they had given her to another foster. Hopefully the new foster had more support from the shelter than I did.
Then I moved to a city in the northeast. Once again, I attended the volunteer seminar, volunteer orientation and met with the volunteer coordinator. We spent quite a bit of time going over my qualifications. I was given a list of volunteer positions available. It was extensive. They listed medical clinics, spay and neuter clinics, adoption volunteers, volunteer clerical positions, and many others. I happily went down the list and checked off all the positions that I would love to volunteer for, but I also told her that I was a team player and I would go where I was most needed.
A couple of weeks later the volunteer coordinator called me and asked me to work at a satellite adoption center. Again, I bought the t-shirt and paid the deposit for a badge. When I showed up to volunteer, the staff was unenthusiastic. I was given the job of playing with the dogs that were turned out for half-hour sessions in their exercise room. I did my best. Many of the dogs were pretty unsocialized. I was not encouraged to attempt any training, and I was never really sure what I was supposed to do. The staff seemed to have everything under control and I felt like I was in the way most of the time. I was unable to "play" with the large, rough dogs because, being 63-years old, I wasn't willing to risk injury. I stopped volunteering there also, although I will try again to find a way to help.
I understand that the main focus of dog rescue is to help the dogs. I really do. I think that sometimes the shelters become so focused on the dogs, that they are unable to handle the people who are trying to provide the help they are begging for. It has been my experience, too, that some people who are given authority are so fearful of losing control over those around them, that they cannot do their job effectively. Whatever the cause, the dogs are the ones that suffer. I'm not the only one with this opinion. I've talked with a lot of people who have had similar experiences and as a result no longer attempt to volunteer or foster. I hope that if you run a shelter or a rescue, and you ask for help, you will use the hands that come your way. There is a lot of excellent, free help out there.