'Snuggle Delivery' Is The Best Thing To Happen To Humans — And Puppies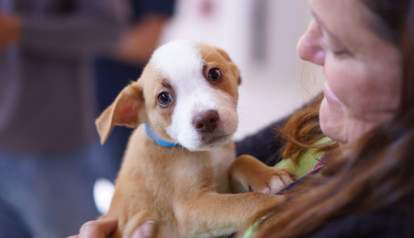 <p> <a href="https://www.facebook.com/media/set/?set=a.880265795349616.1073741866.104814069561463&type=1">Facebook/BrowardHumane</a><span></span> </p>
The hope was that the program would help the shelter's littlest animals get used to new people, and maybe even get adopted, while at the same time spreading smiles and cuddles throughout southern Florida. And so far, the program is working perfectly.
Earlier this month the shelter shared the photos from their most recent Snuggle Delivery trip - a principal surprised the teachers at her school with a visit from some adoptable puppies to celebrate Teacher Appreciation Week.
The event was a total success, raising $600 for the Humane Society of Broward County and giving some hardworking teachers a chance to enjoy some cuddles.
And the best part is, four of the 11 puppies at the event were adopted.
Is there anything better than snuggling puppies for a good cause? So far the service is limited to the area around Broward County, but that doesn't mean that other Humane Societies won't consider starting similar programs.
The Snuggle Delivery program is so perfect, it might just be the best idea ever. Anything that helps adorable animals find homes and makes everyone involved feel warm and fuzzy sounds like something we should all be a part of.