People Are Killing Entire Families Of Snakes In Cruel 'Contest'
"It's the sound of a thousand snakes screaming."
Jo-Anne McArthur has never forgotten the sound of rattlesnakes trapped inside a killing pit in Sweetwater, Texas.
It was 2015, and she was attending the city's annual rattlesnake roundup festival, where thousands of rattlesnakes are kept in tiny pits inside an arena, then brutally slaughtered in front of the public. People talked and kids screamed - but the snakes rattling their tails seemed to be the loudest sound out of everything.
"When they're in the pits, one on top of the other, they're all rattling," McArthur, a photojournalist and author of "We Animals," told The Dodo. "It doesn't mean, 'I'm about to attack.' It means, 'I'm afraid. Don't step near me.' It's the sound of a thousand snakes screaming."
Snakes are often viewed with fear and disdain, and people sometimes find it hard to relate to them. Yet Melissa Amarello, cofounder and director of education for Advocates for Snake Preservation (ASP), told The Dodo that snakes are social animals who form strong family bonds.
"It's surprising how similar they are to us," Amarello told The Dodo. "Rattlesnakes give birth to live babies, and they take care of their babies for the first couple weeks of their lives, keeping them warm and safe from predators. In some rattlesnakes, the mothers will come together in the latter parts of their pregnancies and gestate together. And then they'll give birth at the same spot and they'll help take care of each other's babies."
Warning: Graphic photos below
But each year, rattlesnake families are torn apart when people capture thousands of animals to slaughter them at roundup festivals in Texas, Oklahoma and other U.S. states. They capture them by dumping gasoline into their dens, which makes it impossible for snake families to breathe underground.
The roundups started 50 or 60 years ago to keep rattlesnake populations down and protect livestock, although Amarello argues that these killings are unnecessary.
"The roundup proponents say that the snakes are overpopulated, and that they're overrunning town, so they had to do something about the snakes," Amarello said. "But they're in no danger of being overpopulated. There's no science to suggest that there are too many rattlesnakes, or that we need roundups to control them."
The real purpose of the rattlesnake roundups appears to be financial gain, according to Amarello, as each event brings in a large flow of tourists. The event in Sweetwater, Texas, which is the largest rattlesnake roundup in the country, attracts about 30,000 people.
"If you can picture a typical, small town American county fair - there's all of that stuff," Amarello said. "There's fried bread and funnel cakes and amusement park rides. There's a flea market. There's a gun show. And then there's the area that's focused around the snakes."
After spending weeks - if not months - in boxes without food or water, the rattlesnakes arrive at the festival weak, hungry and dehydrated.
While every rattlesnake roundup works a little differently, Amarello explained that the snakes tend to be moved through different stations. The first station is the processing area, where snakes are measured and weighed, Amarello said.
"There are prizes for who brings in the biggest snakes, and the most number of pounds per hunting group," Amarello said.
After their initial weigh-in, the snakes are tossed into a communal pit.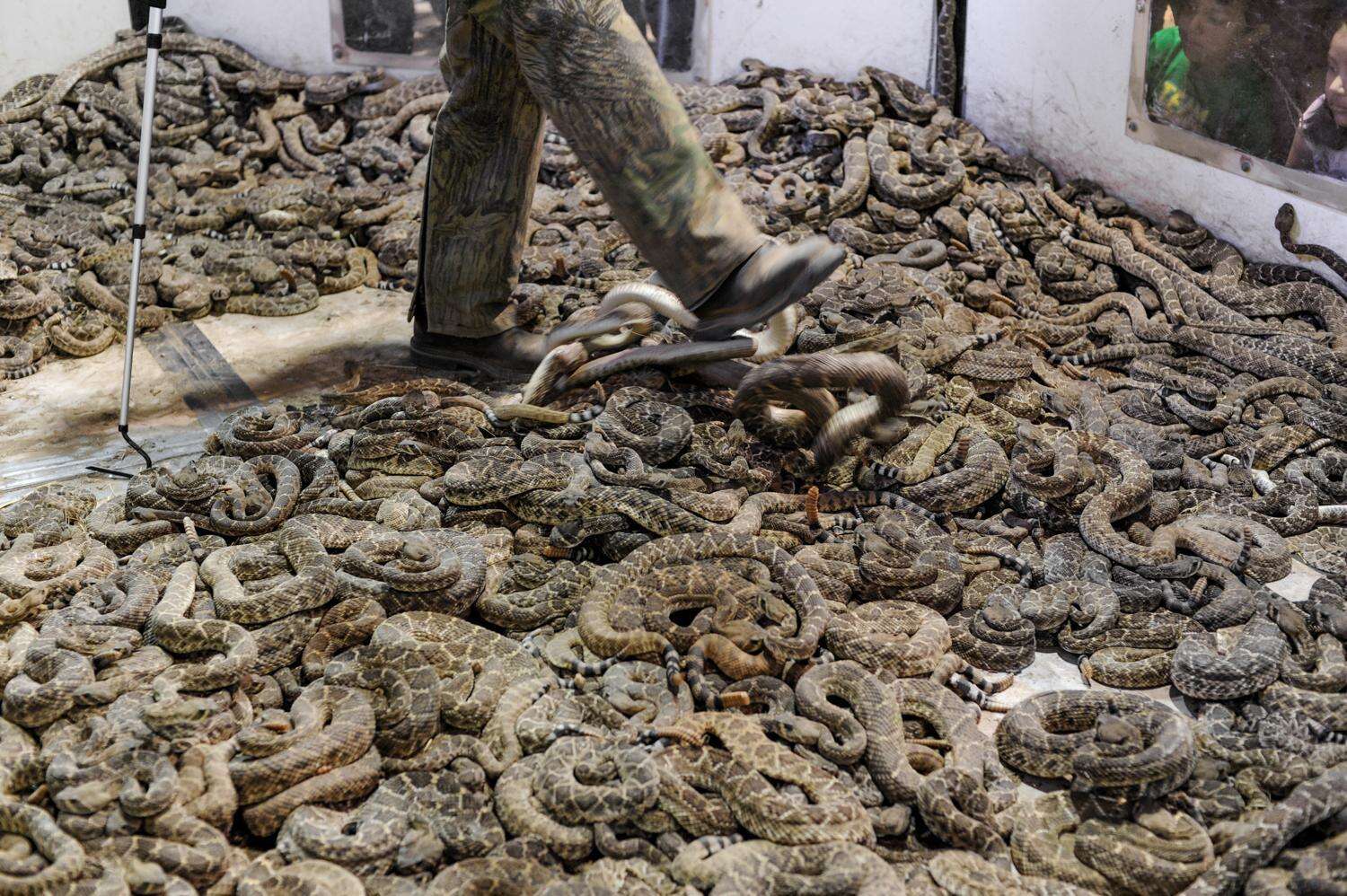 "While they're in that pit, the roundup guys are constantly wading through it, and kicking the snakes around, which they claim they need to do to turn them over, because the snakes are 'too stupid' and they'll just smother each other, which is ridiculous," Amarello said. "They will smother each other in that pit because there are just too many in there, and they're just crushing each other."
It's here that the snakes really start rattling their tails.
"The rattle that we all associate with being a warning, that's the sign of fear," Amarello said. "When they think that death is imminent, they rattle. It means they're scared."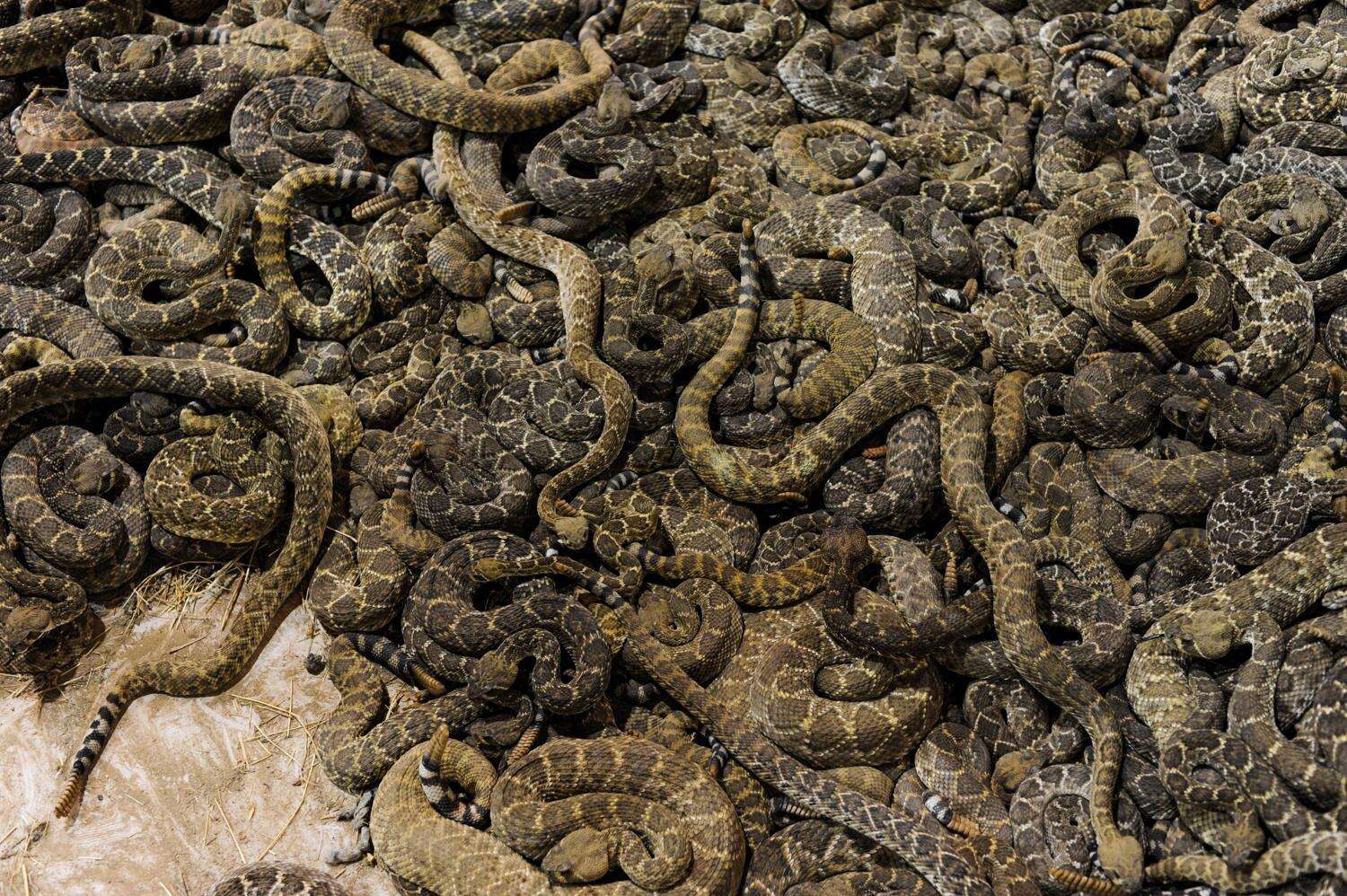 But it's not just their rattles that give away their fears - it's also the smell, according to Amarello.
"Rattlesnakes will emit a pheromone that's a sign of fear," she said. "That smell was overwhelming at Sweetwater. For me, that was even more upsetting than seeing them killed, because I know that smell means that they're scared, and they're trying to tell others that there's something frightening going on, and something dangerous. It was overwhelmingly strong."
From the holding pit, some snakes are briefly taken into an educational area, although Amarello refutes the educational value of what's done there.
"A lot of the roundups really push that they're all about educating the public about snakes, but it looks like more of a show," Amarello said. "They have the snakes bite balloons and pop them to show how far they can strike. They were doing things at Sweetwater like poking the snakes with sticks until the snakes were so stressed out that they hide their head beneath their coils. And when they're in that position, they like to pick them up with their bare hands to show people like, 'Look, they can be very docile.'"
After that, the snakes are taken to the venom milking area, where people force snakes to spit out their venom, which they collect in vessels. According to Amarello, the roundup organizers claim that this is necessary for antivenom research. Yet some research companies refuse to take venom from roundups on the grounds that the events are harmful to snakes.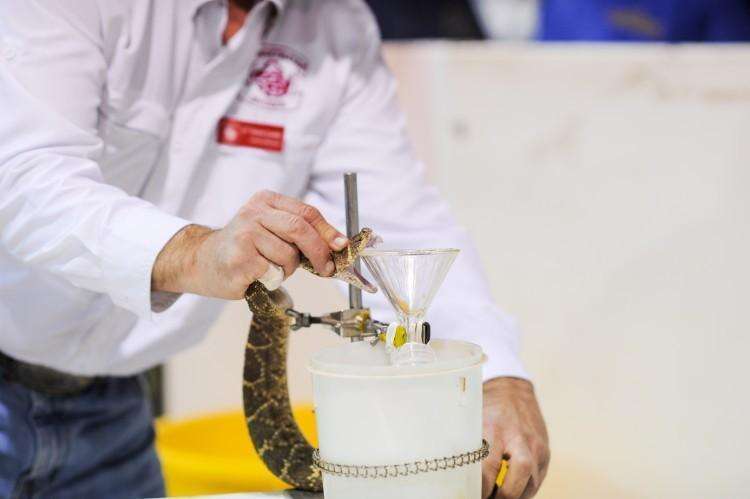 Then the snakes arrive at their final destination - the killing pit.
The killing method is decapitation, but this doesn't instantly kill them, according to Amarello.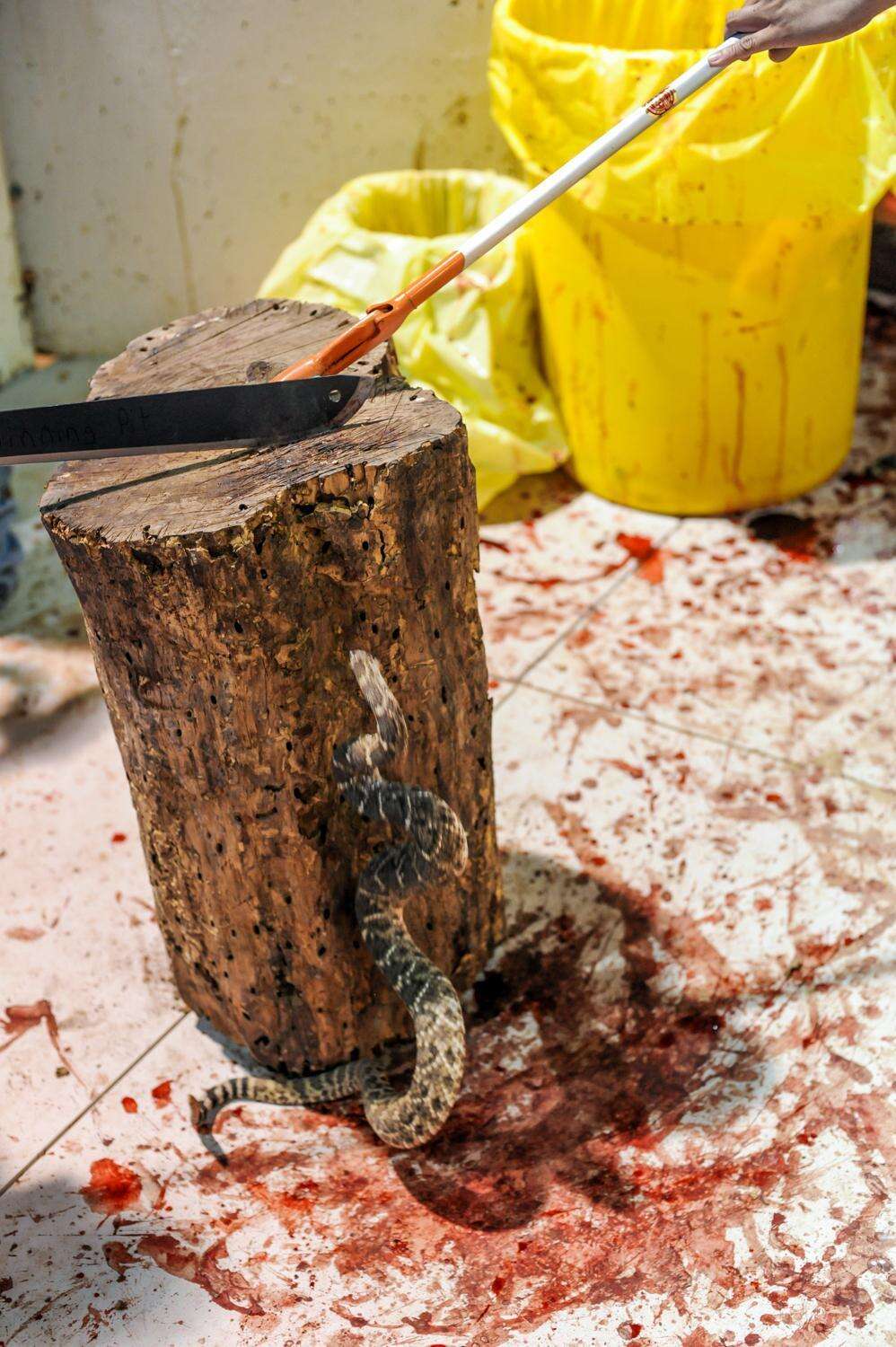 "Decapitating a reptile is not a humane way to kill it," Amarello said. "Because of their very slow metabolisms, they basically remain alive, and can probably feel things for minutes to hours after decapitation. And when you're there, you can see this - the mouth is still gasping for breath, the body is still writhing around."
Some festivals now require snakes to be shot in the head with a bolt gun (a tool commonly used in commercial slaughterhouses) before decapitation, which is supposed to decrease suffering. But this doesn't always work, according to Amarello.
"Apparently, to be effective the bolt gun has to hit a precise spot," Amarello said. "Otherwise, you're just causing more pain instead of stunning."
No matter how they're killed, McArthur believes that all of the snakes have one thing in common - they're all terrified.
"Their bodies are fighting with all of their might," McArthur said. "They're twisting and turning and they're rattling because they want to get away."
After decapitation, the snakes' bodies are skinned. The event organizers encourage the public to get involved - including children. To McArthur, this is one of the most disturbing parts of the events.
"The kids can skin the animal, dip their hands in the blood, and put their handprints on the white wall and sign their name next to it," McArthur said. "It's very gruesome. The parents are like, 'Pull, pull on that skin. Get your hands dirty!'"
Afterwards, the snake skins are made into boots, wallets and a ton of trinkets, according to Amarello. And the snake meat is cooked up and served at the snack bar.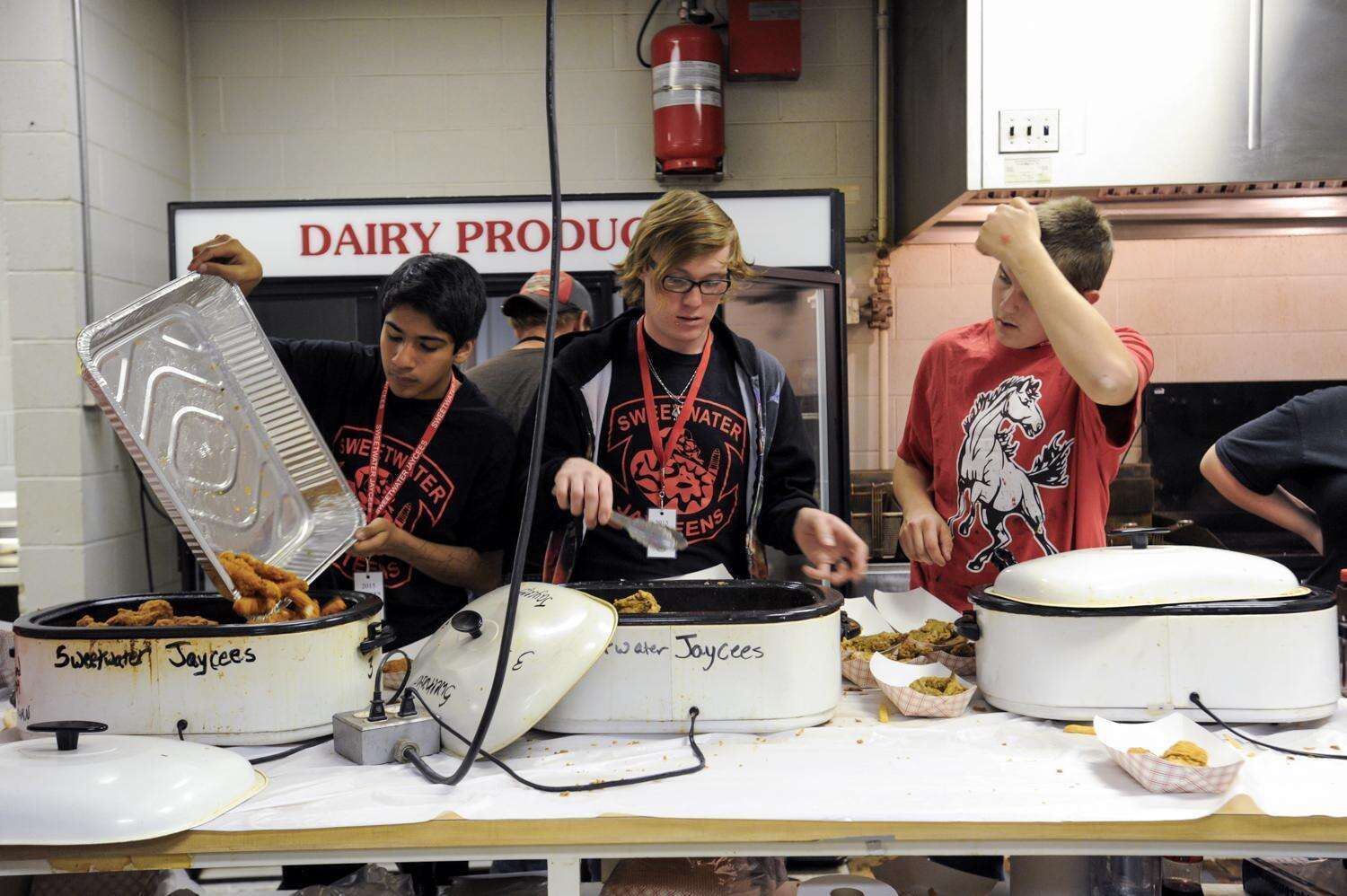 The Oklahoma rattlesnake roundups, many of which take place this month, are run in a similar manner to the one in Sweetwater, but with a few differences. First of all, the Oklahoma events are much smaller than Sweetwater, and fewer people attend. Secondly, a lot of the killing takes place out of public view. But this doesn't make the Oklahoma festivals any less cruel, Amarello explained. In fact, she thinks what they do at the Oklahoma festivals is much worse.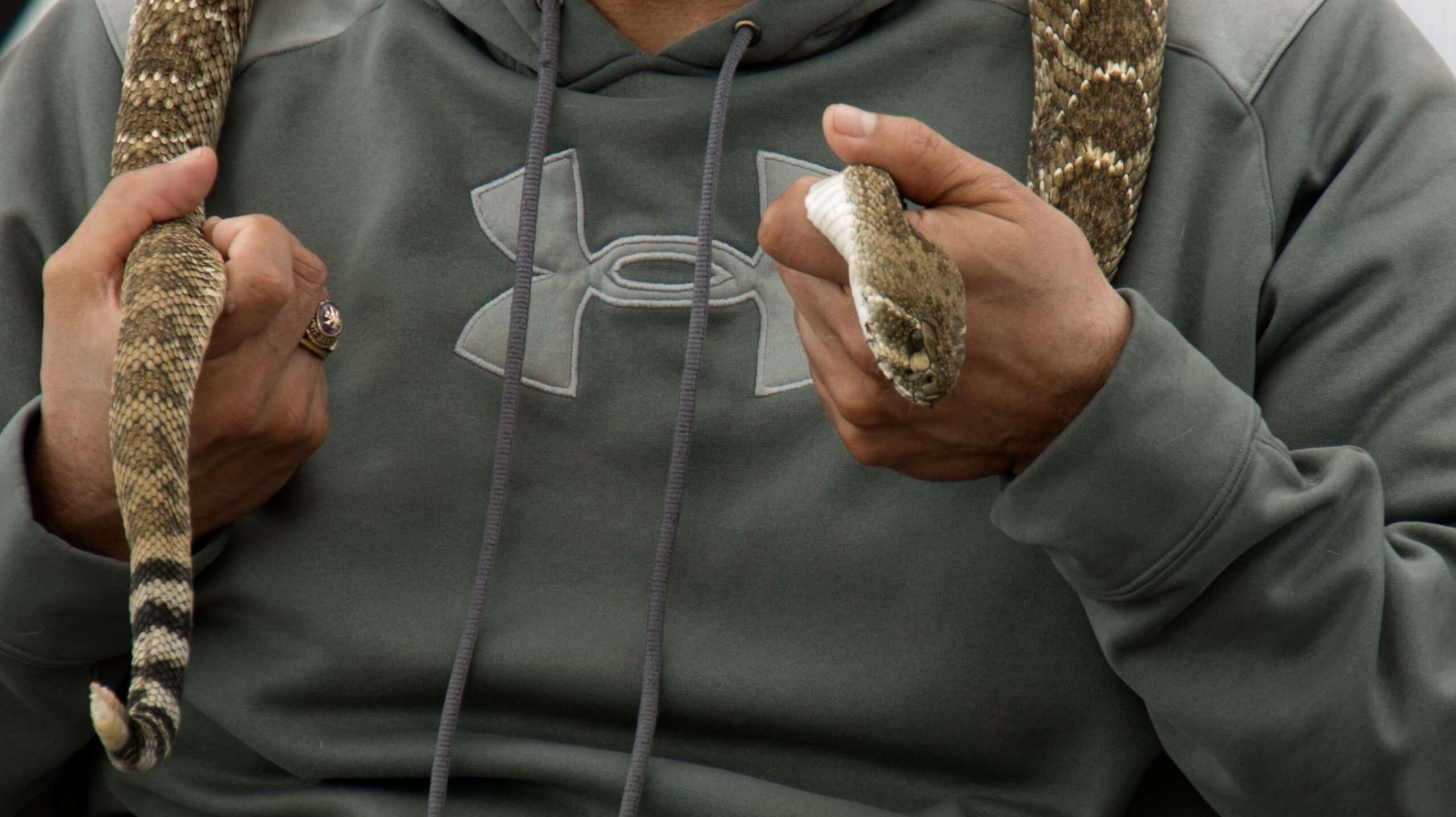 "They'll throw the snakes in a fridge freezer until they can't move," Amarello said. "Then they sew their mouths shut so they can basically hand these snakes to the public, so that people can pose for pictures and have snakes in their laps. It's a pretty clear violation to animal cruelty laws in Oklahoma."
Unfortunately, there is no official count of snakes at each event - instead, the organizers just measure them in pounds. But Amarello believes that thousands of snakes are killed at each festival, and this could have a devastating effect on rattlesnake populations.
In fact, roundups have been indicated as a cause of decline in at least one type of rattlesnake - the eastern diamondback rattlesnake.
Other rattlesnake populations haven't been researched as extensively, but Dr. David Steen, a professor of wildlife ecology and conservation at Auburn University Museum of Natural History, believes that roundups would have a negative effect on these species, too.
"Snakes are secretive and highly camouflaged and this makes them difficult to study; we know little about how their populations change over time and in response to the many different ways we disturb them, including collection for rattlesnake roundups," Steen told The Dodo. "The removal of snakes from a population clearly reduces the number of animals, but we don't know how this affects the population overall over the long term. However, I think it is common sense that intensive collection of snakes in a given spot over many years is likely to be detrimental to the affected rattlesnake population."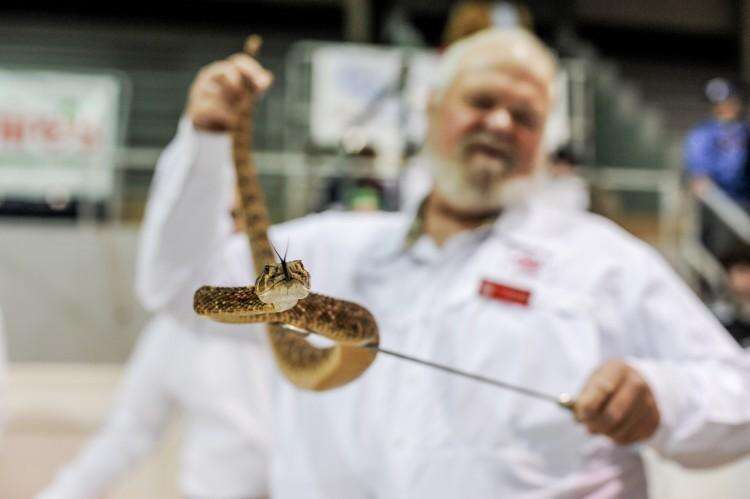 Instead of rounding snakes up for these events, McArthur believes that the organizers should learn to live with nature. "If the snakes are bothersome, then put on some high rubber boots when you go into your backyard," she said.
McArthur also suggested a potentially easy way to save snakes, but not hurt local economies that depend on the roundups - run the festivals with the amusement park rides, the gun shows and parades, but get rid of the snake killing events.