Small Scottish Town Says Farewell To Hamish The Beloved Stray Cat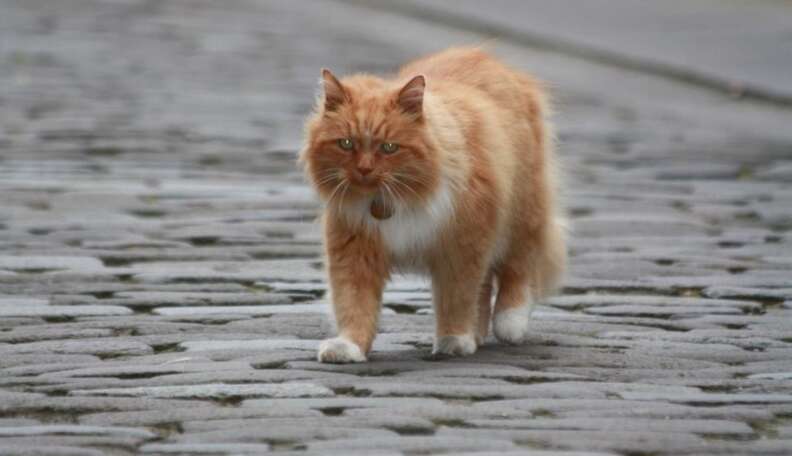 <p><a class="checked-link" href="https://www.facebook.com/HamishMcHamishOfStAndrews/">Facebook/Hamish of St. Andrews</a></p>
The small town of St. Andrews, tucked along the cloudy eastern coast of Scotland, is in mourning following the passing of one of its most beloved figures - a 15-year-old cat, named Hamish.
Having abandoned the comforts of domestic life when he was just one year old, choosing a life of adventure and freedom, the ginger cat might technically be considered a stray. But among St. Andrews's nearly 17,000 residents, the freewheeling feline had come to be thought of as the town's collective pet, happily accepting pats from folks as he lounged about the town.
His original owner, Marianne Baird, still saw to it that the cat had regular visits to the vet. She had come to accept Hamish was not a typical housecat. Indeed, he was so much more than that.
Hamish enjoyed such a privileged place in town society that shopkeepers and homeowners would nary turn him away if he arrived seeking solace for one of his frequent naps or a quick snack. In fact, it was something of a duty to be hospitable to Hamish, a duty which his plump tummy proved folks took seriously.
"The legend is if you don't let him into your home and feed him you will have bad luck," said Flora Selwyn, editor of a local magazine in St. Andrews, to the Scotsman newspaper.
A few years ago, Hamish went from being just a local celebrity to one known throughout the country after a children's book called "Cool Cat About Town" was published based on his life. Soon after, he became a social media darling, with a Facebook page and Twitter account set up on his behalf.
But perhaps the greatest honor came just this April when St. Andrews residents pooled together more than $8,000 to erect a statue of the beloved cat in the middle of town. Selwyn said the monument was to say "thank you to Hamish for being so 'purrfectly' adorable and to celebrate him and the joy he brings us."
The fame never seemed to go to Hamish's head, and for the next months he carried on like the "cool cat" he was. It was only recently that the aging cat fell ill.
On Thursday, Hamish's Facebook page delivered the sad news that the beloved pet had lost his life after suffering from a chest infection. The first of his many human friends, Ms. Baird, was by his side when he died, but she was far from alone in mourning his passing.
"Thank you Hamish for the years of joy you've given us and for letting us all be part of your life," read the announcement. "May your remarkable spirit live on forever in the town you loved...and ruled! Here's to you, old chum."