Small Scottish Town Puts Up Statue Honoring A Beloved Stray Cat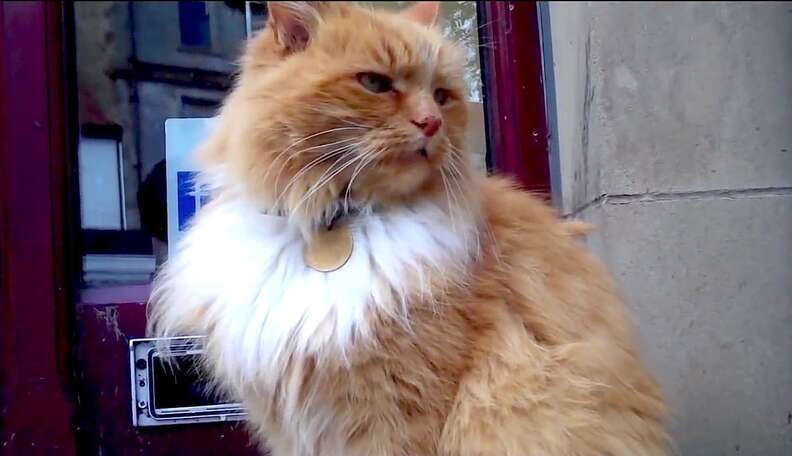 This morning, folks in the Scottish town of St. Andrews gathered to celebrate the unveiling of a statue of one of their best-known and beloved residents. But unlike many figures upon whom such an honor is bestowed, the honoree isn't being immortalized for any great achievement in the arts or sciences, nor for leading his people to victory in battle with valor -- though he did conquer their collective hearts simply by being himself.
His name is Hamish McHamish, and he's a cat.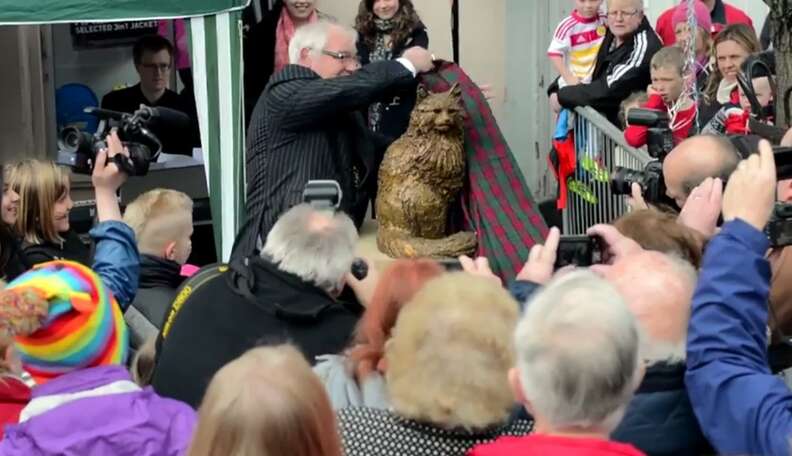 For the last fourteen years, Hamish has been a fixture in St. Andrews, known to peacefully saunter through the city streets, paying the occasional visit to various shops and homes as he makes his way about town, receiving pets and treats along the way. Though he has the nomadic lifestyle of a stray, most people prefer to think of him as their community pet.
Born in 1999, the fluffy, ginger feline was originally owned by local Marianne Baird, but when he was a year old Hamish's wandering spirit led him to quit the domestic life for one with a bit more freedom and adventure. Baird still makes sure he gets yearly visits to the vet, when she can track him down, that is.
"The legend is if you don't let him into your home and feed him you will have bad luck," says Flora Selwyn, editor of the St. Andrews in Focus magazine.
Hamish's fame and notoriety has only grown as word spread of his kindhearted role as the town's collective cat. In 2012, a book called "Cool Cat About Town" helped propel him into the national spotlight, and profiles set up on Facebook and Twitter ensure he has a place in cyberspace as well.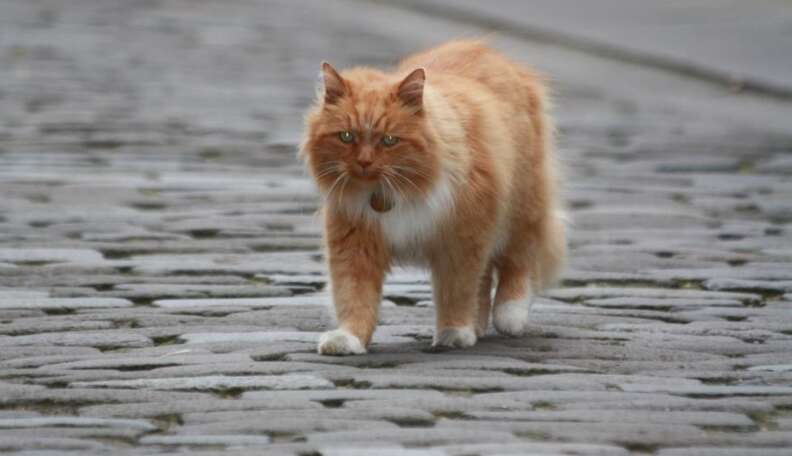 While there's little doubt that the cat, still healthy but getting on in years, won't soon be forgotten by the town of 17,000 who have come to love him -- his place in their hearts will now be reflected for perpetuity. In a fundraising drive last year, residents of St. Andrews donated more than $8,000 to commission a statue of Hamish to be erected in his honor.
A large crowd turned out this morning to see the statue unveiled, and Hamish even paid a brief visit to check it out himself. It's but a small token, says Selwyn, for the happiness he's brought into all their lives.
"Hamish is a wonderful animal," she says. "Our statue is a way of saying thank you to Hamish for being so 'purrfectly' adorable and to celebrate him and the joy he brings us."
Paw-some! Hamish McHamish statue unveiled