Baby Goats So Tiny They Don't Even Look Real
Sometimes baby goats bravely cross entire rivers. Sometimes they play with puppies. Other times they rock stylish sweaters and coats. No matter what they're doing, they're always irresistible.
Especially when they're really, really tiny.
Yup, that's a tiny little baby goat wearing a sweater. Just like these rescued goats, named Ebony and Ivory, looking fly in sweaters of their own.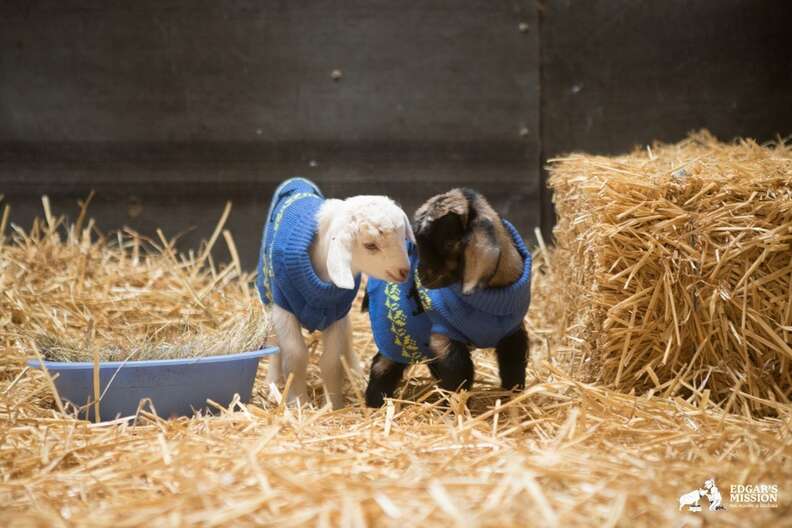 Next, say hello to these cozy kids named Mitch and Samuel ...
... and this little goat named Violet, who likes to snuggle ...
... but also likes to just romp around.
And then there's this little guy who's trying to pass as a zebra ...
... and this one, who's trying to pass as a cow.
This teeny little goat in a teeny little sweater ...
... and this one in a smart coat.
Here's one hanging out with some older, wiser goats ...
... and another one hanging out with a dog instead.
And, of course, these guys - named Snap, Crackle and Pop - just frolicking joyfully.
Snap, Crackle and Pop live at Edgar's Mission, a farm sanctuary in Australia. It's also where Ebony and Ivory, the goats in sweaters featured above, originally received medical care.
Edgar's Mission is home to several other adorable goats, like this one, named Sundance.
Being a cute baby goat must be exhausting.