Baby Bear Learns To Survive After Losing Her Mom — And Her Paw
Rose had lost everything - her home, her mother, even her front paw.
The young sloth bear cub was first spotted on the outskirts of a village in India. At first, the villagers wisely stayed away from the limping cub, knowing that a protective mom could be close by. But as the weeks passed her mother never appeared - and the cub appeared to be wasting away.
Wildlife SOS
Wildlife SOS
"She was growing progressively thin and her limp seemed to be getting more prominent," Wildlife SOS, an Indian rescue group, wrote in a release about Rose's rescue. "Dragging what looked like a mangled paw through the dusty by-lanes of Amoni [the village], she occasionally used her tiny muzzle as a crutch to help her walk. It was heartbreaking to watch."
Increasingly concerned, the villagers decided it was time to step in and contacted forestry officials, who in turn contacted Wildlife SOS. The rescue tracked her through the forest with the help of local residents, and, upon finding her, relocated the roughly 3-month-old cub to its bear rescue and sanctuary.
Wildlife SOS
Wildlife SOS
Unfortunately Rose didn't take to her rescuers' help too kindly. "[She] was, naturally, terrified - shaking violently and swiping her single weak forelimb at the Wildlife SOS staff when they tried to approach her," the group wrote.
But it was clear she needed it. Upon examination, rescuers discovered that her entire front paw had been taken off, possibly by a snare or trap. She had been wandering around on her own for weeks, and her leg was severely infected. She was also weak and emaciated.
Wildlife SOS
Wildlife SOS
Staff members quickly put her on antibiotics and tried to let her settle into her new home. But it hasn't been easy for the little cub, who experienced so much loss at such a young age. At first she was reluctant to eat anything, the group said, and would shake when anyone approached her. When she was alone, she'd cry.
"She struggles to walk, barely making it a few feet before collapsing," Wildlife SOS wrote after her rescue earlier this month. "Her tiny muzzle is muddy from being dragged along the ground as she uses it to support the weight of her body in the absence of her left forepaw."
"It's impossible to watch without a lump in your throat and the feeling that your heart might break," the group added.
Wildlife SOS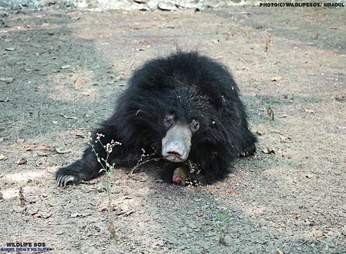 Wildlife SOS
But in the past few days, Rose's spirits seem to have picked up a bit. Photos show her cuddling into a giant red dog bed in her play area; in another image, a keeper helps her onto a hammock.
Wildlife SOS
Wildlife SOS
She's even been learning how to walk on three legs, Wildlife SOS said, without using her muzzle for support.
"She has not let her spirit fade and is showing definite signs of improvement both physically and psychologically," the group wrote. "Rose is slowly familiarizing herself with her surroundings and has become more comfortable with her keeper. She has also started playing with the enrichments in her enclosure."
Wildlife SOS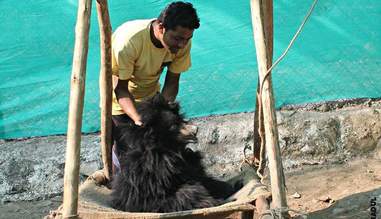 Wildlife SOS
Of course, the little cub still has a long road ahead. Without the comfort of her mother, she's still struggling to feel safe and take in all the changes she's seen in her short life. And since her health is still precarious, the team has not been able to X-ray her leg, which would determine whether she could be outfitted with a prosthetic; due to her injuries, she will likely not be a candidate for release.
Wildlife SOS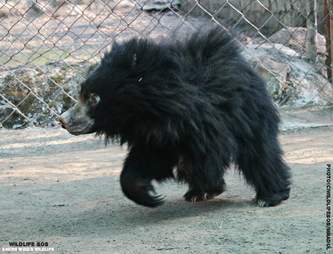 Wildlife SOS
But her carers are optimistic going forward - and determined to give the unfortunate little cub her very best shot at a happy life, Wildlife SOS said.
Wildlife SOS
Wildlife SOS
"Seeing her healthy and happy will make it worth all the heartbreak," her rescuers wrote. "And we're determined to get there with as much care, patience and love is needed."
If you'd like to help support Rose and the many other animals Wildlife SOS cares for, you can make a donation here.