Skeletal Dog Found Tied Up Outside A Church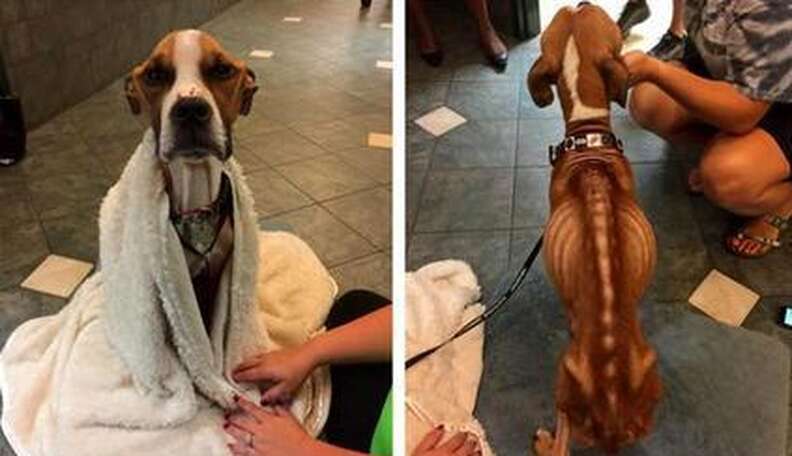 <p> <a href="https://www.facebook.com/angelsrescue/timeline">Facebook/AngelsAmongUs</a><span></span> </p>
Odysseus was so severely malnourished when he was found that his story made even the most seasoned rescuers tear up. The 2-year-old dog was discovered abandoned outside of a Georgia church - tied up, weak but still clinging to life.
Rescuers guess that Odysseus might be a boxer mix - but he's so skinny that they can't be sure. He weighed just 28 pounds when he was found, and all his ribs showed clearly through his skin.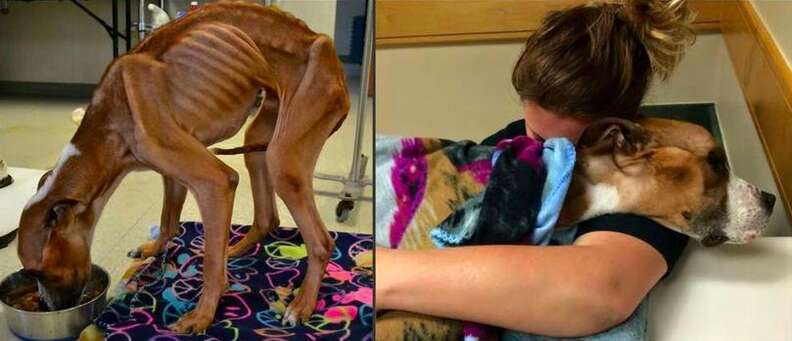 Local group Angels Among Us Pet Rescue stepped in to care for Odysseus, and rushed him into emergency veterinary care. Late Sunday night, the rescue shared his story in an impassioned Facebook post.
"I'm writing this with tears streaming down my face ... He is an absolute skeleton ... This boy needs rescue and emergency veterinary care and he needs it NOW!"
"It will take a bit to decipher his personality," Anne Clark, with Angels Among Us Pet Rescue, told The Dodo. "But I understand he is quite sweet."
Over the weekend, the rescue began searching for a foster home where Odysseus can begin to recover from his years of hunger and neglect.
"We are also in desperate need of a foster to help Odysseus recuperate," the group posted on Facebook. "Will you open your home and heart to help him?"
Their pleas were answered. Even though he's not ready to go to a home yet, Odysseus has already found a foster mom. "She's been on the edge of her seat all night waiting for updates and she's set to visit him early tomorrow," the rescue posted on Facebook. "She is his angel!!!"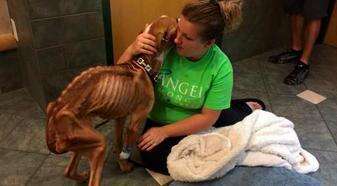 There are no leads yet about who starved Odysseus almost to death - but his rescuers are looking to the future now, focusing on how to give this young dog the chance at a healthy, happy life.
"THIS, this right here is rescue," Angels Among Us Pet Rescue posted over the weekend. "This is why we do what we do, day after day!"
Donate to Odysseus' care here. If you're ready to add a rescue dog to your family, find adoptable animals on Adopt-a-Pet.com.