This Woman Has Been A Mom To Over 50 Orphaned Chimps
On Mother's Day, the Tacugama Chimpanzee Sanctuary in Sierra Leone posted a tribute to a very special mother, indeed.
Known as Mama Posseh, she's cared for over 50 orphaned chimpanzee babies at the sanctuary.
Posseh Kamara originally joined the Tacugama team as a cook. But soon her job morphed into something else.
"It quickly became evident that she possessed outstanding commitment and dedication," Sofie Meilvang, program manager at Tacugama, told The Dodo. "Within six months, she became a caregiver for our youngest and most vulnerable chimpanzees."
Kamara uses her own experience as a mother and grandmother when caring for the orphaned chimps, according to Meilvang. She's used to long days of taking care of vulnerable beings who need her.
"Seemingly tireless, Posseh is awake in the early hours of the morning making sure that the chimps in her care awake reassured to see her," Meilvang said. "It can be late in the evening before the youngest chimp receives their last feed and cuddle from her."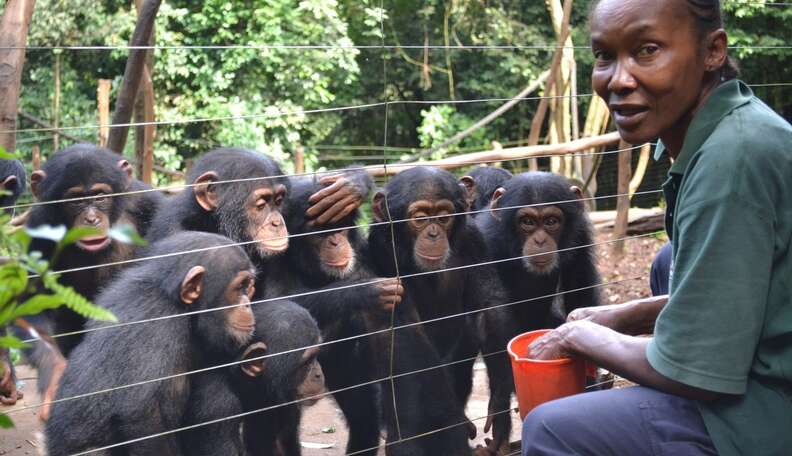 When a baby chimp gets sick, Kamara always rises to the challenge to do whatever is necessary. And a regular day for Kamara is already filled with tasks - cleaning and feeding the needy baby chimps.
"Few realize how tough the work is on a day-to-day basis, both physically and emotionally," Meilvang explained. "Mama Posseh has to walk a narrow path between ensuring her charges are reassured and nurtured, but also not getting them too used to human relationships, as they need to be prepared to join their own social group."
At the end of the day, Kamara still has the energy to greet sanctuary visitors, who are curious about the important rehabilitation it does for chimps. "She helps guests to understand that what looks like an appealing, cute and lovable pet belongs with its own kind in the wild," Meilvang said.