Puppy Was So Happy To Be Rescued He Hurt Himself Wagging His Tail
<p><a href="https://www.facebook.com/CabanaPortraitsPhotography/" target="_blank">Tiana Cabana</a><span></span><span></span></p>
XO was found wandering the streets of Brockton, Massachusetts, all alone and in terrible condition. He had no collar or microchip, and was taken in by the City of Brockton Animal Control.
When he arrived at the shelter, 1-year-old XO weighed only 15 pounds. After being checked out by a vet, it was determined that he suffered from demodectic mange, as well as a severe secondary skin infection.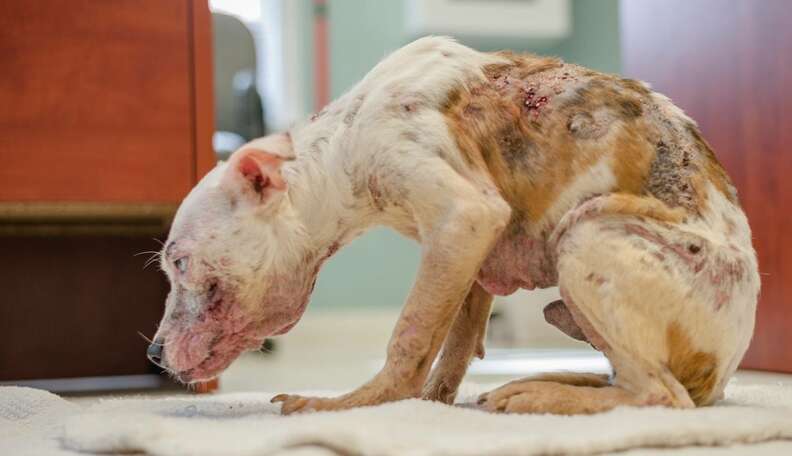 Despite his health issues, XO was an extremely happy little guy. He loved attention from anyone who would give it to him, and really just wanted to play and be loved, despite his uncertain past.
XO also suffered from "happy tail" when he came into the shelter - meaning he was so excited after being rescued that he wagged his tail until it bled.
"Although he has been through it all in such a short amount of time, that doesn't get him down," Alyssa Ellman of Second Chance Rescue NYC told The Dodo. "He is truly so outgoing and loves to follow you around, wag his tail and take treats from you."
The shelter contacted Ellman and Second Chance in hopes that they could help secure a foster home for the tiny puppy. Before long, XO was pulled from the shelter. As soon as Ellman met him, she fell in love and knew it would not be hard to find him a home.
"The second I got to animal control and I saw his face and looked into his eyes, I couldn't help but tear up," Ellman said. "Seeing that tiny boy in such bad condition breaks my heart."
Ellman chose XO's name because despite his condition, all he wanted to do was give hugs and kisses to everyone he met.
XO is now in a loving foster home and doing much better than when he was first brought in. He's gained 10 pounds since his rescue, but still has a long road to recovery in terms of his mange and skin infection. Luckily, he has the best home to recover in, with a foster mom who loves him very much.