Pam Ahern had seen some pretty bad cases, but she'd never seen a lamb in worse shape than Harry. A farmer had surrendered the lamb to a lady in the community when he noticed the lamb wasn't putting on weight. The lady then took Harry to Edgar's Mission, an animal sanctuary in Victoria, Australia.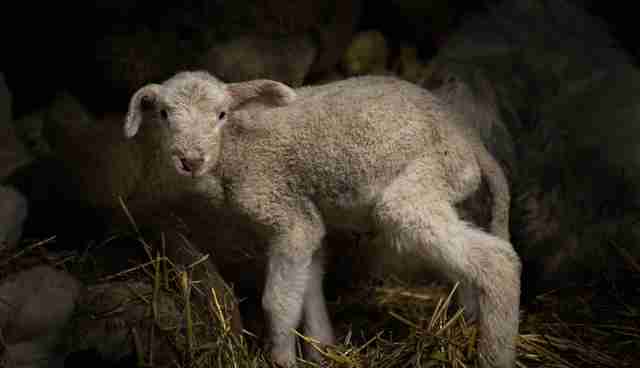 When Ahern, the founder of Edgar's Mission, examined Harry, she was shocked to find he didn't have an anus. Without this crucial body part, the lamb had a buildup of feces and gas, and his tummy was grossly distended. He'd stopped eating because it was too painful, and Harry had become thin and weak.
Ahern and the team at Edgar's Mission rushed Harry to The Vet Practice in Whittlesea, Victoria, for emergency surgery. It turned out that Harry had atresia ani, a congenital condition where the membrane separating the rectum and anus hasn't ruptured properly. The veterinarian would need to sever the membrane and construct an anus, but the procedure would be risky. "We held grave fears for Harry pulling through," Ahern tells The Dodo. "Surgery is always risky on sheep, even more so on lambs, and even more so very sick little ones like Harry. The other complicating factor was that we didn't know how severely compromised his internal organs were."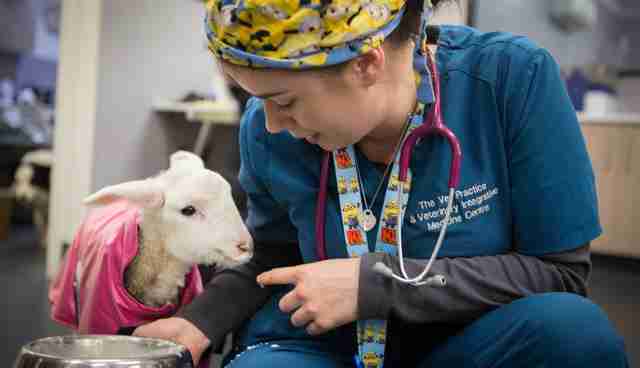 Everyone held their breath and crossed their fingers when Harry went into surgery. The procedure was a success, thanks to the skill and dedication of the staff at The Vet Practice. "We are absolutely over the moon with the result," says Ahern. "No doubt Harry is too."
After surgery, Harry was too weak to stand, let alone feed from a bottle, so he remained at the veterinary clinic for several days. Slowly, he regained his strength, and began winning the hearts of everyone at the clinic, which won him the nickname "Harry the King of Hearts."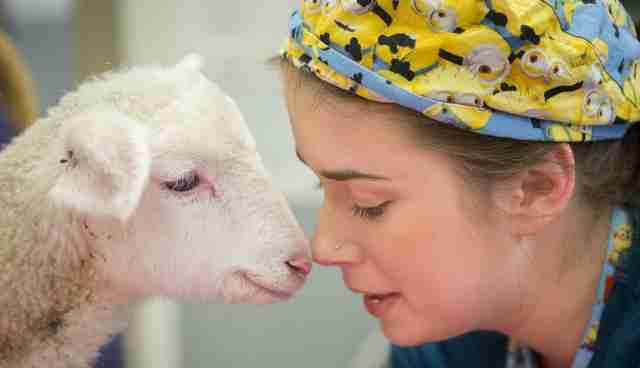 "Harry trots over to whoever he sees and looks longingly into their eyes as if to say, 'Thank you, I feel very much better,'" Ahern says. "Then he presses his little face into your hands. Now who could resist that?"
The two resident dogs at the veterinary hospital also fell in love with Harry - especially Clancy the border collie.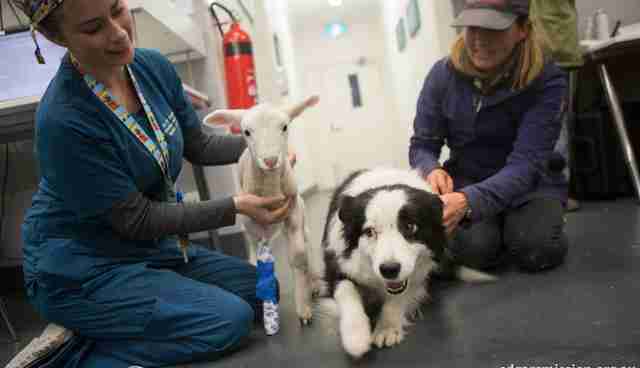 Harry is now back at Edgar's Mission, but he'll need ongoing care - medication to prevent postoperative infection, scourban liquid to help his bowel movements and twice daily cleanings of his backside. But he seems very happy to be home!
"I don't think I've ever felt more sorry for an animal than when I first saw this tiny weak baby with the huge belly, bleating out in absolute agony," says Ahern. "Generally when animals come in, we have lots we can do to ease their pain, and help them on the road to recovery before vets are needed. But with little Harry, there was nothing we could initially do - even picking him up caused him great pain. But he's really making a fantastic comeback. This is truly one of our most uplifting rescue stories."
Harry's surgery cost about $3,000, and he'll need ongoing care. To help Edgar's Mission pay for his veterinary costs, you can donate here.