Fox Cub Who Lost Her Sister Fights For Her Own Life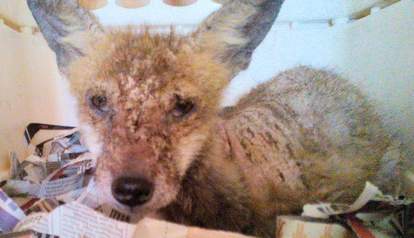 <p> <a href="https://www.facebook.com/media/set/?set=a.1043694015664234.1073741903.608995775800729&type=3" target="_blank">Facebook/National Fox Welfare Society</a> </p>
When people noticed a sick fox cub wandering around their neighborhood, they decided they had to do something.
The fox cub was all alone in the world, until she was captured in Birmingham, England, earlier this month and brought to the National Fox Welfare Society, a volunteer organization that's been helping foxes all across the U.K. for the past 20 years. They named her Hope.
"With Hope it is still early days and although she does seem to be pulling through, it is still very much touch and go," Martin, of the National Fox Welfare Society, told The Dodo.
But there are signs of hope for Hope. Rescuers were encouraged to find Hope's appetite is healthy, even despite her ailments. "This morning all Hope's food was eaten," the society wrote. "We just pray this little one has got the fight needed and unlike Lady will pull through, a big ask and a big 'Hope'."
Foxes are often seen as mystical creatures, sometimes portrayed as masters of trickery, and other times as bringers of good or bad omens. But it will take a lot of real hard work and care to help Hope, vulnerable to sickness and loss just like anyone else, recover.
"Hope will, if we can pull her through, go back to the wild where she was first caught," Martin said.
Send well wishes Hope's way. Or donate to her treatment here.