Sick Dog Proves It's Never Too Late To Marry Your Best Friend
It's never too late to celebrate true love - just ask this old pup named Wellington, his beaming doggy bride, and everyone else who clearly adores him so dearly.
Amy Loveless
The 13-year-old black lab was recently diagnosed with cancer which, sadly, means he may have only a few more months left to live. For Wellington's owner, Amy Loveless, the news came as a shock. But with it, she decided to do all she could to make the dog's final days among his most memorable.
"We decided to make him a bucket list, to have some last fun times with him," Loveless told The Dodo.
First on that list was to have a wedding on the seaside near their home in England.
Amy Loveless
While Wellington has been Loveless' loyal companion since he was just a few weeks old, three years ago he met his bride-to-be: a black lab named Elsa who stole his heart.
Elsa is an older dog as well, and the two became acquainted at Loveless' hydrotherapy clinic for animals where she's treated for arthritis. There, Wellington and Elsa quickly discovered their shared love of swimming - blossoming later into regular walks and little play dates arranged by their owners.
Amy Loveless
"Wellington and Elsa absolutely love being in the water together," Loveless said "So, we decided to have the wedding at the beach - their favorite place."
And with that, a date was set earlier this month for Wellington and Elsa's big day. But it was far from a casual affair.
The bride was given a veil to wear; Wellington donned a tasteful little tuxedo.
Amy Loveless
More than 20 dog friends and their owners were in attendance to witness the canine nuptials, plus a number of passersby who stopped along the beach to watch.
"Wellington was having a great time," said Loveless. "He walked around in his tuxedo, talking to all of his guests. He was very proud of himself. He and Elsa knew they were both in the limelight."
Amy Loveless
Some of the guests even got dressed up, too.
Amy Loveless
Amy Loveless
Others decided to go more casual.
Amy Loveless
Amy Loveless
When it came time for the actual ceremony, no details were spared.
Amy Loveless
"They had proper wedding vows, which we read on their behalf," said Loveless. "Wellington barked through his, which was actually quite funny. Instead of exchanging of rings, they exchanged collars. It was lovely."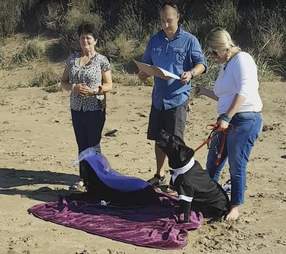 Amy Loveless
Loveless was kind enough to share text of Wellington's vows to Elsa below.
Amy Loveless
After the sweet ceremony, there was still more to look forward to. After all, what wedding would be complete without a proper cutting of the cake?
Amy Loveless
Wellington and his bride handled that their own way.
"Obviously, instead of cutting it, they just bit into it," Loveless said.
Amy Loveless
Some of the guests even got a slice.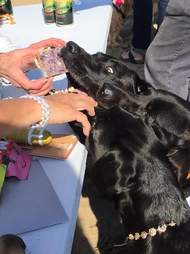 Amy Loveless
Seeing Wellington's smiling face throughout the ceremony, it was easy to forget that he is terminally ill - and in a way, that was reason enough to celebrate.
"Wellington and I have been through a lot together. He's my first dog, and he's been a loyal companion, so I want to make each day we have left together special for him," said Loveless. "This was a really wonderful day. It will be a really nice memory to keep of him."
Amy Loveless
It's unclear exactly how long Wellington has left, but he has begun chemotherapy to extend his ability to be a happy dog for as long as possible. His new bride will continue to visit, too, to see to it that his final days are filled with joy.
"He's an old man, bless him," said Loveless. "But we're going to make sure he enjoys the rest of his days.