This Box Was Sitting At The Airport For 7 Days Before Someone Opened It
"Their paw pads were raw and red from being covered in urine."
Update: A contact from Animals Lebanon told The Dodo on April 21 that a judge has decided to send the tigers back to their owner. Some people are worried that the tigers could end up in the black market because of this decision. To urge the government to send the tigers cubs to a sanctuary, you can sign this petition.
An unmarked wooden box only 16 inches tall, with a few holes punched in it, sat in the Beirut, Lebanon, airport for seven days before people finally opened it.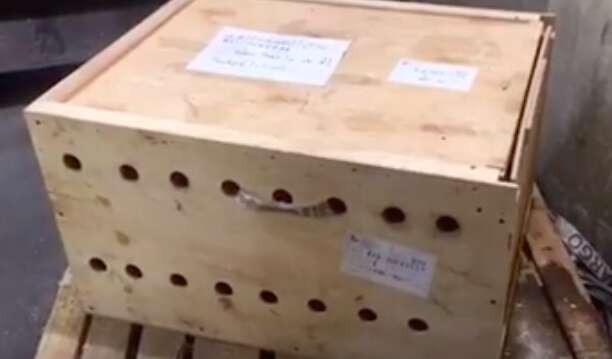 Inside were three endangered Siberian tiger cubs, covered in urine and feces and infested with hundreds of maggots. For days, the 4-month-old babies, who were dehydrated and hungry, hadn't even been able to stand up.
"Nothing indicated that the box contained tigers or even live animals, and there were no details of a shipper or receiver," rescue group Animals Lebanon (AL) wrote.
The cubs were on their way from the Nikolaev Zoo in Ukraine to the Samer al-Husainawi Zoo in Damascus, Syria, when they'd gotten delayed in Beirut, and AL petitioned a judge to get the animals to be released.
"Once we finally got them out of the box, the box had dozens and dozens of maggots crawling around in it. There were maggots all over the back thighs of the animals and around their anus," Jason Mier, executive director of AL, told ABC News.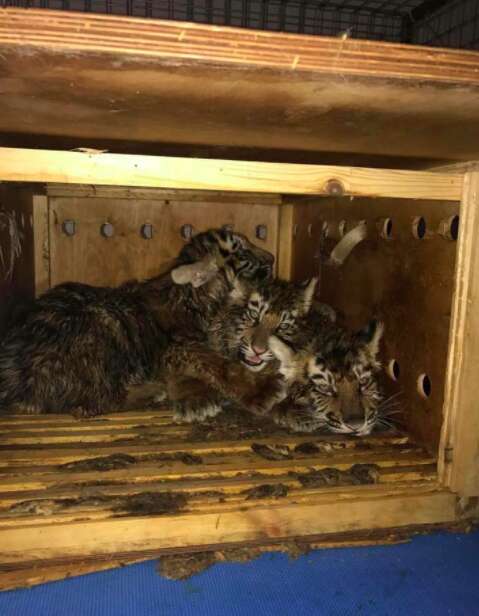 The judge, seeing that the animals would die if left in such horrible conditions, allowed the cubs to be transferred to AL for treatment. The rescue organization is now caring for the cubs, hoping that the judge will ultimately allow the cubs to be confiscated because of their poor treatment and sent to sanctuary. The group has formally submitted their request for confiscation to a judge.
Sadly, these cubs are just the latest to be torn from a mother tiger in the Ukraine zoo, and they offer a glimpse into the sad lives of exotic animals trafficked for a profit.
"Since 2012 their mother has given birth to at least 12 cubs, including these three," Mier told The Dodo. "The other nine were all sold to 'private/undisclosed' buyers."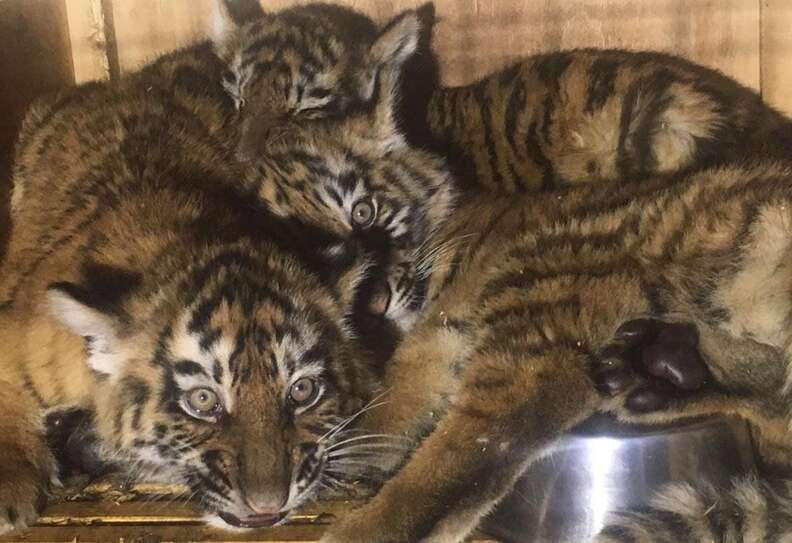 The three siblings are getting toys and room to play as they recover from their harrowing journey.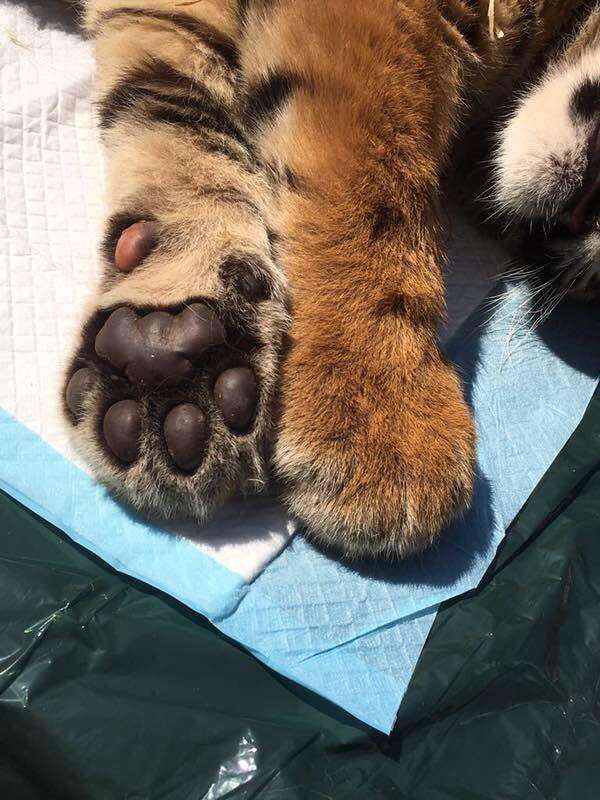 "The tigers did not have names," Mier said. "[They] were instead referred to by a code." So Mier and his team named the cubs after people who have helped animals through his organization. "May is the most confident female and the first to eat and explore new enrichment items," he said. "Tania follows May to look at new things; she seems like May's sidekick."
May and Tania's brother's name is Antoun, and he's "more shy than the others but they all play well with each other and are much more settled in now," Mier said. "All three were named after supporters which are very dear to us."
A wildlife veterinarian came to examine the cubs and give them vaccinations.
"Their paw pads were raw and red from being covered in urine, as were their back legs and thighs," AL wrote. "They had not received the proper vaccinations so all three were vaccinated. Only one tiger was found to have a microchip, though documents state that all three should have been microchipped."
The cubs aren't totally out of danger yet, since the cubs could be still sent back to Ukraine or on to the zoo in Syria. "Big cats can be worth tens of thousands of dollars on the black market. The owner is fighting to get them back," AL wrote. "And we are fighting for the tigers."
The Dodo will continue to follow this story for updates.
To help AL stand up for animals like these tiger cubs, you can make a donation.