Lucky Cats Compete To Become The Next Star Of A Mobile Game
Who won?!
The search is over! America's Next Shuffle Cat has been crowned!
Today in NYC, King held a live cat-sting call to find the next star of Shuffle Cats, a live multiplayer card game set in the 1920s across the rooftops of London. Shuffle Cats introduces gamers to a cast of feline characters who provide guidance or challenge Rummy card players from all over the world. The contest was held to find a quirky cat to be featured in the game for one weekend as co-host in Walter's Workshop - a weekly in-game event.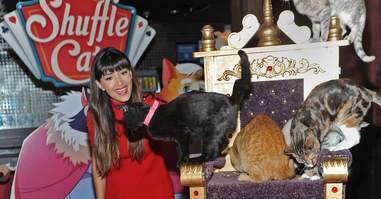 AP
The four finalists, Booger, Jetta, Tigger, and Wiley Coyote Super Genius and their owners flew to NYC to audition for the featured role by strutting the catwalk in front of a panel of judges to prove why they deserved to be the America's Next Shuffle Cat. The judges included actress Hannah Simone (star of "New Girl"), Joanna Zelman, Executive Editor at The Dodo and expert Ben Hollis, a Lead Game Designer at King.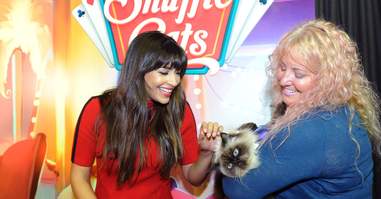 AP
After strutting the catwalk, each cat owner enjoyed a moment in the spotlight to boast about their deserving cat's loveable personality traits and talents in response to questions from the panel of judges.
After much deliberation, the judges finally came to a decision about which cat would be awarded the coveted prize of being digitally reimagined in the Shuffle Cats game for the whole world to see.

And the winner is ... Wiley Coyote Super Genius!
AP
Wiley Coyote Super Genius is 9 years old, and only just found his voice and started meowing four years ago - and clearly found his confidence then, too. He is totally going to be the envy of all of the cats in his neighborhood when they find out that he is the all-new star of Shuffle Cats, played worldwide! That's one lucky cat.
"His little brother has far more notoriety, so now Wiley is going to be able to lord that over him," Michelle Meinhold, Wiley's mom, told The Dodo.
We can't wait to see Wiley's debut in the Shuffle Cats game! We know he will crush it.