Shocking Conditions Exposed At Vietnamese Bear Bile Farms
A report detailing shocking conditions and emaciated, dying bears has been handed to Vietnam's government after Animals Asia was granted access to three bear bile farms in Halong Bay.
The inspection marked the first time ever that the farms, situated near Vietnam's most iconic tourist site, have been forced to open up to independent observers.
In Vietnam nearly 2,000 bears remain in cages on bear bile farms, despite its illegality. They suffer regular painful bile extractions as their bile is used in traditional medicine.
The local Forestry Protection Department (FPD) took the decision to allow access to Animals Asia's inspection team due to reports of plummeting bear numbers and bear deaths.
Bear numbers on Halong Bay bear farms have dropped dramatically from 280 in 2007 to just 49 today.
On November 13, flanked by government officials and a police guard, an Animals Asia veterinarian and a vet nurse visually inspected all 49 bears on three separate farms in the tourist hot spot.
The scenes described in the reports are in stark contrast to adjacent beauty spot Halong Bay, a World Heritage Site visited by millions of international tourists every year.
The conditions of Cau Trang Bear Farm, just minutes from Halong City's iconic waterfront, caused most concern with veterinary staff overwhelmed by the desperate state of the 27 bears they found.
Animals Asia Senior Vet, Joost Philippa compiled a report containing the following: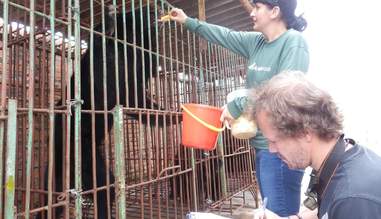 - Nearly 20% of bears classed as "emaciated"
- Average body score was 1.1 on a five point scale signifying "severely malnourished"
- 37% had visibly broken canine teeth, while many of the remainder couldn't be properly observed - Wounds were observed on nearly three quarters of bears - Nearly 20% were missing at least one limb - Two bears suffering eye problems - 100% of bears suffering from footpad hyperkeratosis – dry cracked and painful paws from walking on bars.
In addition, having suffered potentially decades of bear bile extraction, internal damage is expected with the bears likely to require the removal of diseased and damaged gall bladders.
The report on the conditions of the bears was lodgedwith government on November 26 by courier.
Animals Asia Vietnam Director Tuan Bendixsen said:
"It was a shocking scene. We are well used to the horrors of bear bile farming but we were shaken. The report makes it clear that the five emaciated bears are fighting for their lives."
Tuan Bendixsen added:
"It was a tense visit because the bear farmers didn't want us to be there but they had no choice.
"This is a key point. Bear bile farming is illegal so farms are only allowed to keep the bears on behalf of the government. Essentially these are government owned bears registered with farmers who provide their care. The farm conditions and the fact that bears are dying is clear proof the farmers aren't upholding their side of the deal.
"Now we appeal to the government to step in. Please don't let this go on."
Animals Asia is an animal welfare charity working in Vietnam and China which has been campaigning for an end to bear bile farming since it was formed in 1998. In China there are an additional 10,000 bears caged by the bear bile industry. Animals Asia has rescued over 500 bears and runs sanctuaries in both China and Vietnam. In April 2014 it took over a bear bile farm in Nanning, China which it is converting into a sanctuary.