Leonidas spent every hour of every day in this 6-meter-long metal shipping container.
Facebook/Drakenstein Lion Park
Because Leonidas was sold by a zoo to an amusement park, he's spent years totally alone in the darkness on a concrete floor. But this week, that all came to an end.
Animals Lebanon advocated for the owner of Leonidas to retire him to a sanctuary, and after ten months of coordination, Leonidas finally arrived on Wednesday at Drakenstein Lion Park in South Africa - a sanctuary for animals like Leonidas, who were born into captivity and need refuge from abuse.
Facebook/Drakenstein Lion Park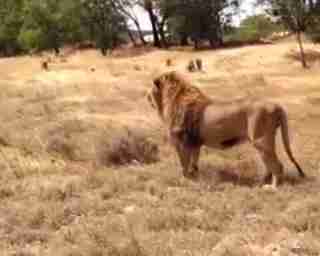 "Leonidas had spent his entire life in solitary confinement in a six-meter shipping container," Paul Hart, of Drakenstein Lion Park, told The Dodo.
"His arrival at the sanctuary marked the first time that he was able to walk on earth, experience grass under his feet and see others of his kind."
Facebook/Drakenstein Lion Park
Watch the moment Leonidas steps out of his crate for the first time:
Watch Leonidas take in the African homeland he's never seen:
Have a tip? Email sarahv@thedodo.com.