Dying K-9 Officer Honored With The Most Touching Final Farewell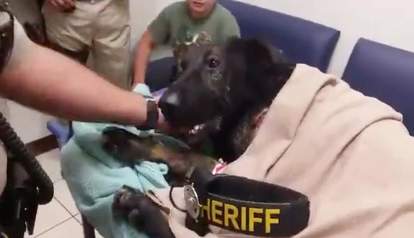 <p><a href="https://www.facebook.com/hidalgocountysheriffsofficetx/videos/1911992349026056/" target="_blank">Facebook/Hidalgo County Sheriff's Office</a></p>
An ailing dog named Argo, who dedicated his life to serving the community, was surrounded by those who loved him most as he embarked on his last great journey.
The sweet German shepherd had served alongside law enforcement as a K-9 officer with the Hidalgo County Sheriff's Office in Texas, where he was a beloved and effective member of the team. After years of distinguished service, during which he helped detain countless criminals, Argo was sidelined by bone cancer - though, as his colleagues note, he still "refused to let it slow him down."
Earlier this month, after his pain had grown too much to bear, Argo's partner made the heartbreaking decision to end his suffering - but not before those he'd served so faithfully alongside honored him with one final farewell.
"End of watch for K9 Argo on October 10, 2015," a dispatcher read over the quieted radio line. "Rest in Peace, K-9 Argo."
You will be missed.