When Scarlet had a secret worth keeping, she guarded it with tooth, nail and snarl. Probably because she had just been dumped at a bustling animal shelter and what she was protecting had become the most precious thing in the world to her.
The 6-year-old pit bull mix had quietly given birth to a litter of three mewling babies. And, in a strange, new environment, Scarlet wasn't going to give up the only family she had left.
That is, until volunteers from Poochie's Pet Rescue visited the shelter - and offered her a real family.
The organization pulled Scarlet as well as her babies from the shelter last October. And it didn't take long in a foster home for the dog to realize her secret was worth sharing.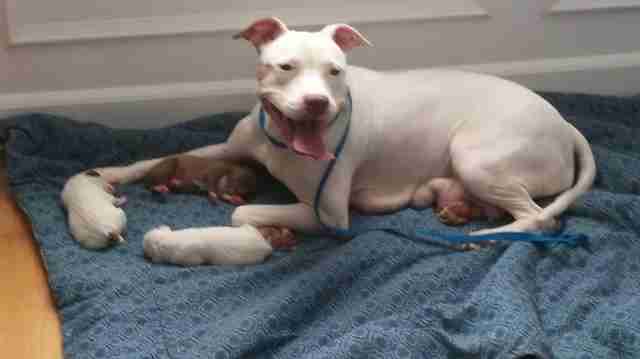 In fact, the dog no one could approach at the shelter turned into something of a puppy herself. She's even forged a special friendship in foster care with a girl who is about 10 years old.
"A lot of times you still see that in the shelter environment - when they become very aggressive - especially with pups," Lindsay Slaughter Grey, president of Poochies Pet Rescue, tells The Dodo. "But once she had been placed in her foster home after those pictures were posted, she turned into a totally different girl."
And the puppies she once guarded so fiercely? Scarlet has already said goodbye to two of them, Skye and Bailey.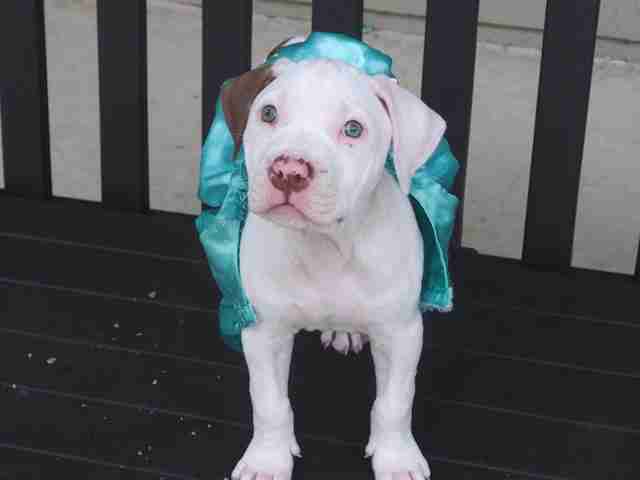 Scarlet didn't need any convincing when someone offered them a forever home.
"She's been such an amazing mom to her puppies," Grey says. "She's taken such good care of them. She just greets everyone with this beautiful, big smile."
Now, all that remains is a home for her last puppy, Sienna - along with one for the mother who held on to them until the time was just right.
Think you might be able to help? Get in touch with Poochie's Pet Rescue through the group's Facebook page.
And if you would like to support the group's mission to save countless dogs like Scarlet, you can make a Paypal donation to this email address: poochiespetrescue@gmail.com.