Shelter Kitten With Heart Condition Gets 'Iron Man' Vest To Keep Him Safe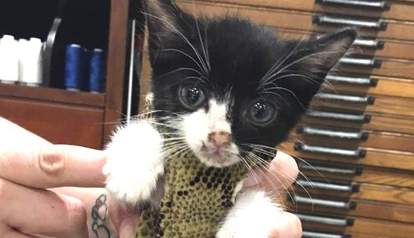 The kitten came into Baltimore's city shelter in mid-July, along with his litter who'd been found on the street.
But this one was different, it was immediately clear. His chest cavity hadn't fully closed, and his heart could be seen beating just below his skin.
This is a condition that leaves the kitten's heart unprotected, and it doesn't bode well. The shelter's veterinarians struggled with whether it was humane to keep the kitten alive.
While they decided, he was separated from his siblings, so they wouldn't play too rough and accidentally kill him. Adoption counselor Lesley Loges Scheitlin heard the kitten crying and decided she couldn't leave him.
"She told me she just wanted to take him home so he could feel love, really assuming he wasn't going to make it," Baltimore Animal Rescue & Care Shelters (BARCS) spokesperson Bailey Deacon told The Dodo.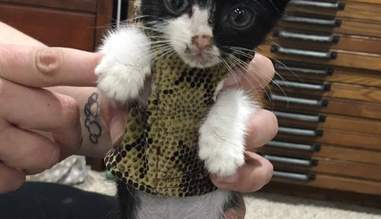 BARCS
He'd been called Joy in the shelter. Scheitlin's son thought Stark was a more fitting name - after Tony Stark (the fictional genius who invented the Iron Man suit as a lifesaving measure, after suffering his own devastating chest injury).
The new name gave Scheitlin a new idea: What if Stark the kitten could get a protective, Iron Man-like suit of his own?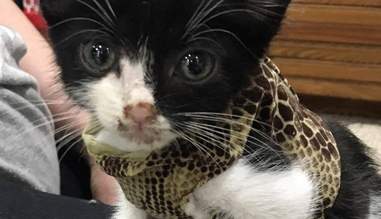 BARCS
A shelter volunteer made Stark's first outfit, fitting some firm material over his chest. Stark doesn't seem to mind it at all. Plans are in the works to make custom-molded jackets for him.
Stark isn't out of danger yet. He's got specialists to visit, and treatments to endure, and even with his special armor his carers don't yet know if he'll make it.
But for now he's happy and spunky, and loved. You can see it, that this tiny superhero wants to be here for more of the action.
"How many people can say that they can see the love of their pet?" says Deacon. "With Stark, every visible heartbeat is the fight to live."