Your Ugly Old Sweaters Could Mean The World To A Shelter Pet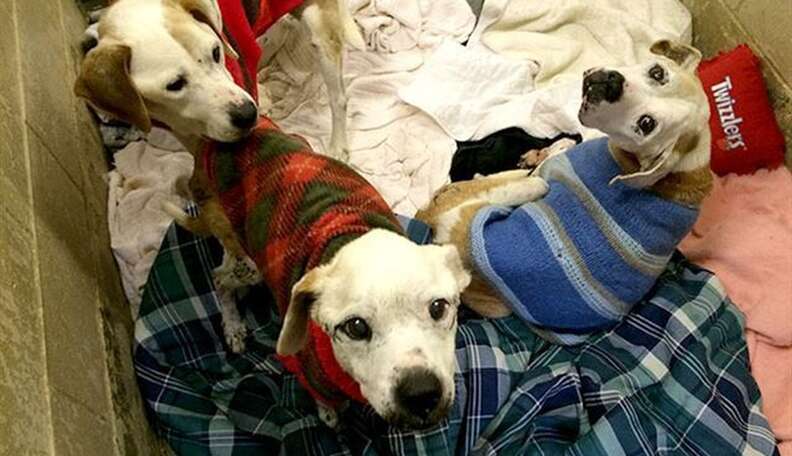 <p><a href="http://www.johnsoncitypress.com/Pets/2015/11/15/Have-an-old-sweater-Give-it-to-the-animal-shelter.html?ci=stream&lp=5&p=1" target="_blank"> Jessica Fuller/ Johnson City Press</a><span></span> </p>
<p><a href="http://www.johnsoncitypress.com/Pets/2015/11/15/Have-an-old-sweater-Give-it-to-the-animal-shelter.html?ci=stream&lp=5&p=1" target="_blank"> Jessica Fuller/ Johnson City Press</a><span></span> </p>
Everyone has a least one or two tucked away in the dark recesses of their closet - ugly old sweaters that, for whatever reason, haven't been worn for years. But instead of hanging onto those neglected garments as a reminder of your lack of style, they could go on to make a real difference in the life of a shelter dog.
The Washington County Animal Shelter in Tennessee devised a wonderful way to keep its residents cozy and warm over the colder months by giving them little sweaters. The shelter is always on the lookout for donated winter clothing for pets.
Fortunately, transforming an old sweater into a dog sweater is a rather simple task.
The shelter does have a heater for when it's extra chilly outside, but it can still be a challenge to ensure everyone is comfortable while they're in the play area outside.
"We have doggy doors that lead to our outdoor cages. Those are left open during the day, which lets the cold air in," one shelter staffer told The Dodo.
With around 100 dogs waiting for adoption at the shelter at any one time, there's usually a shortage of sweaters to go around.
"We never have enough of the bigger sweaters, so we can use any amount of them," the staffer said.