'Rescuer' Pulls Hundreds Of Dogs From Shelters — And Then Abandons Them All
Now they need forever homes.
The stains around Bless' eyes were likely from an untreated infection and spending a lot of time in the dirt.
But it's easy to mistake them for tears. This dog, riddled with arthritis and parasites - and at least 13 years old - has certainly earned them.
Bless was among 13 animals found over the weekend at an abandoned property in Horatio, Arkansas. Some were huddled under a house, while others cowered in the grass. All of them were living on their own, their owners long gone, and left to fend for themselves.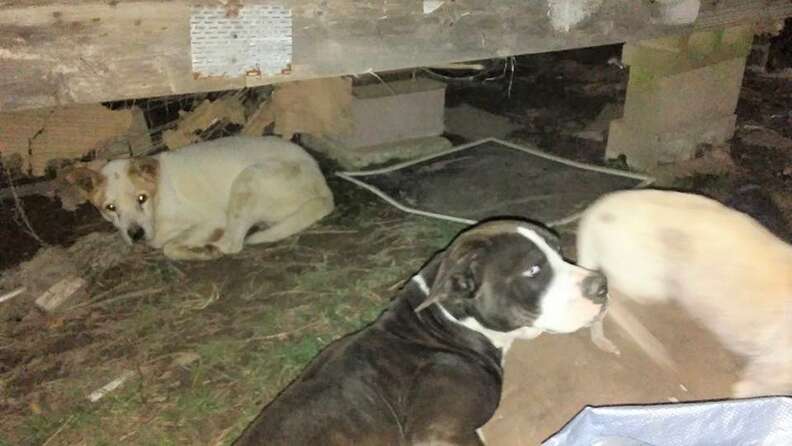 Kendyll Briggs, one of several animal rescue volunteers who visited the property, likened the scene to a horror movie.
And they were the survivors. Rescuers found ample evidence that many dogs and cats didn't live long enough for help to come.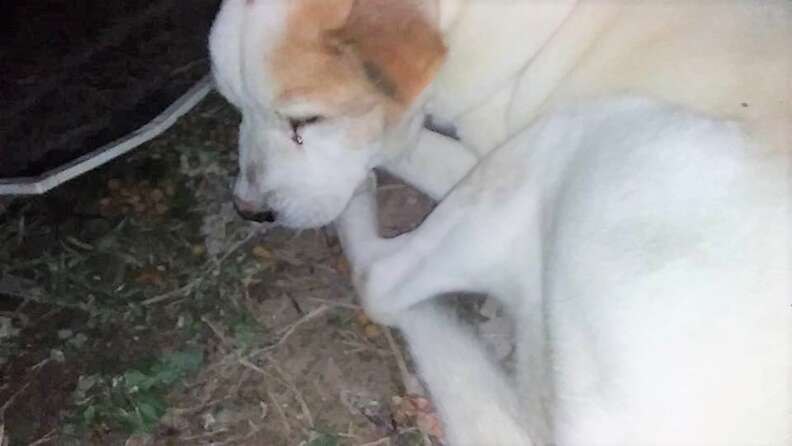 Even more troubling, these dogs had been considered "rescued" - that is, a woman representing a charitable organization allegedly pulled them from a public shelter.
"She was given permission to be a representative of this rescue to pull animals," Karri McCreary, a veterinarian with VetRanch, tells The Dodo. "She actually was using her own PayPal account. So a lot of donations for these animals' care were being sent directly to her PayPal account for care that we know has not happened."
An army of rescuers have stepped up and, McCreary adds, Texas police have launched an investigation. The scope of the tragedy, however, has not yet been tallied, with McCready saying hundreds of dogs may have been pulled from shelters in Arkansas, Texas and Louisiana.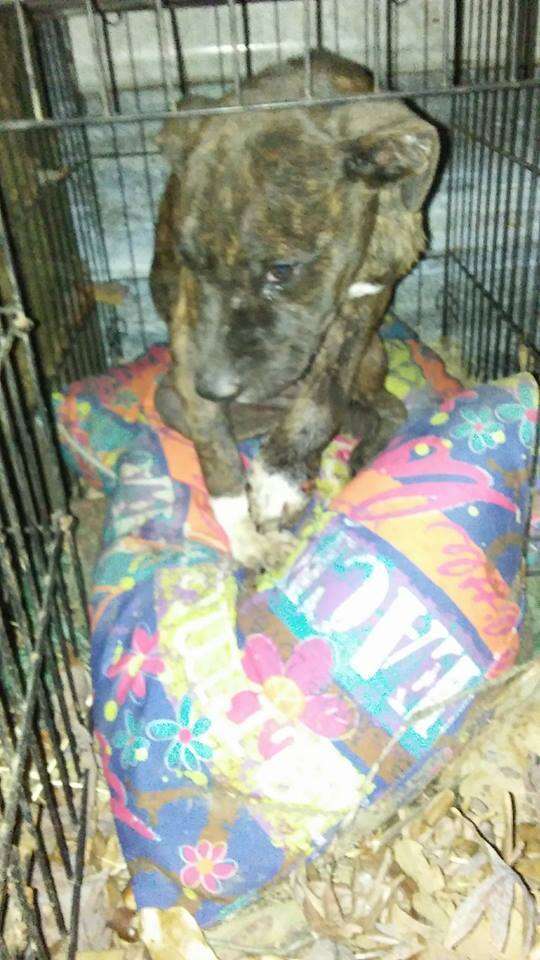 "We have no way of knowing how many animals she's been allowed to pull," McCreary says.
The 13 found alive - five of the dogs are being cared for at VetRanch - are severely malnourished, and have parasites and heartworm.
But today, they also have something they likely haven't known their whole life: real hope.
Several rescue groups, including Dallas DogRRR, are working with VetRanch to get all 13 dogs the medical care they need - and homes.
Most importantly, they will never need rescuing again.
"Their future is bright," McCreary says. "We absolutely 100 percent are going to make sure these animals never have to go back to a shelter.
"Because the thought that they got pulled to live these horrible lives and then go back to the shelter to be euthanized is just unbearable."
Since the investigation is ongoing, The Dodo has decided not to identify the woman accused of adopting and then abandoning these dogs. But the group whose name she allegedly operated under - Ark-La-Tex Animal Rescue - has issued a statement expressing horror at her actions.
"There is no excuse for what was done," the group wrote on its Facebook page. "The sheriff's office is collecting evidence and statements and we will be pressing charges on the responsible parties to the full extent of the law."
If you're interesting in adopting one of these dogs, or contributing to their veterinary care, visit The Abandoned Pet Project.