The 11 Most Powerful Shelter Photos Ever Taken
It's true that a picture is worth a thousand words ... and sometimes photos have the power to save lives. All these heartbreaking images capture life at an animal shelter, and almost all of them helped the dogs and cats find their forever homes.
1. Chester the waiting dog.
Facebook/NorthForkAnimal
Facebook/NorthForkAnimal
Chester had been waiting in a shelter for five years, since he was just a puppy, and had been passed over again and again. Until shelter staff uploaded this heartbreaking photo of the patient pit bull - which was shared thousands of times on their Facebook page. His forever family came to meet him and take him home the next day.
2. These hugging best friends.
Facebook/AngelsAmongUsPetRescue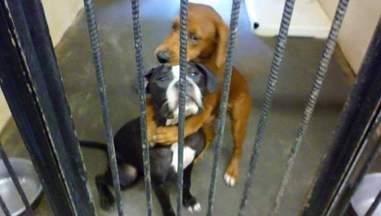 Facebook/AngelsAmongUsPetRescue
Keira and Kala were stuck in a crowded country shelter in Georgia, at risk of being put down if they didn't find a home. Frightened and alone, they huddled together, Kala wrapping her paws around her sister. A shelter volunteer snapped a photo of their embrace, which was shared thousands of time on social media. The picture got them an emergency foster dad, and then more recently, a forever home.
3. Dog who shook his owner's hand as he was abandoned.
Facebook/RescueMe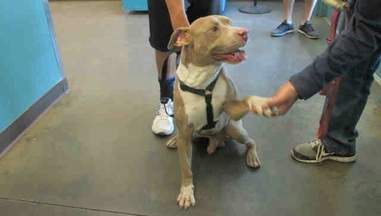 Facebook/RescueMe
A dog's loyalty is a truly unshakeable thing - Rocky had nothing but love for his former owner even as he was surrendered to a shelter after 9 years together. A shelter volunteer caught a photo of the moment Rocky's old owner said goodbye forever. Thankfully Rocky was adopted into a loving forever home.
4. The shelter dog who made his bed every day.
YouTube/SICSA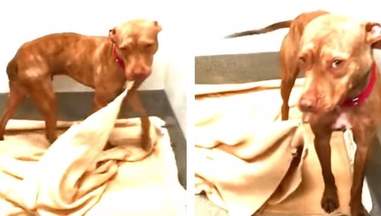 YouTube/SICSA
This one was a little different - in this case, a heartbreaking video saved a shelter dog's life. Rush was a pit bull who had been waiting at a shelter since he was a puppy ... and every day he made his little bed by dragging his blanket around the concrete floor. When Staff at the Society for the Improvement of Conditions for Stray Animals posted a video of Rush doing his chores, it went viral, and he found a real home.
5. The dog who finally got her freedom ride.
Yonkers Animal Shelter
Yonkers Animal Shelter
Olive had been waiting for a home for so long that even her happy ending photo was bittersweet. She had been waiting at the Yonkers Animal Shelter for 11 years - and the staff had fallen completely in love with her. When she was finally adopted, they cried happy and sad tears as they said goodbye.
6. This incredible double transformation.
Trio Animal Foundation
Trio Animal Foundation
Emmy and Oscar were starving and scared when they were found in an abandoned building in Chicago back in July. Their first photo together showed just how hopeless and miserable they were. But after weeks of care from local rescue group Trio Animal Foundation, the two dogs had totally transformed into happy, healthy pups. Emmy and Oscar both found amazing forever homes were they'll both get all the love they need.
7. This brokenhearted dog.
Facebook/NorthCentralAnimalShelter
Facebook/NorthCentralAnimalShelter
Facebook/Urgent Death Row Dogs
When Drew was brought into New York City's Animal Care and Control, the 2-year-old dog was in so much pain that he kept crying out. He appeared to have been hit by a car - he was battered and bruised and one eye was popping out of its socket. Because of the severity of his injuries, Drew was scheduled for euthanasia. Thankfully, a rescue pulled him at the last second and got him some much needed medical care. Now he's safe and happy with his foster family while he waits for adoption.
9. This desperate mama dog.
Facebook/theDillonshelter
Facebook/theDillonshelter
Dixie was brought into a South Carolina shelter along with her three puppies - but they were quickly adopted out, leaving her in a kennel all alone. Stressed and anxious, she began to climb the walls to try to escape. Shelter staff caught this powerful picture of Dixie scaling the fence inside the shelter, desperate to get out. The photo grabbed the attention of a local rescue, which pulled her out of the shelter and got her into a stable foster home.
10. The dog who gave up on life.
Facebook/ShelleyMcewen
Facebook/ShelleyMcewen
Shelters are scary places for many dogs - the noise, loneliness and confusion make it hard for them to feel safe. Dozer was so unhappy after waiting at a Los Angeles County shelter for a year that he stopped eating all together. His life was in danger. But this photo of Dozer was shared thousands of times of Facebook, and it helped him find an awesome forever home.
11. The dog who couldn't even turn around.
Facebook/SusiesSeniorDogs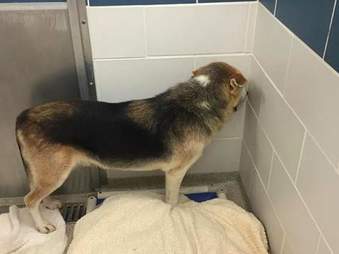 Facebook/SusiesSeniorDogs
Sweet Jack was already an old guy, 12 years old, when he was brought to a Virginia shelter in early October. Terrified and overwhelmed in the shelter, he couldn't even turn to look at the staff when they came to take him out for walks. Jack desperately needed to get out. Thanks to this photo, which was shared thousands of times on Faceboook, he was adopted within days.
The Daily Share and The Dodo are partnering for National Shelter Appreciation Week to bring you The Big Rescue, a week dedicated to increasing awareness for shelter pets, highlighting the joys of pet adoption, and helping adoptable pets find their forever homes.