​No One Noticed This Shelter Dog For Weeks — Until Someone Took His Picture
"He had this adorable droopy face."
For weeks, no one noticed the pit bull mix at the shelter.
Sheldon, who's about 2 years old, arrived at the Maricopa County Animal Care and Control shelter in late 2016. He knew basic commands like "sit" and "paw," which suggested that he'd had a family. But no one came to claim Sheldon, and he ended up staying at the shelter for more than 30 days.
"He hadn't had any inquiries that I noticed," Heather Haltmeyer, one of the shelter volunteers, told The Dodo. "I never saw him doing a meet-and-greet. It's unfortunate, but at any given time, we have about 600 to 800 animals between ... [our] two shelters, so you can imagine how hard it is for one pit bull to stand out amongst 600 other pit bulls."
But one person did notice him - Haltmeyer herself, who volunteers as a photographer at the shelter.
"He was next to one of the dogs who I regularly took out, so I kept seeing him and he kept jumping up and down and wagging his tail in his kennel, like, 'Look at me, look at me,'" Haltmeyer said. "He had the most adorable pink little lips."
When Haltmeyer took Sheldon out for a photo shoot, she realized what a unique character he was.
"He had this adorable droopy face," Haltmeyer said. "I instantly thought of those 'adopt don't shop' ads with a goofy dog with a grumpy face, like, 'My face when you told me you bought your dog from a breeder.' But he's super friendly - not grumpy at all."
Sheldon turned out to be quite a ham for the camera. "He wasn't shy," Haltmeyer said. "He seemed to eat it all up."
The next day, Haltmeyer posted photos of Sheldon on Facebook, and the photos quickly found him a home. Within hours of the photos going up, a woman named Emily Chmiel got in touch with the shelter. "I fell in love with his serious expressions in his pictures and knew he belonged in my house," Chmiel told The Dodo.
Chmiel adopted him the next day, renaming him Castiel.
Castiel now lives with five cats, whom he adores, although Chmiel says the cats smack Castiel around sometimes.
Besides getting bossed around by the cats, Castiel loves zooming around Chmiel's courtyard and snuggling on the couch.
"I adore his personality and his spunk," Chmiel said. "He already follows me around everywhere."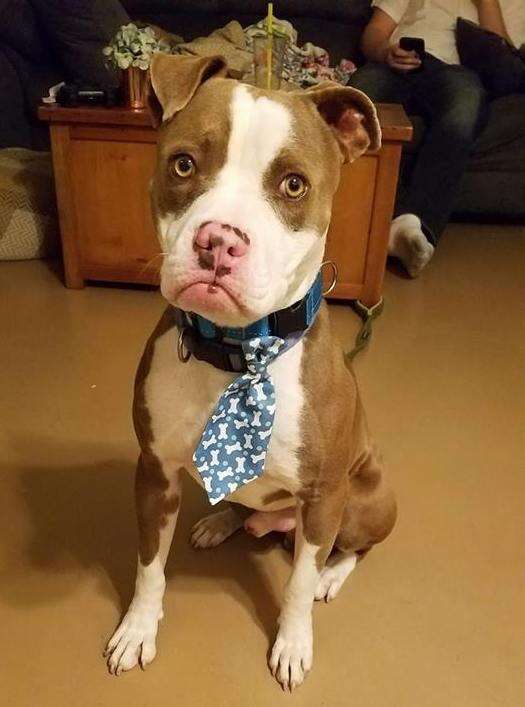 Haltmeyer is delighted that her photographs helped Castiel find his forever home. "I do think the photos are what attracted them, and it feels great," Haltmeyer said. "The whole point of it is to get people's attention, and to help dogs stand out that would otherwise kind of get lost in the crowd."