Dog Abandoned In Yard Goes On Day Trip And Can't Stop Smiling
He's looking for a family in Kansas City, Missouri.
Last weekend, Elmo the pit bull got sprung from the shelter for a couple of hours.
He went to a park, where he made some friends and couldn't stop smiling.
Elmo also checked out some historical sites around town, and wore this magnificent grin the whole time.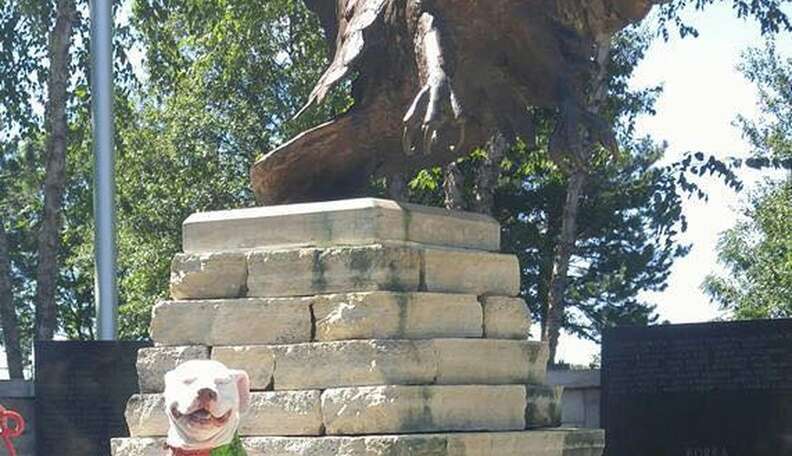 "He even went to a local hair salon," Tori Fugate of KC Pet Project in Kansas City, Missouri, tells The Dodo. And by now you can probably guess how Elmo's sweet face looked there, too.
But Elmo hasn't always worn such a happy expression.
In mid-July, he and another dog were discovered abandoned in a yard.
"We think that a neighbor probably noticed that the dogs were left there and called animal control to report them," Fugate tells The Dodo.
The dogs - whose former owner hasn't been identified - were brought to KC Pet Project, the nonprofit which manages the municipal animal shelter in Kansas City.
Elmo's photo was taken when he arrived; it shows how unhappy and scared he was.
The dog Elmo came in with was adopted in early August. And a couple of months after he was rescued, Elmo is still not completely himself inside the shelter.
Leaving, he is transformed.
"He even gets this cute little smile on his face when he's running toward you or when he knows he's going outside," says Fugate.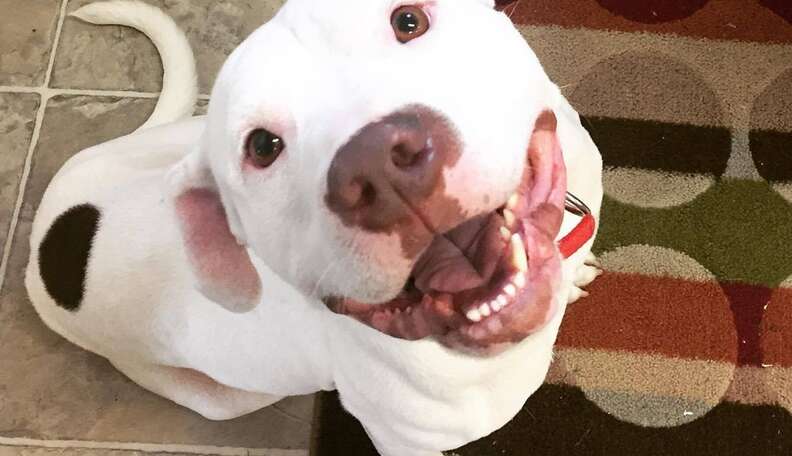 Here's Elmo's adoption listing. KC Pet Project prefers potential adopters come meet Elmo in person/dog at the adoption center. (Bring your other pets to visit as well, since Elmo can be fussy about his animal companions.)
Elmo loves comfy beds and squeaky toys - and most of all, even with what he's been through, Elmo really, really loves people, including kids.
"After being abandoned in his former home, you would think that he would not trust humans again, but that's not the case with him," says Fugate. "When you meet Elmo and see his happy smile, you know that he deserves a home and family that will love him."
UPDATE: Elmo was adopted! After reading about him on The Dodo, his new family drove five hours to pick him up. Everyone is smiling about it.