Deaf Shelter Dog Cries Alone After Her Best Friend Is Adopted
Any time a shelter animal finds his or her forever home, it's always a cause for celebration - except, of course, for those they leave behind.
For the better part of a year, this deaf pit bull named Marshmallow had shared a kennel with her best friend, Scooby, at Unleashed Pet Rescue, in Kansas. There, amid the uncertainty of a life without a family, the pair were able to find solace and joy in one another. But sadly for Marshmallow, that recently all changed.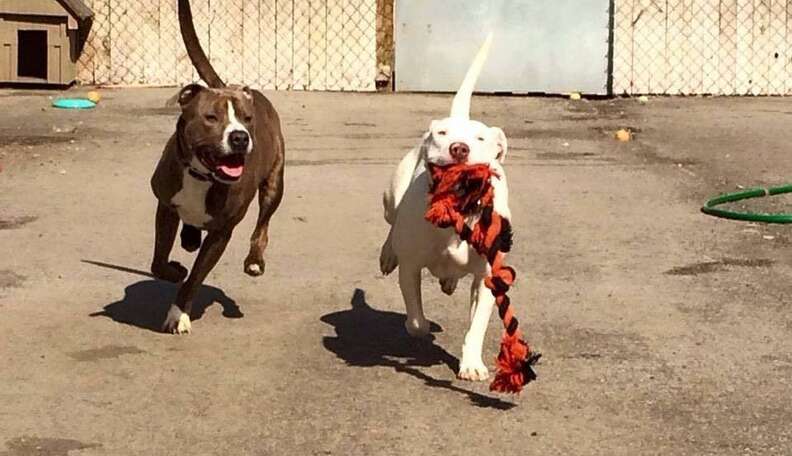 Earlier this week, Scooby's long wait at the rescue shelter came to an end as she was selected by a loving family, but unfortunately they were not able to take in Marshmallow as well. Suddenly on her own for the first time in months, the lonely pup was inconsolable.
"Marshmallow is crying and has been non stop since yesterday," Unleashed Pet Rescue wrote on Facebook. "Her roommate and best friend Scooby was adopted, she is very confused and sad. What she needs is a forever home to heal her heart."
Now that Marshmallow's friend has gone off to start her happy life as a cherished pet, staff at the rescue shelter are hoping that soon she'll have the opportunity to do the same. They're enlisting the public's help in finding a family for her, as that's what she needs above else to fill the hole left behind by Scooby.
"Marshy is a special girl with a special story, she is deaf. When we rescued her, she was very sick with parvo and left on a chain abandoned by her owners," the group wrote. "She is truly a survivor but as you can see she is really needing love. Together we can find Marshmallow the perfect home, she is such a sweetheart."
To learn how you can help, visit Unleashed Pet Rescue's Facebook page here.