Blind Shelter Dog Was Too Scared To Let Anyone Touch Her — Until Now
"She started crying, I swear, liquid came out of her eyes."
Luna didn't exactly make peace with the fact that her family wasn't coming back.
It was something closer, in fact, to war.
Baldwin Park Animal Shelter
After spending her first few days at the Baldwin Park Animal Shelter rushing to the kennel door - Is that them? Is that them? - the 10-year-old blind Chihuahua finally realized her owners had left her there.
And she was angry about it.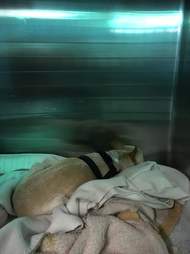 Jacky Gibbons Tomlinson
Luna not only stopped lifting her head when her kennel opened, but she was literally a handful for anyone to touch - all growls and nips. It reached the point where people had to handle her with a towel.
Luna's rage at the world even prompted one shelter visitor to note, "She has about as much chance of getting adopted as she has of driving a car."
But there were moments when Luna let her guard down. Like when a shelter staff member took the tiny dog in her arms.
"She was finally able to pick her up and bring her into the office," Elaine Seamans of the At-Choo Foundation, a group that works closely with the Baldwin Park shelter, tells The Dodo. "And she rested her head on (the staff member's) arm and then she started crying, I swear, liquid came out of her eyes. I've only seen it once before and didn't believe it, but now I do."
Luna's first family gave up on her when the cataracts in her eyes were only beginning to steal her vision. Her second family dumped her five years later when her eyesight was completely gone.
But on Tuesday, someone decided that Luna had been through enough. A volunteer from Hand in Paw Rescue picked up the dog - and brought her directly to the home of the group's founder, Piper Wood.
That's where Luna found her peace again. Wood made sure there were no dogs in the house at the time. She placed soft blankets everywhere.
"I came in and watched her for a little bit," she tells The Dodo. "I started talking to her and got closer and closer. I let her smell my hand."
Luna flinched a little at Wood's outstretched hand. But she never growled. Then she surrendered.
"She slept with me all night, in my bed under the covers with me," Wood says.
It's only been a day, but Luna already has a foster family waiting to take her in.
And Wood is exploring the possibility of fixing Luna's eyes,which could allow her to see for the first time in years.
Even if she never regains her vision, Luna will, for the rest of her life, know the feeling of a real family. And the peace that comes with it.
"She's only 10 years old and she's in really good shape overall," Wood says. "She's got a lot of years left in her."
And that's every reason for a blind dog with a reputation for grumpiness to smile.