Shelter Said This Dog Was Too Aggressive To Be Adopted
"I say, 'Well, she's 2 pounds, and she has like six teeth. I want to adopt her.'"
All it took was a video.
Shannon Crismier's friend, who volunteers for Saving Carson Shelter Dogs in Los Angeles, had posted it on Facebook and tagged her in it. In the video, a tiny Chihuahua cowered in the corner of a kennel, growling and snapping.
"I'm like 'oh my god, I've got to have this dog,'" Crismier tells The Dodo.
While some people might get turned off by a dog like this, Crismier says she loves adopting dogs with issues. "They tend to be the best dogs after you rehabilitate them," she says.
The next day, Crismier went to the city shelter to see the dog, whose name was Jojo. Jojo initially growled and snapped at Crismier, but Crismier was patient - she sat in Jojo's kennel and spoke to her in a soft voice. After about an hour, Jojo had lost some of her fear and Crismier was able pet her.
Crismier could see that Jojo was just misunderstood, but the shelter staff didn't see things the same way. "I go to adopt her, and [the shelter staff] say I can't adopt her because she bit the vet," Crismier said. "And I say, 'well, she's 2 pounds, and she has like six teeth. I want to adopt her.' And they're like, 'no you can't adopt her. She's rescue only.' Meaning that only a rescue group can get her out."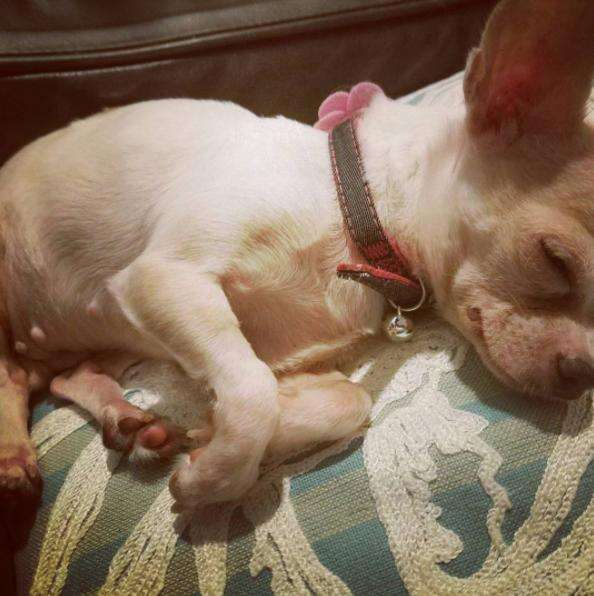 Crismier contacted her friend, who runs a local rescue group called Leashes of Love. Her friend came to help, but she gave Crismier a word of warning. "[My friend] said, 'it looks like Jojo's got some issues. You can see her limping in her cage. She's probably going to be really expensive. Are you ready for that?' And I said, 'yes, this dog is my dog. I want this dog.'"
Crismier's persistence paid off - she got her dog, and Jojo got the best life she could ever dream of.
While Crismier doesn't know everything about Jojo, she's pretty sure she came from a backyard breeder. It's also pretty clear that Jojo had been physically abused. "She has a cracked pelvis, a cracked knee and two broken legs," Crismier says. "Unfortunately, they've already healed, so she has severe limp on her right side. Somebody definitely had to kick her or do something for her to have that sort of damage."
Jojo is also old - probably about 10. She's missing most of her teeth, which makes her tongue hang out at funny angles.
But all it took was a little love for Jojo to emerge from her shell. "She's very playful," Crismier says. "Just like a puppy. She'll even chase her own leg - I've never seen a dog do that before."
Crismier now takes Jojo everywhere she goes, carrying her around in a doggy tote bag. And when they're home, Crismier showers her with love and attention. "She's been a perfect angel," Crismier says. "She's never bit me, she's never growled at me. She just likes being with me and she loves to just do stuff."
Jojo also loves playing with Crismier's other dogs, Lulu and Lilly.
"She always makes me laugh with that tongue always sticking out all the time," Crismier says. "When I come home from work, she's there waiting for me at the door. Or if I go anywhere, she's waiting there, tail wagging."
"I think people think I'm crazy for adopting the kind of dogs I adopt," Crismier says. "But I always like to get the ones that most people don't get."
For anyone who wants to adopt a senior dog, Crismier couldn't be more encouraging. "For people that might work a lot, they're the perfect dog to adopt," she says. "I have a foster who doesn't really like to go for walks, she just likes to snuggle, and she's super easy as they sleep a lot. So you get the love of having a dog, but you don't need to take them for an hour walk every day. They're also not chewing on things because they don't have teeth. It's just a good way to save a life, and not have to spend a lot of time with the dog if you don't have a lot of time."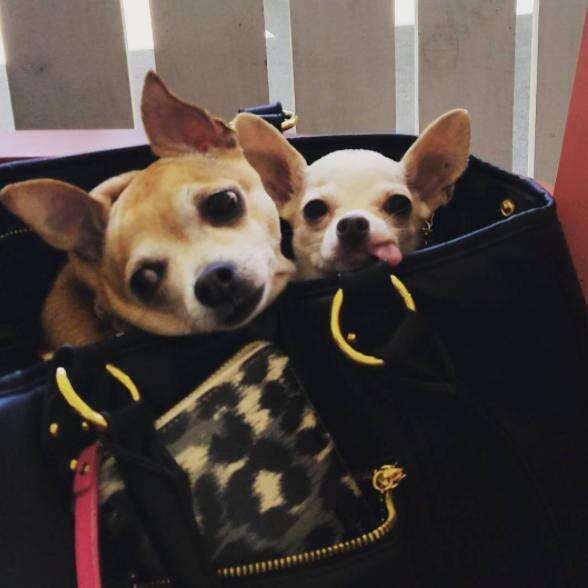 To see more cute photos of Jojo with her tongue sticking out, visit her Instagram page.