Nothing ever came easy for Meatloaf. In fact, the giant cat always seemed to be living just a hair ahead of his ninth life.
And it seemed to have finally caught up to him just before Thanksgiving, when animal control officers found him on the streets of Clewiston, Florida.
When no one claimed him, Meatloaf was placed on a cold table at a shelter while staff prepared to euthanize him.
"He was considered a feral cat and disposable," Megan Sorbara, president of the Naples Cat Alliance, tells The Dodo.
But Sorbara had spotted a post about Meatloaf on social media.
"He just has the funniest little face and I thought, 'You know what? He's probably a gentle giant, because usually all of them are,'" she says.
And while he was in the room that he wasn't expected to leave, someone hurried through the door to save him. He would be placed with the rescue.
It quickly became clear that Meatloaf carried no baggage from his harsh past.
He was every inch - and all 18 pounds - the gentle giant Sorbara imagined him to be.
"He's the biggest lovey-dovey," she says.
A couple of weeks ago, Susan Schumann-Skehan, a volunteer at the rescue, brought in five cat beds. They were originally used for ferrets, but she figured the kittens at the shelter could snuggle up in them.
"She brought them in and set them down and the next thing you know," Sorbara says, "all the big cats are in them."
Even the biggest cat of all.
The kittens never had a chance to use the beds. Sorbara says they didn't seem to care much.
But the older cats, all of them hailing from a difficult past, were keen to sample the soft life.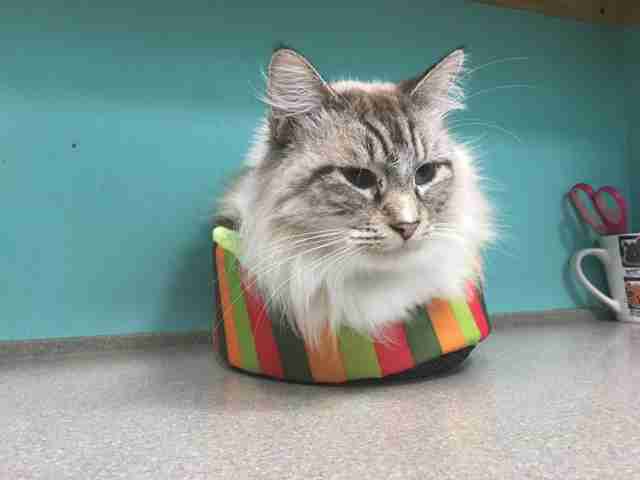 Even if, in some cases, it meant a particularly tight squeeze.
"I feel like they like these tight spots because it makes them feel secure," Sorbara says.
And up until now, for a cat like Meatloaf, that feeling has been really hard to come by.
Meatloaf, along with all the cats at the Naples Cat Alliance, are looking for the softest landing of all: a forever home.