Cats Seeking Forever Homes Find Unlikely Friends Within Prison Walls
<p> <a href="https://www.youtube.com/watch?v=y0iP9nO3Nb0">YouTube/WISHTV</a><span></span> </p>
The cats are free to roam their playground, housed in an old office, where they play with toys and on jungle gyms crafted by the men at Pendleton.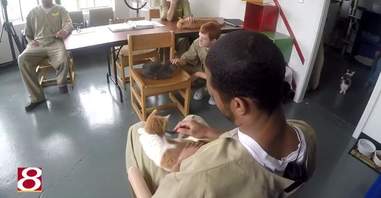 The men who care for the cats recognize the importance of giving the animals a chance to leave their cages in the shelter.
"I deserve to be in prison; I committed a crime," Barry Matlock, one of the inmates, told local outlet WISH. "But these animals, they live like we live in the cell houses in the cages, and they don't deserve that."
The program, which is supported entirely by donations, aims to help the shelter cats by giving them a chance to get lots of playtime and affection while they're waiting for forever homes, but it helps the inmates just as much.
"Love will change the characteristics from anybody's tortured past; it goes the same for animals and humans really," Lamar Hall, one of the inmates, told WISH.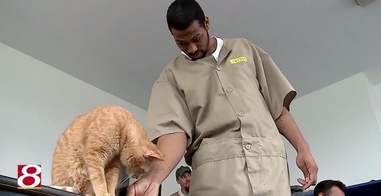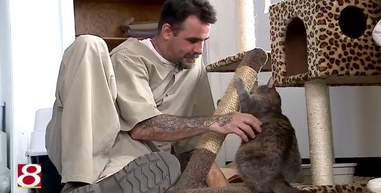 "It instills a little bit of humanity back into me, because I've been locked up for over seven years," Matlock said. "These animals, they help bring that [humanity] back out."