Yoga Studio Opens Its Doors To Shelter Cats Hoping To Find A Home
<p> <a href="https://www.facebook.com/hbpsdecatur?fref=ts" target="_blank">Homeward Bound Pet Shelter</a> </p>
<p> <a href="https://www.facebook.com/hbpsdecatur?fref=ts" target="_blank">Homeward Bound Pet Shelter</a> </p>
It's (obviously) no secret that the company of cats is good for the soul, and that practicing yoga is too. But when the two come together, it's a match made in heaven - and even more so when it's for such a wonderful cause.
Homeward Bound, a no-kill pet shelter in Illinois, recently teamed up with a local studio, Yoga at Connie's, to host a special class featuring adoptable adult cats. Students were encouraged to practice their poses and mingle freely with the felines, all in hopes of finding them and others the forever homes they deserve.
The results were amazing.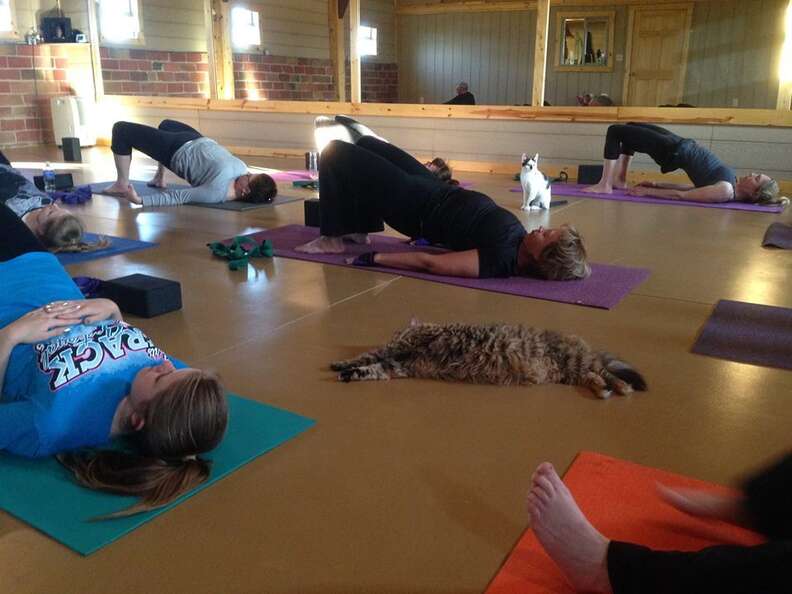 "I love cats, so obviously it was going to be great," yoga teacher Connie Pease told The Dodo. "It was an opportunity for people who like cats to help the shelter."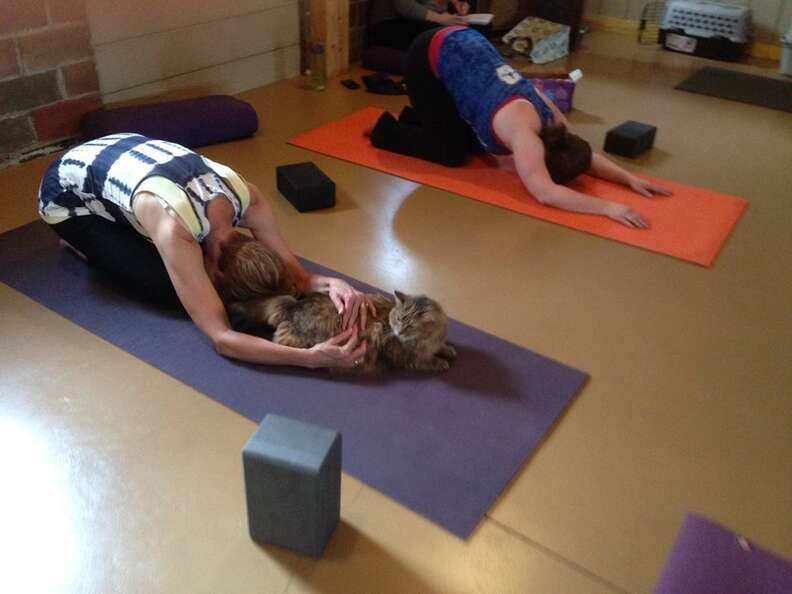 Six adoptable cats from the shelter were welcomed into the studio, allowed to wander among the students and join in on the activity. For the duration of the class, they snuggled among the students and accepted belly rubs while putting on poses of their own (though a few of the cats preferred to watch from the sidelines).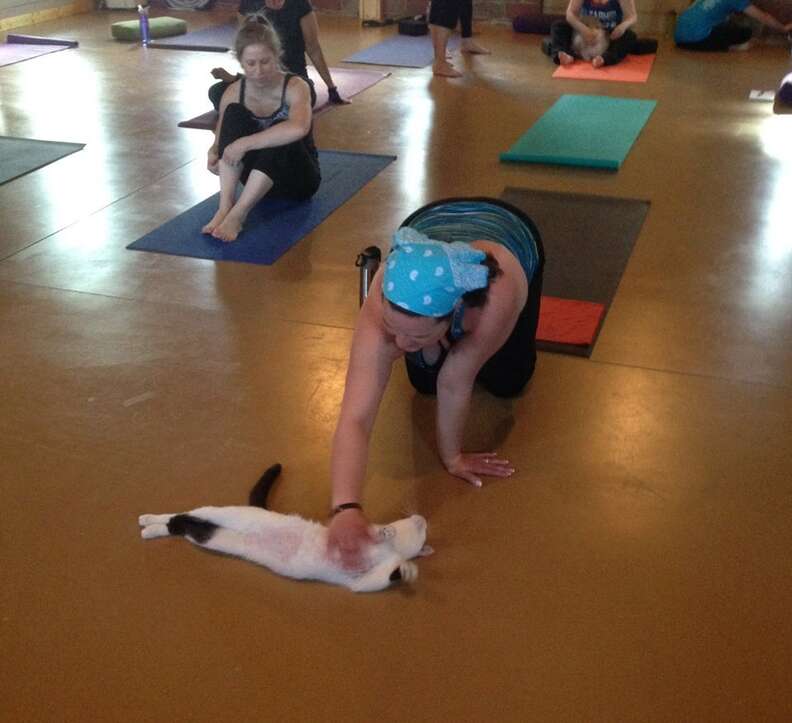 "The ones that were really active really made the class a lot of fun," Pease said. "They jumped on the students and kissed them. One had their butt in my face, but we had so much fun with them."
As fun as the class was, it resulted in more than just a good time. From just that one class, participants raised more than $500 for the shelter, money that will go a long way toward helping the other kitties who couldn't join in that day.
One of the cats present has even since been adopted.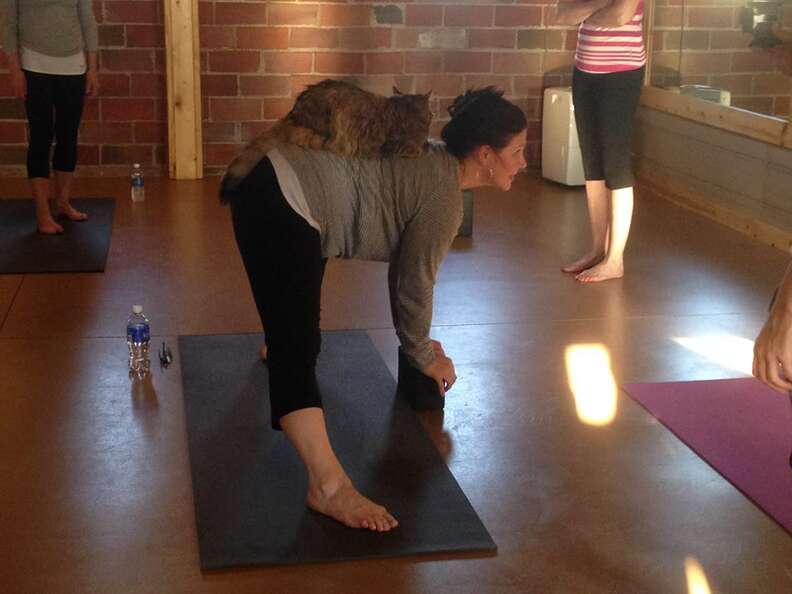 For shelter volunteer Jeanette Skaluba, whose idea it was to put on the event, giving people the chance to interact with cats like this can make all the difference when it comes to finding them a forever home.
"A lot of people find shelters depressing, so they're not inclined to visit," Skaluba told The Dodo. "By taking the cats to something like a yoga class, people have the opportunity see and interact with them outside the shelter. It gives these cats exposure and shows their personality. I think people can envision these pets in their home easier because they're outside the shelter."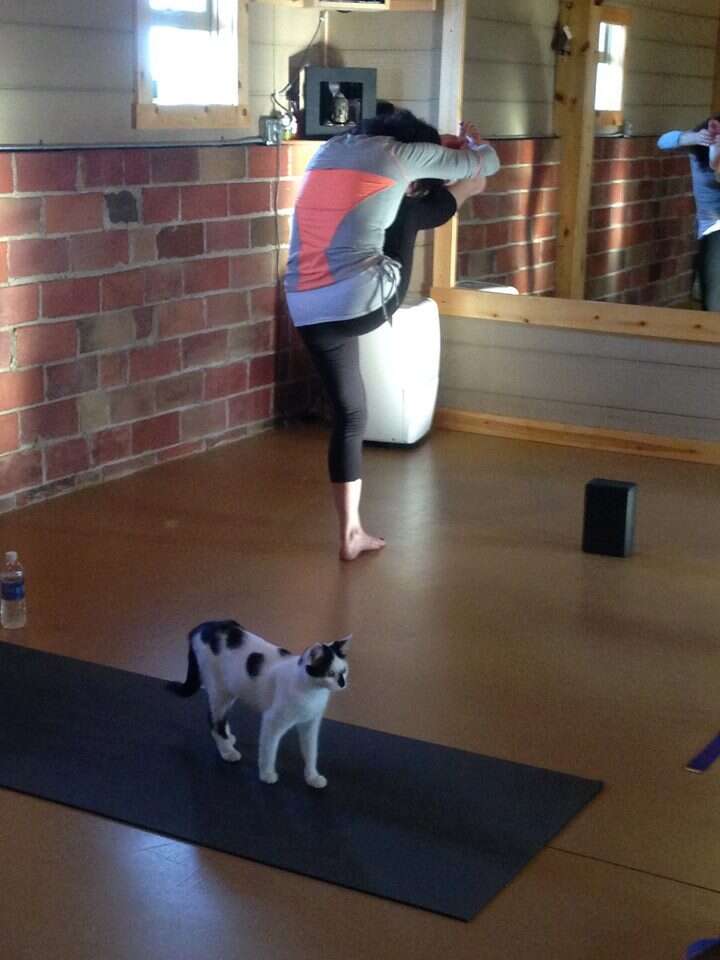 Adult cats in particular can use the added attention. All too often, potential pet owners overlook more mature cats in favor of kittens, even though they too have so much love to offer. With their generally calmer, more easy-going personalities, adult cats should be especially appealing to fans of yoga.
Unlike dogs, says Pease, cats seem to want to hop right in when their humans are exercising:
"If you're doing yoga, they enjoy it too. That's the reason we put the yoga and the cats together. They're just ideal companions."
Skaluba and Pease say they plan on teaming up in the future for more classes like this involving cats - and they hope word will catch on in other yoga studios around the country about what a great idea it is.
"I felt so blessed to have the chance to do this. We had to step back and just say 'wow,'" Pease said. "I don't charge enough for yoga. To me it's not about money, because I like helping people. But now that I can help animals become adopted, that's a whole different world for me."
For more information about pet adoption, visit the Humane Society's website here.