Everything went dark for this sweet senior cat named Scooter - but he still found hope.
Scooter was in bad shape when he was dropped off at a kill shelter by his former owners who, after nine years of companionship, decided to give him up. Not only was one of his eyes missing, the other was so badly infected that it too needed to be removed.
He would have probably been euthanized had the Delaware County SPCA, in Pennsylvania, not volunteered to take him in.
After performing surgery to save Scooter's life, the SPCA hoped to find him a new forever home. But senior cats, even those with eyes, have a hard enough time getting adopted - so it seemed that Scooter had the odds stacked against him.
But then he met his hero.
When Annie Tennyson saw Scooter's photo posted online and read his sad story, she fell in love immediately, flaws and all.
"The next day, I went and met him," Tennyson told The Dodo. "He just curled up right in my lap. He stayed with me the entire time. He was just the perfect little cat for me. I decided to adopt."
Afterward, she and her friends took Scooter to pick out a new bed and toys.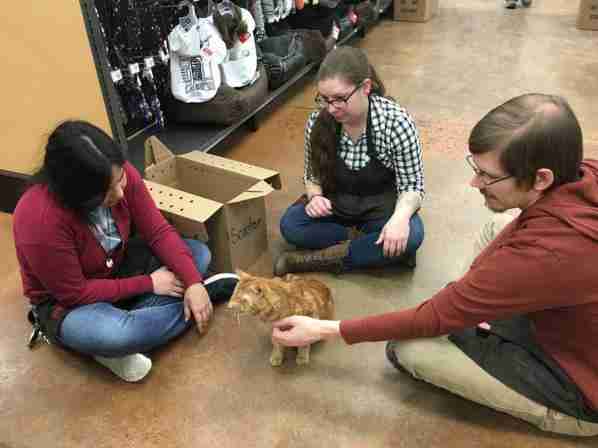 Despite not being able to see, Scooter was quick to adjust to his new life at home with Tennyson.
"It took him about two days to get the layout of of my apartment," she said. "He still hits a few walls every now and then, especially when he comes running to greet me when I get home."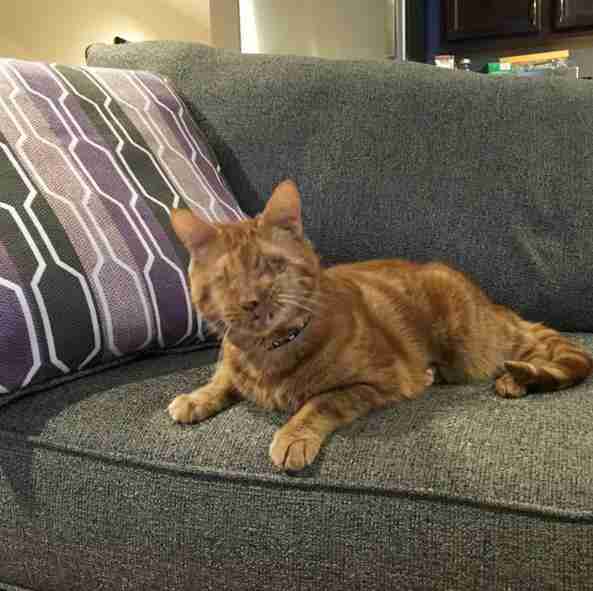 More than just learning his way around to avoid obstacles, however, Scooter's blindness hasn't prevented him from always finding the perfect spot alongside his new friend.
"I cannot do anything without him being right next to me," Tennyson said. "He jumps up on my bed every night and falls asleep next to me. Anytime I go sit on the sofa, he comes and finds me. I think he can sense when I'm in the room. He comes and sits on my lap every single day."
Although some people might see older pets or those with disabilities as being less desirable companions than younger, abler ones, Tennyson says Scooter is proof that quite the opposite is true.
"I think that special needs cats are the most loving cats. They know that they need extra love," she said. "When you take a special needs cat into your house, it'll be the best decision you could ever make."