100 Shelter Dogs Get The Sweetest Surprise
"They wagged their tails. They were so excited."
The shelter life is a lonely life. Dogs may be surrounded by others in situations just like them, but it's cold comfort when they're missing the warmth of a real home.
That's why an army of volunteers descended on Maricopa County Animal Care and Control over the weekend, bearing the warmest surprise - 100 homemade beds.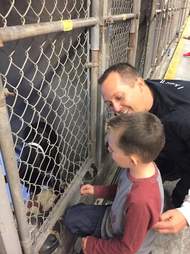 Step Up USA
It was a message of hope - a way of letting the dogs know that someone was thinking about them.
In fact, a lot of someones.
Step Up USA
Jill Smyros, founder of Step Up USA, came up with the idea of the special delivery, asking people from Gilbert, Arizona, and the surrounding area to help her build soft, elevated beds for local shelter dogs.
Step Up USA volunteers managed to raise $2,000 - enough to buy materials for 100 beds.
Step Up USA
Then the call went out to put those beds together. Smyros invited people to her home for a day of building beds.
The response was overwhelming.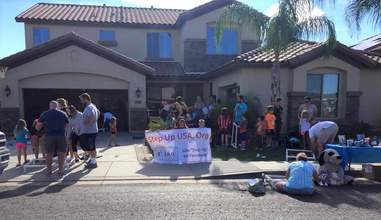 Step Up USA
"There was like 100 people here. Kids and adults, and teens. It was awesome," she tells The Dodo. "We've done a lot of things this year, but this is probably one of my favorites for sure."
Step Up USA
And the dogs? They responded to the unexpected kindness, delivered personally by the people who made the beds, in kind.
"As soon as we put the beds in, those dogs jumped right up," Smyros explains. "They wagged their tails. They were so excited."
Step Up USA
"It was amazing," she adds. "Even though we're in Arizona, it gets cold out here."
But not this winter for dozens of dogs at a bustling shelter in Arizona. Thanks to the warmth of human kindness.
Step Up USA
Want to help bring a shelter dog the most lasting warmth of all this holiday season? Consider taking one home. Find the perfect fit for your family at Adopt-a-Pet.com.