This seemingly normal picture of a sheep means the world to the people who rescued her two years ago.
Mino Valley Farm Sanctuary
"Often I know we post cute pics of us having cuddles with the baby lambs, or pigs with the belly rubs," Spain's Mino Valley Farm Sanctuary posted to Facebook last week, "but the harsh reality is that many of the animals at the sanctuary are still too scared to even be touched. This photo may not look like the fanciest but it means everything to us."
Mino Valley Farm Sanctuary
Coco comes from a farmer who saw her as good for nothing, after she had miscarriage after miscarriage. Because she failed to produce children who would become his livestock, the farmer was planning to get what he could out of her - her meat.
Mino Valley Farm Sanctuary
"Ever since she has arrived, she has been petrified, and DESPITE living here for two whole years, she is still afraid of what we might do to her, so she stays back, always watching, always ready to run," the sanctuary wrote.
Mino Valley Farm Sanctuary
The people at the sanctuary could occasionally snap a good shot of her, but it was always iffy. Coco seemed ready to sprint at any moment, as though she would never again trust a human enough to approach one.
Mino Valley Farm Sanctuary
But last week something changed. "I took this photo last night when everyone was getting ready for bed, because for one of the first times ever she started to come to me. This is the closest we ever are together," wrote Abigail Geer, co-founder of Mino Valley Farm Sanctuary.
Mino Valley Farm Sanctuary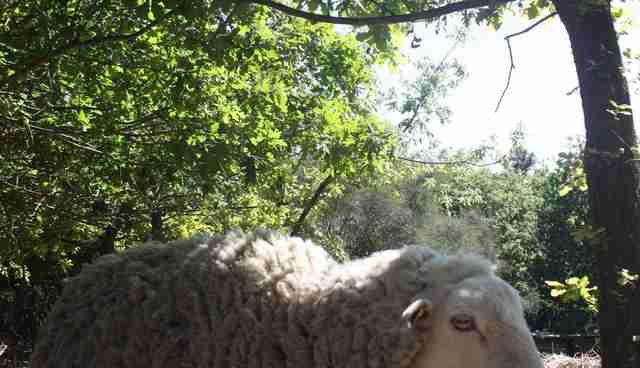 Until recently, Coco always seemed so close, yet so far, Geer said. "It breaks my heart to image what awful things she has been through to make her so nervous and afraid."
Mino Valley Farm Sanctuary