Harry the lamb was in bad shape when he arrived at Edgar's Mission Farm Sanctuary - he was weak, bloated and crying out in pain. When his rescuers discovered he had a life-threatening congenital condition, they rushed Harry to the vet for emergency surgery. The operation was risky, but Harry beat the odds and pulled through. As the lamb recovered, Pam Ahern, founder of Edgar's Mission, couldn't help but wonder, what about Harry's mother? Could she save the mother too?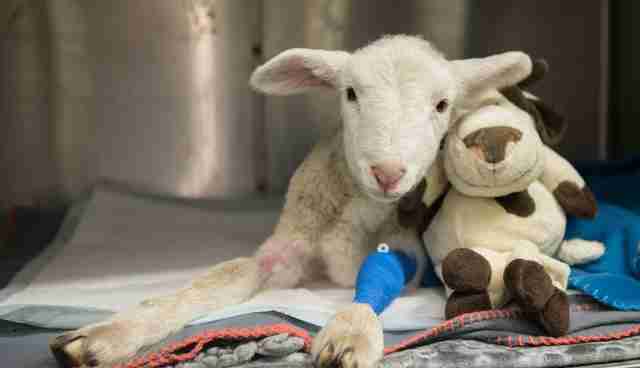 "I thought about the producer of 'Charlotte's Web,' Bernie Williams, and how he found homes for all of the piglets involved in the movie, some who came to live at Edgar's Mission," Ahern told The Dodo. "But Bernie also thought of the mother pig and decided to save her, too. She came to live at Edgar's Mission, and I named her Alice. Thinking of this, I knew I had to save Harry's mum, and reunite her with her baby!"
A deal was negotiated with the farmer who had Harry's mom, and she was transported to Edgar's Mission. Ahern named the mother sheep Alicia after Alice, the mother of the piglets from "Charlotte's Web." "Alicia wasn't used to people, and she would have had no idea what was going to happen to her," Ahern said. "Can you imagine if a stranger, far more powerful than you, came along and took you away from the place where you lived with your buddies? Then you found yourself in a small area, with sights, sounds and smells you didn't recognize? Alicia had no idea we were the good guys and that we wouldn't harm her."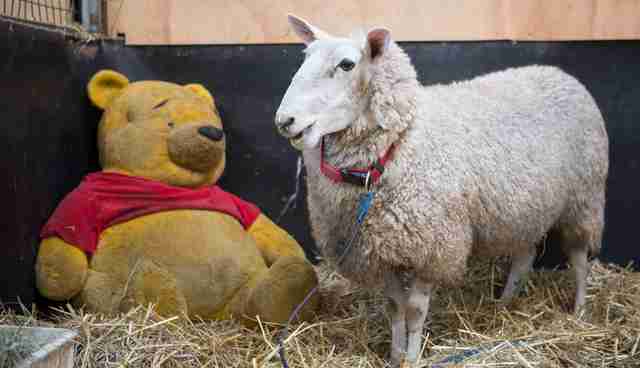 When Alicia arrived at the sanctuary, Harry still hadn't come back from the veterinary clinic, and they didn't expect him for several more days. Ahern worried Alicia's milk supply would dry up, so she introduced Alicia to the other young lambs to see if she'd let them nurse. She didn't - Alicia got scared when the lambs approached her, and bolted from them.
Then the vet called: Harry could come home that afternoon, which meant Alicia would be reunited with her baby sooner than expected. "We placed Alicia in our nursery and told her she was in for the surprise of her life," said Ahern, "but she continued to look terrified."
Would Alicia recognize her baby after spending so many days apart from him? Harry might have lost his familiar scent after being in the veterinary clinic.
When Harry entered the nursery, Ahern realized she had nothing to worry about. "As soon as Alicia saw Harry, she trotted straight up to him, tugging hard on the lead that was holding her," said Ahern. "We gently ushered Harry towards her - he looked at her face and went searching for her udder. Alicia was stunned, and she kept looking from Harry to me."
Harry is still recovering from his surgery, so he and Alicia spend most of their time inside the nursery ...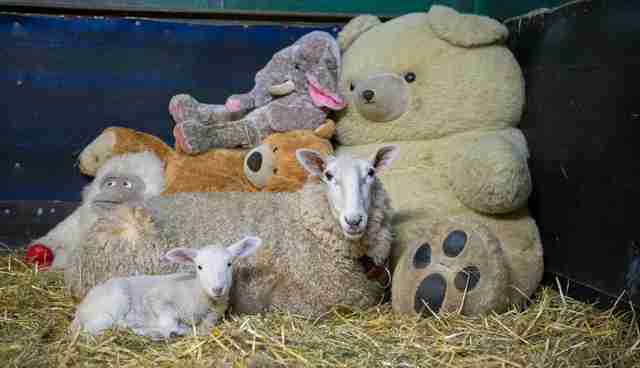 And they couldn't be happier.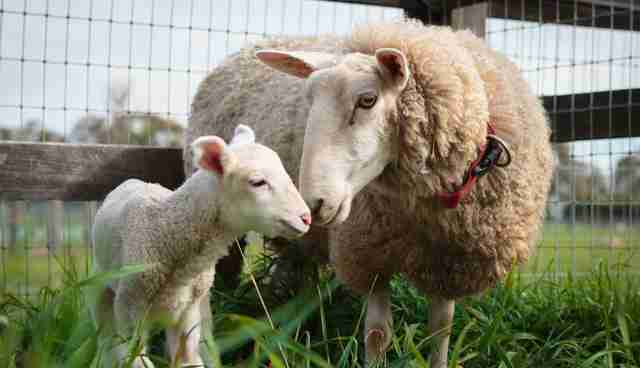 Mama and baby also get lots of time out in the grass and sunshine.
"Nothing could have prepared me for the exhilaration," Ahern said. "I knew it was going to be magical if we could pull it off, but I had no idea just how special it would be. Poor Alicia probably thought she'd never ever see her baby again, but now the two are inseparable. Harry curls up night next to her body whenever they take a rest."
Watch Harry and Alicia's heartwarming reunion: