Mom Sheep And Her Baby Saved From Auction Just In Time For Easter
They were almost someone's dinner 💔
A short video clip and a few photos capture the moment a little family got their lives back.
The Riley Farm Rescue
But things could have gone very differently for these two formerly anonymous sheep.
The mother sheep, once known merely as number 264, and her baby, 265, were at a livestock auction on Palm Sunday where they were being sold as food for Easter dinner.
But when Marla Riley saw them, she knew she had to do something.
Daisy and Piggy at a holding area with other sheep at the auction house

| The Riley Farm Rescue
Riley has rescued over a hundred animals. She and her family run The Riley Farm Rescue in Connecticut, where their rescued menagerie includes a flock of rescued sheep.
"I had planned to go to the live auction on Palm Sunday," Riley told The Dodo. "And they were there."
The little lamb was curled up on a pile of hay while his mom stood protectively by him.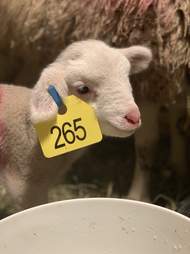 The Riley Farm Rescue
This pair wasn't the only mother-child pair. And as much as Riley would like to be able to save them all, she knows she can't. But she decided to do what she could for 264 and 265.
Riley followed the intuition she had about them: "I just went, 'That's the one,'" Riley said.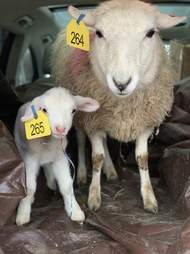 The Riley Farm Rescue
Moments later, the little family was being driven back to the sanctuary to begin the rest of their now-long lives together.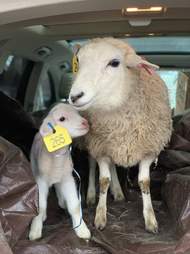 The Riley Farm Rescue
For the next several weeks, Daisy and Piggy will be getting used to their new home.
Just recently, Piggy was seen learning from his mom how delicious a fresh batch of hay was.
When they're ready, the pair will be introduced to the flock of other rescued sheep at the sanctuary.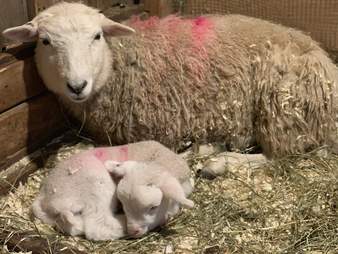 The Riley Farm Rescue
What is finally starting to sink in for the pair, though, is the fact that their lives are their own again. Piggy, when he isn't happily exploring his forever home, is resting peacefully right by his mom's side.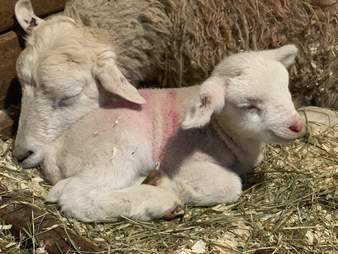 The Riley Farm Rescue
Finally, Daisy can also rest easy, knowing she and her baby will be safe.
You can help support the whole flock of rescued animals at The Riley Farm Rescue by
making a donation
.