She Saw Him On The Dodo And Got On A Plane The Next Day
Bonnie Esrig wasn't planning on adopting another dog, let alone a senior with special needs. But when she read an article on The Dodo about Canelo, "I somehow felt compelled to rescue him," she said.
Canelo is a 6-pound, 10-year-old blind poodle who had been living at a Los Angeles shelter since he was left there in September. To keep him away from the noise of the main area, he was being kept in the back, where he spent his days alone in a cage.
Canelo taking a walk outside with a shelter volunteerJohn Hwang
Canelo taking a walk outside with a shelter volunteer

| John Hwang
When Esrig saw his story on The Dodo in October, something about Canelo touched her. So the very next day, she flew from her home in Cincinnati to Los Angeles and filled out the adoption paperwork.
"It sounds crazy, even to me," Esrig told The Dodo. But within hours of reading about Canelo online, she was more than 2,000 miles away and preparing to take him home with her.
YouTube/DowneyShelterDogs, Bonnie Esrig
That night, they flew together to Cincinnati. "The trip home was an experience, to be sure," Esrig said. "He just would not pee despite my leaving the airport and coming back through security lines to give him multiple chances. Then two lovely young women from Atlanta stopped by and fawned over him. They loved on him and relaxed him so much that when they left to catch their flight, he peed all over me in LAX."
Once Canelo and his new mom were home safe, things really began to change for the lucky pup. Esrig renamed him Chance - and he now has a big fenced yard to explore, yummy food to eat and a soft bed to rest in.
Bonnie Esrig
Bonnie Esrig
Sadly, Esrig's other dog, a 15-year-old poodle named Chandler, passed away only days after she brought Chance home. "There is a huge hole in my heart, but Chance's affection helps," she told The Dodo.
She has also taken Chance to specialists to see if anything can be done to improve his eyesight. One eye had gone too long without medical attention, and the cataract couldn't be removed. But the other hadn't, and he had surgery a few weeks after his adoption.
For the first time in who knows how long, Chance now has some of his sight back.
Bonnie Esrig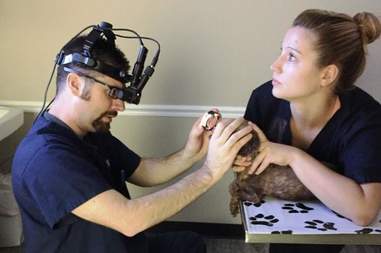 Bonnie Esrig
His sweet personality has also started to come through. "In the records from the shelter, it was noted that he was not friendly and bites," Esrig said. "This could not be further from the truth. He was just scared and sore. This dog is a lover! Very snuggly."
Bonnie Esrig
Bonnie Esrig
With the exception of Esrig's kitty, who still isn't sure about the new arrival, Chance charms everyone he meets.
Esrig never imagined that a dog she read about online would become her newest family member. "He has added love to my home," she said. "I think we're very good for each other."
To help cover the cost of Chance's medical expenses, click here.