She Rides For "Blackfish": NASCAR Driver Leilani Munter And Her 200 Mph Billboard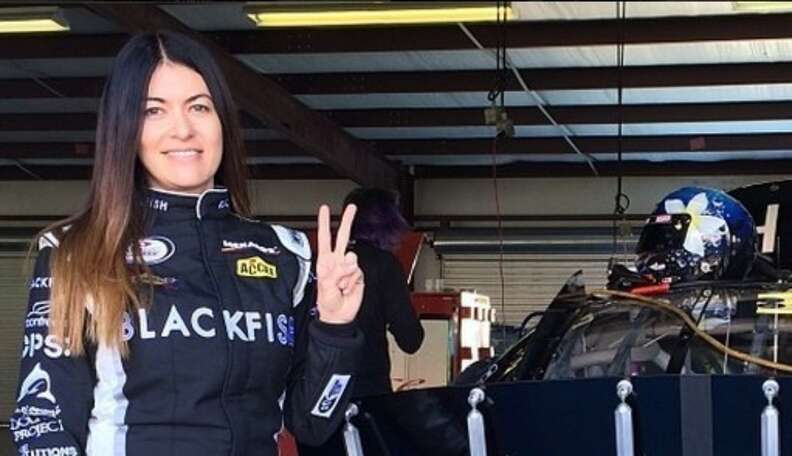 Racecar driver Leilani Munter, the rare combination of female NASCAR superstar AND dedicated animal rights activist, is revving up for Talladega Superspeedway, by debuting her brand-new "Blackfish" inspired car this May. The driver, who has been an outspoken opponent of cetaceans in captivity, is not new to driving cars for a cause -- in 2012, she took to the track in a car inspired by the Oscar-winning documentary "The Cove," a film that exposed the brutal dolphin slaughter in Taiji, Japan.
Now, Munter is strapping herself into the "Blackfish" car to raise awareness for orcas in captivity and to shut down SeaWorld as we currently know it. In an interview with The Dodo she spoke about her dedication to animal rights -- from volunteering at a wildlife rescue and being a Cove guardian to transitioning into a vegan diet. She also revealed what it's like to ride in a whale of a car:
How do you think this car will have an effect for "Blackfish"?
The goal is to get people to watch the film. At Talladega last week I had several people in the racing garage come up and ask me "What is Blackfish?" I essentially have a 200 mph billboard and I have a chance to use that space to promote this important film, thanks to Sam Simon.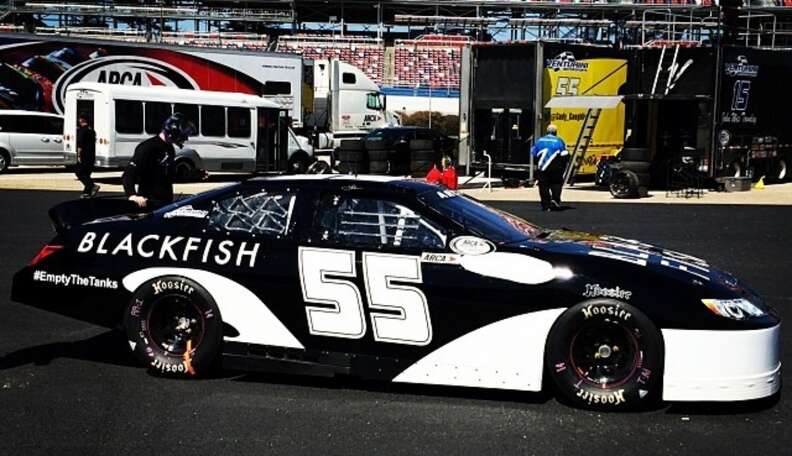 How did people responded to your "Cove" car?
I have had many, many people contact me to tell me that they heard about "The Cove" from my Daytona race, watched the film, and will never visit a dolphin park again. And that's the goal.
Who designed the car?
I started the design but then hired a local guy here in North Carolina, Justin Jacobs, to do a 3D rendering of the Blackfish race car and he came up with the orca paint scheme on his own. He made the car look like an orca -- that was his idea and it was brilliant. When I hired him, I said to him "Blackfish is a documentary about orcas..." and he cut me off by saying "I've seen it. I've seen it three times." So clearly, he was the right man for the job.
How did you get the idea to do a "Blackfish" car?
It was a natural next step from "The Cove" car. I was so inspired by "The Cove" that I ended up going to Taiji as a volunteer for Ric O'Barry's Dolphin Project. In fact, I went three times in 2010 and 2011. That film turned me into an outspoken activist against cetacean captivity. Until I saw "The Cove," I had no idea about these issues. Now I have had so many screenings of "The Cove." I have seen the movie more than 50 times at this point.
How did that segue into your "Blackfish" car?
It was natural to want to do the same thing with "Blackfish." They have a similar message, although they are very different films.
Why is the issue of orca captivity important to you?
Animal rights in general are important to me. I have been vegetarian almost my entire life and vegan for almost three years. I believe that all animals, every creature we share the planet with, should be treated with respect. I have never understood how people can see some animals as pets and others as food.
When will you first debut the car?
I tested at Talladega Superspeedway last Wednesday. I have nicknamed the car "Tilly." We were fast. We were second quick in single car runs, only 1/1000 of a second from being the top of the board. Overall, which included drafting, we ended up 4th quick with a speed of 183.367 mph. I will qualify on May 2nd and the race airs live on Fox Sports 1 at 11am ET on May 3rd.
Will it appear in other races?
Right now we only have funding to run the car for the one race at Talladega, so I plan to make the most of it and put the "Blackfish" car in victory lane for Tilikum, Morgan, Lolita and all the orcas that are suffering in captivity. It would get a lot of attention for the movement as a woman has never won an ARCA race or in any of the upper levels of NASCAR stock car racing. I know the cetacean activist movement is riding with me and Tilly and I am so honored to be able to carry this message for all of us.
What impact do you hope your car will have on SeaWorld?
I hope that it will inspire the public to push for change and eventually shut these businesses down. I think SeaWorld could evolve into a TRUE conservation center, where only injured animals are cared for and then released back into the wild. I used to be a volunteer at a wildlife rescue and rehabilitation when I was in college. It was the most rewarding job I have ever had. The feeling I got when I was able to release animals back into the wild was one of the most incredible emotions I have ever felt. If SeaWorld changed their business model to that instead of a sea circus, they would have a lot more respect from the scientific community as well as the public. As the public becomes more aware, places like SeaWorld will have to evolve or die.
What do you think are the biggest barriers to solving the problem of orcas in captivity?
I think it is an issue of awareness. I did not understand what was happening to these captive animals until I saw "The Cove" and there are billions of people on Earth that don't understand it yet. As long as people do not understand, they will keep buying tickets to these antiquated shows. I do not think it is possible to see "The Cove" or "Blackfish" and ever set foot inside of a dolphin or orca show again.
You can see Leilani and "Tilly" in action here:
SeaWorld and marine parks profit off keeping orcas and other marine animals in captivity -- despite evidence that captivity not only induces unnatural behaviors in whales, but also endangers trainers. Join us in pledging never to visit SeaWorld or other marine parks until they empty their orca tanks.