Last year, Shazam, a rescued black leopard who lives at the Wildcat Sanctuary in Minnesota, lost his best friend. Luckily, a new buddy has finally come along, and a beautiful friendship is now blossoming.
Shazam's original best friend was a black jaguar named Diablo Guapo. The two were complete opposites - Shazam was a younger, clawed cat while Guapo was older and declawed - but still, they became fast friends. They lived in neighboring enclosures and would greet each other through a shared fence.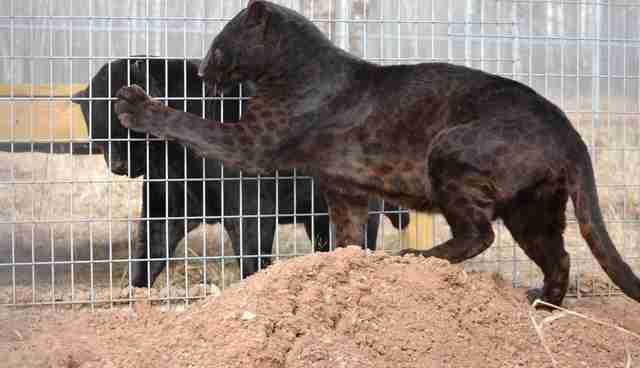 "When Guapo passed, we knew it would be hard for Shazam not having his buddy next door," Wildcat Sanctuary spokesperson Julie Hanan told The Dodo.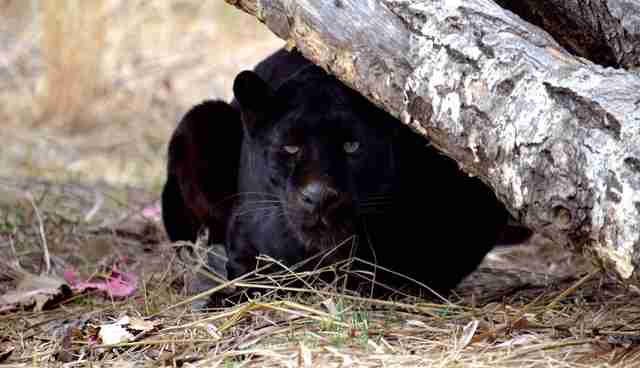 "So we began determining who would be best to move next door to him to try to forge a new friendship. It can be very dangerous to put two big cats that don't know each other next to each other," Hanan explained. "If it doesn't work out, there can be aggression issues, charging at the fence with resulting injuries and loss of weight due to not eating and stress. It's a tricky proposition."
That was when Nikita, a white tiger at the sanctuary, came into the picture.
Nikita was bred and sold at a very young age. She belonged to a notorious exotic breeder in Ohio known for his history of animal abuse. It was only after he died that she was free from that life and able to start anew at the sanctuary.
"Our caretakers knew that Nikita, our white tigress, had been coming along over the years," Hanan said.
"They wanted to see if a new friendship like this might benefit both the cats psychologically. It took working with her and providing positive reinforcement, so that they would be able to coax her through a special chute they built for her to move to the new habitat next to Shazam."
Once the big move happened, staff at the sanctuary watched and waited to see if a friendship could truly blossom between the two ...
... and thankfully, one did.
"Though it started out as a way to help Shazam get over his loss and make a new friend, the effect it's had on Nikita has been life-changing," Hanan said. Ever since she became Shazam's neighbor, she has become more active and is showing a renewed interest in the world around her.
"They sit at the shared wall communicating with each other in such a tender way," Hanan said. "They walk and run together."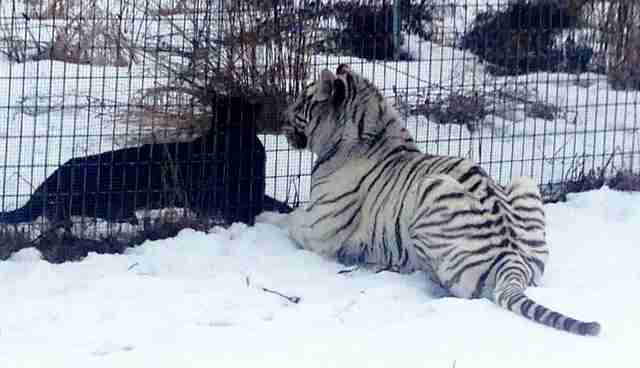 "Who knew that a black leopard and a white tiger would become fast friends?" She said. "Luckily, we did."
Watch the heartwarming moment Shazam and Nikita cross paths for the first time below: