Men Drag 10 Sharks Out Of Ocean Just To Take Selfies With Them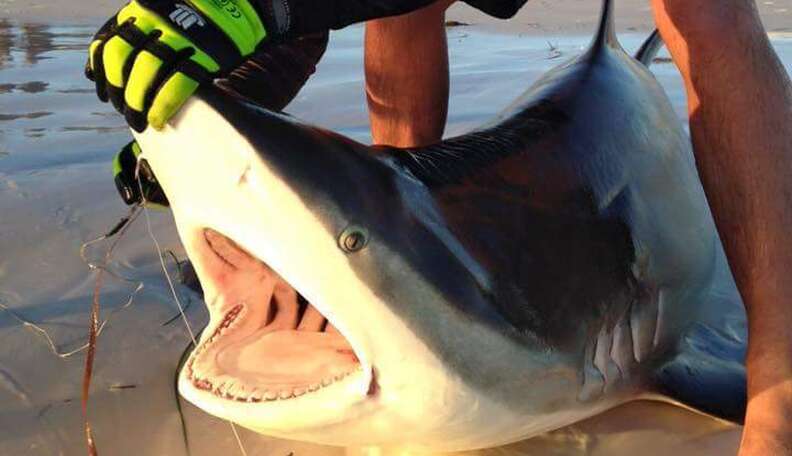 <p><a href="https://www.facebook.com/joshua.butterworth.9?fref=pb&hc_location=friends_tab" target="_blank">Facebook/Joshua Butterworth</a></p>
<p><a href="https://www.facebook.com/joshua.butterworth.9?fref=pb&hc_location=friends_tab" target="_blank">Facebook/Joshua Butterworth</a></p>
For couple of fishermen on an Australian beach, it must have seemed like the adventure of a lifetime - shallow waters teeming mostly with tiger sharks.
Self-described sport anglers Josh Butterworth and Jethro Bonnitcha didn't have to work hard to wrangle the animals. According to their Facebook pages, they simply baited the lines and then hauled the animals to shore, one after the other.
The men spent four days at Carnarvon Beach in Western Australia reeling in 10 massive sharks and gleefully documenting their catches on social media.
"We landed 10 and lost a fair few but we saw a lot more swimming in the water that we didn't catch," Butterworth told Daily Mail Australia. "There is no shortage of sharks up there."
Only a shortage, it seems, of empathy.
"Sport fishing for sharks or any other other fish is regarded as a God-given right in most quarters, I suppose," George Burgess, director of the International Shark Attack File, tells The Dodo. "Sharks being what they are appeals to the testosterone-laden segment of the fishing community obviously a lot."
While Burgess doesn't see a problem with catching sharks and releasing them immediately - they're a durable animal - these men may have gone too far.
"Bringing them up on shore, as some of these pictures show they've done, would appear to be fairly invasive. I wouldn't be surprised if some of those animals died," Burgess says.
Notwithstanding Hollywood's unfortunate depictions of sharks, these animals have never done much to deserve being antagonized - even if Bonnitcha and Butterworth claim they didn't harm these sharks in the making of their selfies.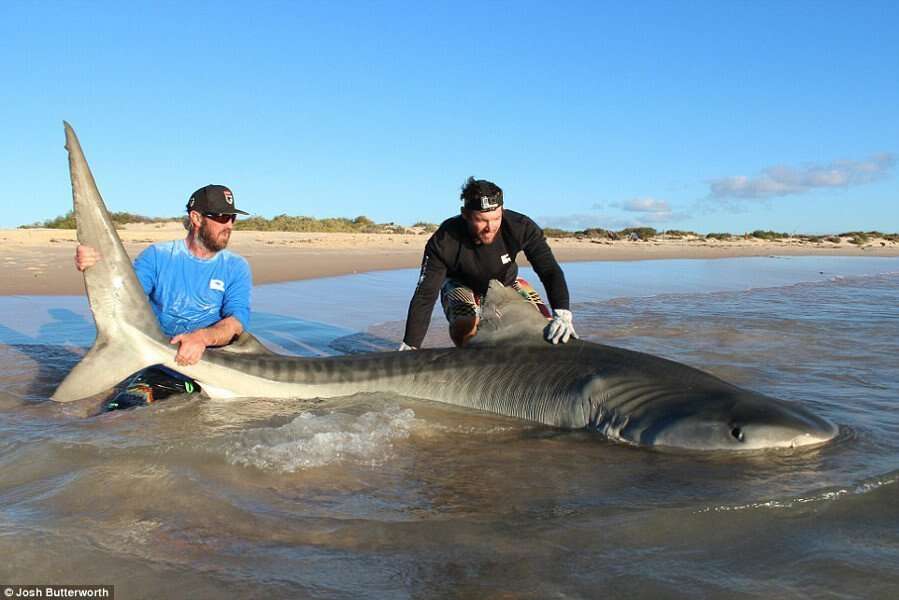 Looking at the big picture, a convincing case can be made for the opposite. Last year there were 98 shark attacks - a modern record, according to the University of Florida - with six of those attacks resulting in human deaths.
Shark attacks on humans are so rare, the New York Times declared that the odds of a coconut falling on your head and killing you are twice as likely.
Now consider a shark's odds of being attacked by a human. About 100 million sharks are killed by humans every year, according to a report in Maine Policy, adding that number could be as high as 273 million.
These tiger sharks basking in the surf of an Australian beach may not be directly endangered by the photo-ops, but at the very least, these sport anglers send a disturbing message to the world: that it's OK to manhandle sharks, haul them from their habitats and force them to suffocate for a few moments on shore.
All for a selfie.
"Clearly, these guys here are into it as part of a manly pastime," Burgess says. "And as we well know, oftentimes many pastimes result in occasional stupid activity. I'm not accusing these guys of that. But when you bring animals to shore, the chances of killing them are greatly enhanced."
We've seen this movie before. The shark always gets it in the end.
Support organizations like WildAid, who strive to preserve animals - not in photographs, but in their native habitat. The ocean.