Katy Perry's Super Bowl Performance Might Upset Animal Lovers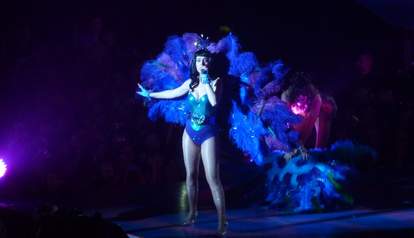 <p> Sean MacEntee / <a class="checked-link" href="http://www.flickr.com/photos/smemon/6326514890/">Flickr</a> / <a class="checked-link" href="https://creativecommons.org/licenses/by/2.0/">CC BY 2.0</a><span></span> </p>
According to Mashable, Katy Perry revealed a few things about her upcoming Super Bowl performance, like a surprise guest who is also a previous Super Bowl halftime performer (my money is on Janet Jackson).
The most concerning thing Perry revealed is her plan to include land and sea animals: "I'm probably going to be the only person in Super Bowl halftime history that will ever bring a lion and sharks to the show. It's going to be wild out there."
Whether she brings live animals to her performance or uses video to do that, remains to be seen. With only a short time to set up and tear down the halftime show set, a shark tank seems unlikely.
Having live animals in her performance, or even video of captive animals, is likely to anger animal rights activists, who have proven they are not to be messed with.
Perhaps Perry was just trying to drum up hype for her performance by teasing that animals would be involved. No matter how she uses them, animal advocates will be watching.