Shark Dragged From Water Dies As Lifeguards Take Selfies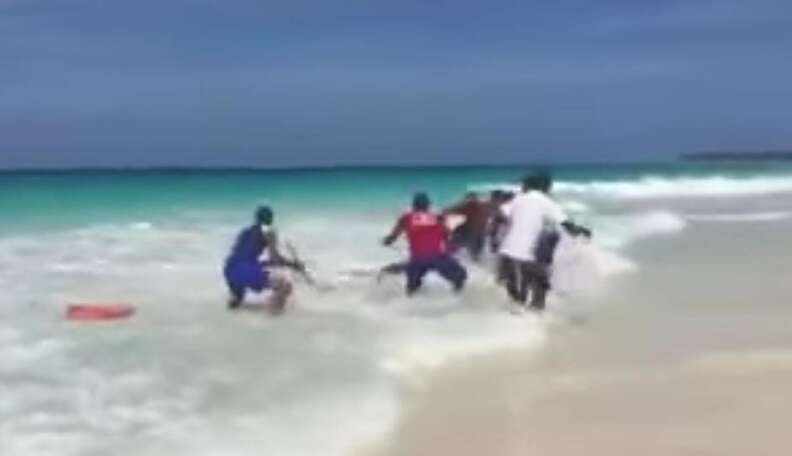 <p>YouTube/Bavaro Digital<span></span></p>
In what's become a troubling trend of deadly self-obsession, yet another animal has lost her life for no other reason than to serve as a prop in people's vain photos.
Disturbing footage has emerged showing the moment a group of beachgoers in the Dominican Republic eagerly set aside their better judgment at the expense of a living thing. In the video, reportedly taken near the Hard Rock Hotel & Casino in Punta Cana, seven men are seen racing into the surf to drag a large blue shark back to shore.
To make matters worse, lifeguards from the hotel were among those involved - going as far as inserting a life preserver into the dying shark's mouth while tourists looked on.
Fishing is not permitted along that stretch of beach, as hotel staffers were no doubt aware - but as images taken shortly after reveal, the real reason for pulling the shark from the ocean was far less justifiable indeed.
They apparently wanted her for a photo shoot.
Lifeguards from the hotel got in on that part of the action, too.
Hard Rock Hotel spokesperson Stacy Sorino told The Dodo that resort management is aware of the incident, and that "corrective measures" are being taken against the employees involved.
"That is absolutely against our standards of protecting animals as we protect our guests," said Sorino.
Sadly, this is hardly the first time an animal has perished for the sake of a selfie. Earlier this year, a baby dolphin died under similar circumstances after being yanked from the water at a resort in Argentina, an infamous incident which evidently did little to discourage others from trying the same.