Up until recently, this sweet-natured stray dog didn't have a friend in the world - but today, he's unrecognizable.
All it took was someone to care.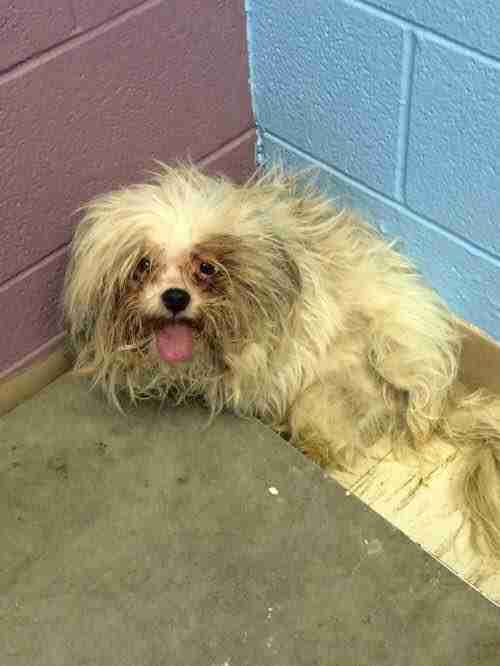 Shaggy, as he came to be known, was picked up on the streets of Virginia and sent to a shelter to await his fate. Hope came after Adri Herron, founder of Sanctuary Rescue, saw a photograph of the sad dog in dire condition. She knew she had to help.
"The first day he was available, we called and said we'd take him," Herron told The Dodo. "We brought him back on Saturday."
Herron knew the first step to improving Shaggy's life was to free him from his overgrown coat.
"You could tell it was affecting his health. The mass of hair was heavy, and he was clearly uncomfortable. I just felt we couldn't let that dog live one more day like that," said Herron. "But we called pretty much every grooming place around, and all the groomers were overbooked," Herron said.
Undeterred, Herron carried a photo of Shaggy into one of the overbooked groomers, Blue Ribbon Pet Styling in the town of Midlothian.
After one look at the dog's photo, a staffer named Kathy agreed to take on the job - even though that meant staying late on Saturday.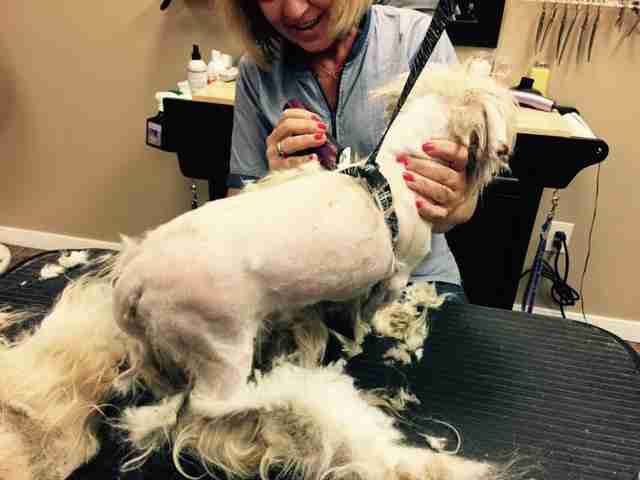 The dog, who up until then had known little of love, seemed to understand the graciousness of the strangers around him as Kathy carefully shaved away the years of dirty hair he'd built up.
Shaggy simply stood there smiling.
Immediately afterward, Shaggy was transformed - both inside and out.
"It might not seem like such a big deal, but it was the first time I'd seen a sparkle in his eye," Herron said. "It was such a difference. You could see that he had life in him again."
It's only been a few days, but now Shaggy is virtually unrecognizable, basking in the newfound love that surrounds him.
"He's in a foster home now with a family that has two little girls, and he really loves them," said Herron. "One of the girls plays piano, and he loves to sit there and listen. What a cultured gentleman he is."
In a few weeks, once Shaggy has adjusted to life as a beloved pet, Herron says she'll begin accepting applications from families eager to give him what he needs the most - a forever home.
Shaggy's future is now brighter than it's ever been, thanks in large part not only to Sanctuary Rescue, but for the person who took the time to help the dog on his first step toward a happy life.
"I am so incredibly grateful to the groomer. She was able to put it in perspective, like 'what's losing a few hours on my Saturday if it will make such a big difference to this dog's life?'" Herron said.
"She wouldn't even take my money. It's nice when people surprise you like that."