Dog So Matted He Lost His Legs Is Unrecognizable Now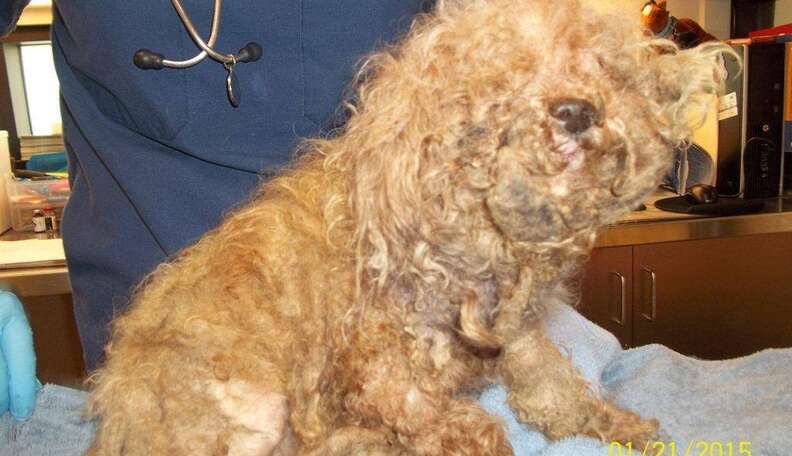 <p><a href="http://www.facebook.com/amazebobb" target="_blank">Facebook/Amaze-Bobb</a></p>
<p><a href="http://www.facebook.com/amazebobb" target="_blank">Facebook/Amaze-Bobb</a></p>
Even when a situation looks hopeless, a little determination and a lot of love can go a long way. A dog was brought into an animal shelter so severely matted that two of his legs had to be amputated - but that didn't stop him from his journey to a full recovery.
Amaze-Bobb (yes, that's his name) was found by animal control earlier this year and then transferred to Synergy Animal Rescue, who is known for helping dogs with special needs. When they started shaving Amaze-Bobb's fur, they realized two of his legs had been self-amputated because of how severely matted he was - a very sad and dismal situation. He had never been groomed in all of his 10 years.
"Bobb has been on 2 legs for years as it was a slow amputation from his fur cutting off circulation that ultimately caused the amputations," Amaze-Bobb's owner says on his Facebook page.
He had surgery to have his legs properly amputated, and he also had to have a majority of his teeth removed. After all that, Bobb could finally begin his road to recovery - and what an amazing road it was. When he was found, Bobb's appearance was heartbreaking. Now, he's practically unrecognizable.
While others may have been discouraged trying to live with just two legs, Bobb never has been. He gets around just find, and the foster family he was placed with loved him so much that they ended up becoming his forever home in June. Bobb now has two Husky siblings, and they're his great big protectors.
Best of all, he's finally learned how to be a dog.
"When we first fostered Bobb a few months ago he wouldn't play," his family writes on his Facebook page. "Was it stress? Trauma? Had he ever played, did he know how? Whatever the reason, the love he has received these past few months has transformed him! He is happy, healthy as possible, and living life to the fullest."